Nostalgia was once considered a disease – a psychological disorder akin to paranoia – although nothing that couldn't be purged, beaten or bullied out of its hapless victims.
More than 300 years after Swiss physician Johannes Hofer coined the term (from the Greek nostos, return home, and algos, pain), nostalgia has morphed from medical diagnosis – followed by a quick trip to the bloodletter's – to a sentiment more likely to be associated with 60s playlists, sourdough starter kits and podcasts titled Just Wanna Quilt and WeCrochet.
What used to be regarded as a psychological weakness now has the stamp of well-being – a meaningful way of coping with distress and uncertainty, says Dr Sommer Kapitan, a senior marketing lecturer at Auckland University of Technology. But only up to a point, she adds: "The power of reflection can be a comfort; ruminating too much or wallowing in regrets is not healthy."
If nostalgia was already a popular escape from our stressful lives before covid-19 (think old-fashioned sweet shops, the vinyl revival and success of Pokémon Go), the pandemic sent it soaring. Throughout April, Google searches for "classic movies" hit a worldwide 15-year high. Also in April, Spotify saw weekly increases of 54 percent for listeners making nostalgic-themed playlists. Music from the 50s had the biggest uptick, but the 60s, 70s, 80s and 90s were well mined for pop's past comfort and joy. Behavioural science writer David DiSalvo told Spotify's For the Record news page that music, like smell, "is one of those things with immediate access to that direct, nostalgic memory. It plays a healthy role in giving us a break, a reset point when we are in deep anxiety and stress."
Google Trends NZ saw big upswings in activities such as knitting and baking in April and May. And while the baking bug has tailed off as Kiwis have settled into level 1's 'new normal', it seems lockdown's novice knitters are keeping yarn retailers in business. TVNZ's 1 News, which has been busily tapping the nostalgia trend at the lighter end of nightly bulletins, reported on July 6 that knitting classes were filling up and a downtown Auckland yarn and fabric shop that once relied on tourist foot traffic was thriving with local support.
Seven Sharp visited toy collector Alan Preston's new Christchurch toy museum just before it opened to the public on July 13. The museum's financial controller, Ruth Fisher, didn't need a behavioural psychologist's advice to explain the appeal of this treasure trove of toys: "Nostalgia isn't something that's reserved for 50- and 60-year-olds," she said. "Five-year-olds feel nostalgic for certain toys. It's just they were the toys the children played with two years ago … but they still trigger the same emotion."
Tug at the heartstrings
Kapitan says nostalgia has long been a tool in the advertising arsenal: "Brands are always looking for emotional connections to their audience, especially in broadcasting, when they're casting their nets wide. But this turn to the past, tapping into nostalgic reminders, has emerged strongly during the pandemic. Soft sell works better than hard sell, especially when you can't sell directly. And if a brand's message can tickle the heartstrings of consumers, not only will people pay attention, there's also a good chance those warm fuzzies will be transferred to the brand."
Advertisers know how to target people who are prone to nostalgia, she says. Older people, women in particular, are easily encouraged to meander down memory lane. "But all of us can be induced to feeling more nostalgic," she says. "Add the existential threat presented by covid-19 and it's no wonder we're latching onto messages and brands that take us back to a more idealised past."
Auckland research and insights strategist Julie Bramley has been tracking the online output of local and overseas research and marketing companies since early April, gathering relevant, sometimes quirky information for her weekly newsletter "Taking the Temperature of the Nation" on the Commercial Communications Council website. She also noted the rise in nostalgia-based trends and behaviours.
"[Market research agency] Kantar did a stellar job surveying 6500 New Zealanders weekly for three months from the beginning of lockdown," she says. "Key consumer sentiments that emerged were value changes around time, notably a desire for a slower pace of life, more family time and a simpler lifestyle."
Bramley says about 30 percent of Kiwis said they intended to keep up the home-cooking, a sentiment backed up – so far – by Nielsen Bookscan data. In the period from booksellers' post-lockdown return to trading until July 4, two of the top-selling categories were "vegetarian cookery" (up 383 percent compared to the same time last year) and "national and regional cuisine".
US book-buying habits have had their own covid twist, says Bramley. While sales of adult fiction, crime thrillers and fantasy all dropped more than 20 percent during quarantine, Bible sales ascended. In a Forbes survey, a US publisher of religious texts reported that sales of one of its Bible editions rose 60 percent in a month.
Swimming-pool chlorine, a loved gran's favourite perfume, homemade apple pie – smell and taste as nostalgic triggers are well documented and science-based. Essentially, smell goes right to our memory banks. After an odour enters the nose, it travels through the olfactory bulb, which helps the brain process smells. The olfactory bulb is part of the limbic system, which contains the amygdala and hippocampus – areas of the brain that are closely associated with emotion and memory.
A bunch of flavourists at Esarom's House of Taste in Austria wasted no time making predictions on post-pandemic food and taste trends. A move to immune-boosting foods comes as no surprise, but marketing manager Susanne Winter also told FoodIngredientsFirst that consumers are opting for nostalgic food and drink: "Retro products can give people a good feeling, fantasising about the 'good old days'." Her pick? The taste of local and regional fruits and vegetables – like old-fashioned apple varieties. Cue apple pie and strudel…
Meanwhile, US fragrance company Demeter has developed three new colognes called – truly – "Baby Powder", "Kitten Fur", and "PB & J", for that childhood favourite, peanut butter and jelly.
Crowd pleasers
Sometimes a link to the past emerges, not trying to influence or sell to us, but packaged almost perfectly for troubled times. For 22,000-plus New Zealanders, including many expats still living through various levels of covid-19 quarantine, Facebook group "The Lost Nightlife of Inner-city Auckland" has sparked a rush of images, memories, contacts and conversations.
Music producer, writer, publisher and archivist Simon Grigg set up the page in early May. It immediately started getting traction via online Kiwi music library AudioCulture – another Grigg brainchild now headed by Chris Bourke – but when a mass invite went out on May 12, "Lost Nightlife" took off. It went from 100 members to more than 10,000 in two weeks.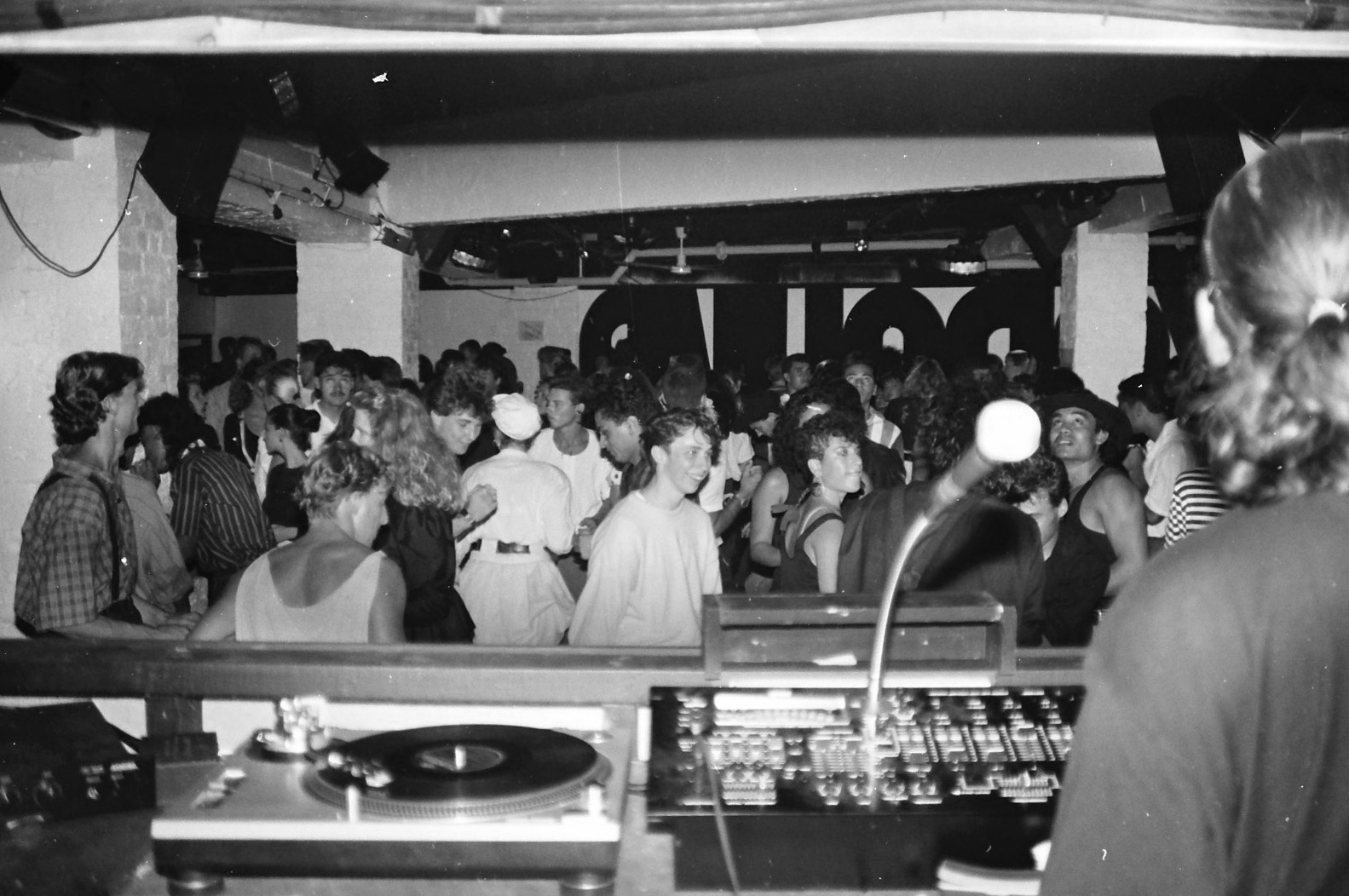 The Lost Nightlife of Inner-city Auckland - The Playground, circa 1987. Photo by Simon Grigg
A strict timeframe, geography and rules of engagement (1960-2000, roughly the area between Parnell, Ponsonby, Symonds St, K' Rd and the Waitematā Harbour, and absolutely no 'naming and shaming') have proved no barrier to the page's popularity. Every day brings a stream of old photos and anecdotes: Saturday nights at the Windsor and the Gluepot, Carmen, Billy James (pre-T), Diamond Lil, bFM gigs, sultry black and white shots of Auckland It-girl Judith Baragwanath, Fleetwood Mac at Western Springs in 1977…
Grigg says he thought the page would be popular, but was "taken aback by the massive and almost instant uptake and the way it rippled through the mainstream".
"I had a bit of a backlash from the hip crowd when the masses came on board, with messages asking me how we could stop 'them'. However, it was always supposed to be populist and I'm thrilled that 'us' and 'them' sit together as we did, albeit uncomfortably, in the era.
"There are so many extraordinary images and it's opened up a great many personal archives and albums. The wonderful thing is the way it's also shown us to be an increasingly multi-cultural and embracing city, especially in the 80s and 90s. It really did become clubland Pasifika."
Grigg rates himself "as nostalgic as the next person". He also knows his social media. "Instagram is about creating a fantasy personality for yourself, and Twitter is the gossip and discourse; Facebook has these elements, too, but it also thrives on nostalgia," he says. "We all think our youth was the special time; Facebook has this huge swag of people remembering their pasts with others."
The pandemic has given people the space and time to ponder and remember, says Grigg. "But AudioCulture and NZ On Screen were already popular sites. AudioCulture confounded arts funders when I launched it [in 2013]. I was repeatedly asked, 'Who will be interested in this?' Lots of people, actually, I said, in part because we decided in recent years that the stuff we create in New Zealand is okay."
And even better revisited, it seems. As one of "Lost Nightlife's" expat Kiwi fans posted: "Simon, your group has provided much needed light relief after so many months here in gloomy Lockdown London. Thanks for the memories…"