Volkswagen's ID range of electric cars has taken a long time to reach our shores.
The ID.3 was first released in Europe in 2020 as an alternative to the mighty Golf. It quickly became a big seller.
It was so successful that VW New Zealand couldn't get stock and had to endure years of complaints from brand loyalists wanting an electric upgrade.
Now, VW has chosen to continue forsaking the ID.3 but instead introduce the larger ID.4 and ID.5.
The 4 and 5 are the same crossover SUV, but the 5 has a coupe backside as a nod toward a GT car. I drove the ID.5 for a week, so I will refer to that car below.
The base level ID.5 Pro retails for $79,990, squeaking under the threshold for the clean car rebate of $7015 (RIP).
Regardless, this is $10,000 more than its direct competitor, the Tesla Model Y.
And it is up against the Polestar 2 (currently $67,500) and Kia EV6 (similar price), both of them excellent.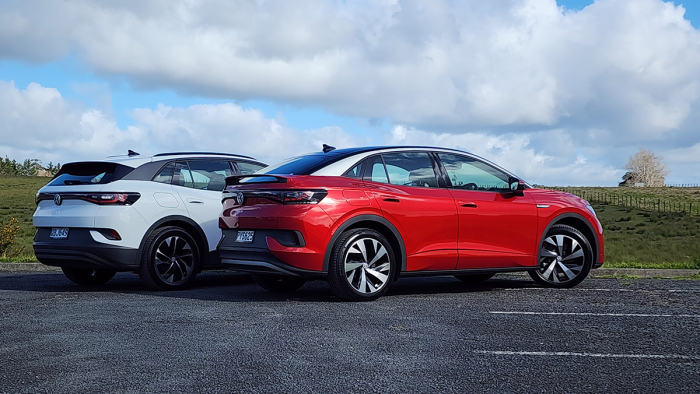 The ID.5, though, is just a bit ho-hum. Acceleration is lethargic (surprisingly so), handling is aggressively middle-of-the-road, and there's just not much to get excited about.
I also suspect VW has stripped functionality to match the NZ rebate price point, even though this is a luxury vehicle based on price.
For $80k, I want electric seats and at least some self-steering capabilities. Both are lacking on ID.5 but available on all competitors.
The $55k BYD Atto 3 has better kit and even comes with a free "mini" EV charger. It's got a smaller battery and range but similar performance specs.
The Atto 3 will do 0-100km/h in 7.3 seconds and has superior tech and electric seats. That is 3 seconds quicker than the ID.5's 10.4 seconds from 0-100km/h.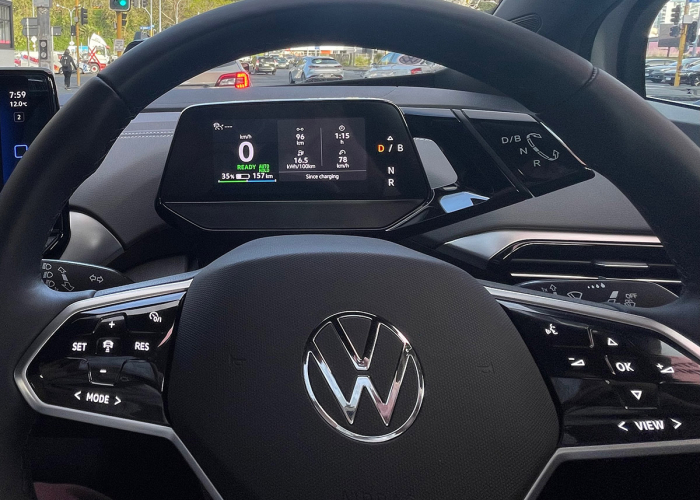 Inside, the interior is roomy and functional. A small driver's display screen is attached to the steering wheel column, which means it doesn't disappear if you adjust the steering wheel up too high or down too low.
But the information design on the screen leaves much to be desired. The screen is split in half, with driving details on only one side. There is also an option to squeeze it into a third of the screen.
The result is that important detail, such as the speed setting for the adaptive cruise control, is so small it is nearly dangerous.
Drive modes (forward, reverse, park) are selected from a dial that is, by design, hidden behind the steering wheel. This is just an odd choice. There is a 'B' mode that increases regenerative braking, but it can't do one-pedal driving.
The review car also has a few rattles at various times. I am so surprised that I didn't even register the noise at first.
The maximum range is 530 kilometres, thanks to a 77kwh battery. It has 150kW of power and 310Nm of torque. Charging maxes out at 125kw, meaning it takes 40 minutes to charge from 0-80% on a supercharger.
For $95,490, there's a variant called Pro+, which has the same specs but adds 20-inch wheels, intelligent LED lights, power-adjusted seats and an upgraded sound system.
Sadly for VW, this is about the same price as the Tesla Model Y Performance, which is a superior vehicle in every way other than helping support that nitwit Musk.
VW offers a five-year service plan for $1,990. I don't recommend this. An EV does not need annual servicing, and Tesla specifically says don't bother. Even the brake pads should last longer than a normal car because regenerative braking means they are not used so much. Hyundai, for example, offers five years of free servicing on new EVs.
If you have $80k to spend, the Tesla Model 3 Long Range is $78,288 drive-away. It has a range of 629km, a top speed of 200 km/h, and its 0-100 is 4.4 seconds, which is 6 seconds quicker than the VW.
Or save some money on a Polestar 2 at $67,500. It is excellent.
The European Union is screaming about subsidised Chinese EVs flooding the market to undercut its manufacturers. That includes Chinese batteries in BMWs and Teslas. Europe says these cars are heavily subsidised by the state.
They may have a point, but as Tesla has proven in North America, you can relentlessly drive efficiency to push down prices. VW needs more of that and less of this.
The ID.5 is fine. There are just better cars available for the same price or less.
I think that is a shame – I own a Golf and want VW to succeed . But it feels like the ID.5 is too late to the party.