Billionaires are tapping into their inner Jacques Cousteau* or Ernest Shackleton* and spending vast sums on luxurious adventures – or on oceanic research and even humanitarian aid, depending on your perspective – with "expedition" yachts that are as at home in the Arctic as in Antibes.
Some of the most extraordinary are in Auckland right now for maintenance or in the hope their owners may be able to join them for the America's Cup sailing season.
Complete with icebreaker bows, submarines, laboratories, pads for large helicopters and diving gear for a dozen or more, these craft allow their owners to really go anywhere on the globe and to bring along the odd marine biologist or oceanographer.
"The owners are getting more adventurous in going where no one has gone before," says Duthie Lidgard, whose Catalano Shipping works with many of the superyachts that come to New Zealand. Each visit is said to add a minimum of $2 million to the local economy.
Norwegian shipbuilders who count leaders of the country's oil industry among their clients are getting into manufacturing super-high-end vessels that combine go-anywhere, trans-ocean capabilities with luxury. And in the Netherlands, shipyard Damen has two ranges of expedition yachts, the SeaXplorer and the Yacht Support. It's just delivered the first two Bond villain-style SeaXplorers, Anawa (62m, 12 guests, 20 crew) and La Datcha (77m, 12 guests, 25 crew).
"These are glamorous but ocean-going superyachts," Lidgard told BusinessDesk. "These yachts can get into places with the diving tenders, submarines and everything where the very largest superyachts can't go," he said, adding, "The other side is you see a lot of these boats on humanitarian missions after hurricanes and the like. They do help."
Some readers may suspect "greenwashing" in the idea that billionaires would take a scientist or two along for the voyage, but Norwegian magnate Kjell Inge Røkke has built the longest superyacht ever, the 183m research expedition vessel REV Ocean, and the foundation he's set up to own it says 55 of the 90 people it can accommodate will be scientists. "REV Ocean will strive to fill critical knowledge gaps, develop innovative solutions, and bridge science, business and policy sectors to achieve positive change."
Lidgard offers superyacht owners carbon-offsetting tree-planting in the Hauraki Gulf.
The covid-19 pandemic and New Zealand's tight quarantine restrictions have meant far fewer superyachts – 30 rather than the 120 expected, Lidgard says – have come to Auckland this year or are due. Several of those that have arrived are from this extraordinary class of go-anywhere expedition yachts. Here are three, each with a connection to New Zealand:
Dapple
In a boatyard at Westhaven right now is one of the best-known expedition superyachts, Dapple. It usually looks more like a tender for an oil rig, but is currently wrapped in an immense plastic sheet while it is being repainted. You may have seen it while you were driving across the harbour bridge and wondered what it could be, dominating the frontage of Orams Marine boatyard.
Dapple is 67.15m long and is a super-tender to the even bigger Rocinante. Its four MTU diesel engines produce a total 12,016 horsepower (8960kW) and propel it at up to 25 knots, or 18 knots when crossing oceans. Its 22-strong crew care for just six guests in staterooms.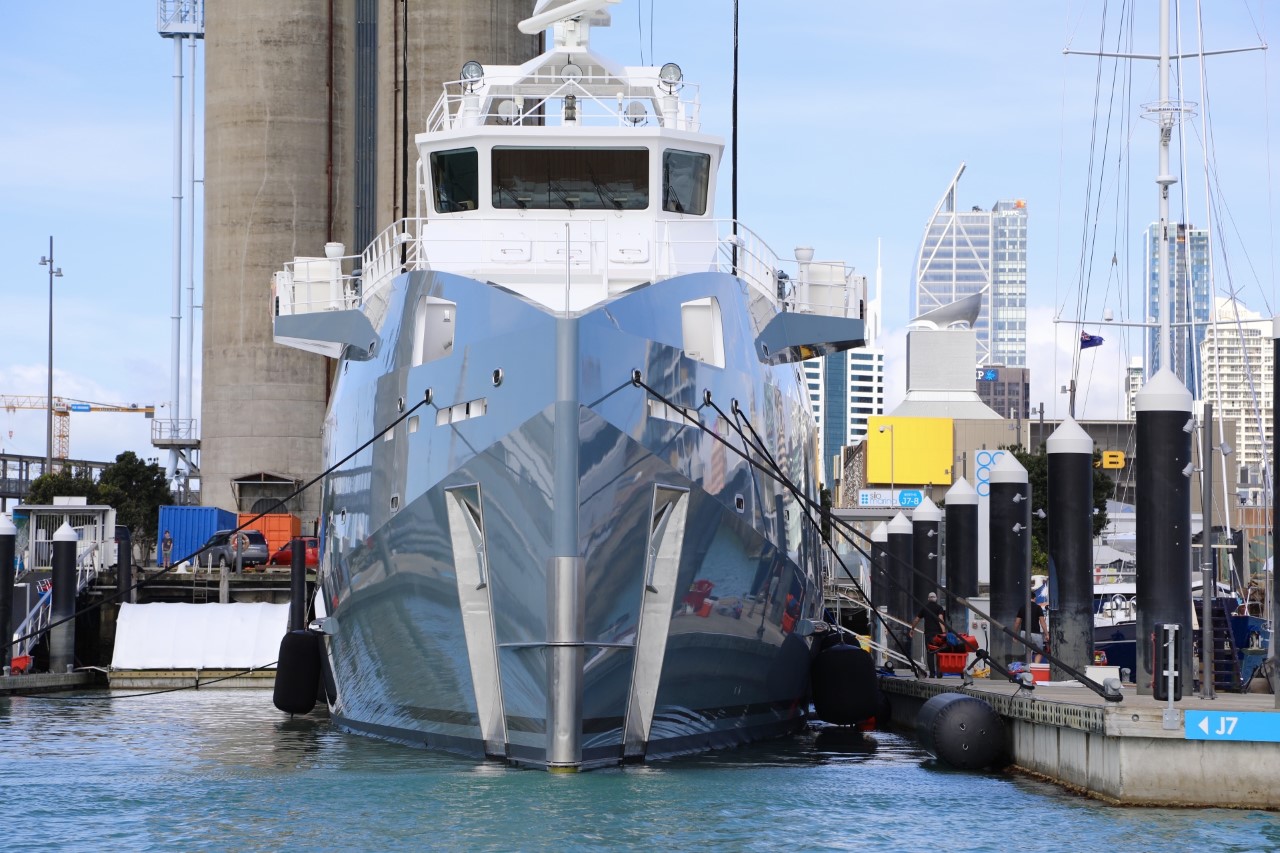 Dapple in Auckland's Silo Marina. Photo by Superyachts in Auckland
Formerly called Geo and built by Damen in 2014, the ship had an asking price of €29.95 million ($51.6 million) when it was sold late last year, according to SuperYachtTimes.com.
"Yacht Support vessels from our innovative range are purpose built to support superyacht operations – for example, submarines, helicopters and large tenders and toys," Damen says on its website, which is filled with extraordinary ships in remarkable places.
Handily, apart from Dapple's naval-quality decompression chamber and diving gear, tenders, and underwater personal propulsion systems, pictures show it also has four Vespa scooters. Should you wish to charter Dapple, it is listed on YachtCharterFleet.
It also has an exploration submarine from Triton Submarines, the kind that might allow you to visit the Titanic or explore the so-called abyssal and hadal oceanic zones, the deepest in the world.
Incredibly, Dapple and its ilk are often favoured as support vessels to even larger and more luxurious superyachts, keeping the tenders, diving gear and submarines from cluttering up the main yacht, according to a Boat International report on the support boat trend.
Dapple serves Rocinante, at 78.3m the largest superyacht currently in New Zealand, which has been docked at the Silo Marina near Wynyard since before the pandemic began. Rocinante and Dapple have a new owner, but I have so far been unable to discover who it is. Wikipedia says Rocinante is owned by Mexican businessman Emilio Fernando Azcárraga Jean III but I understand that is no longer the case. (It is very hard ever to get certainty on ownership or specifications.)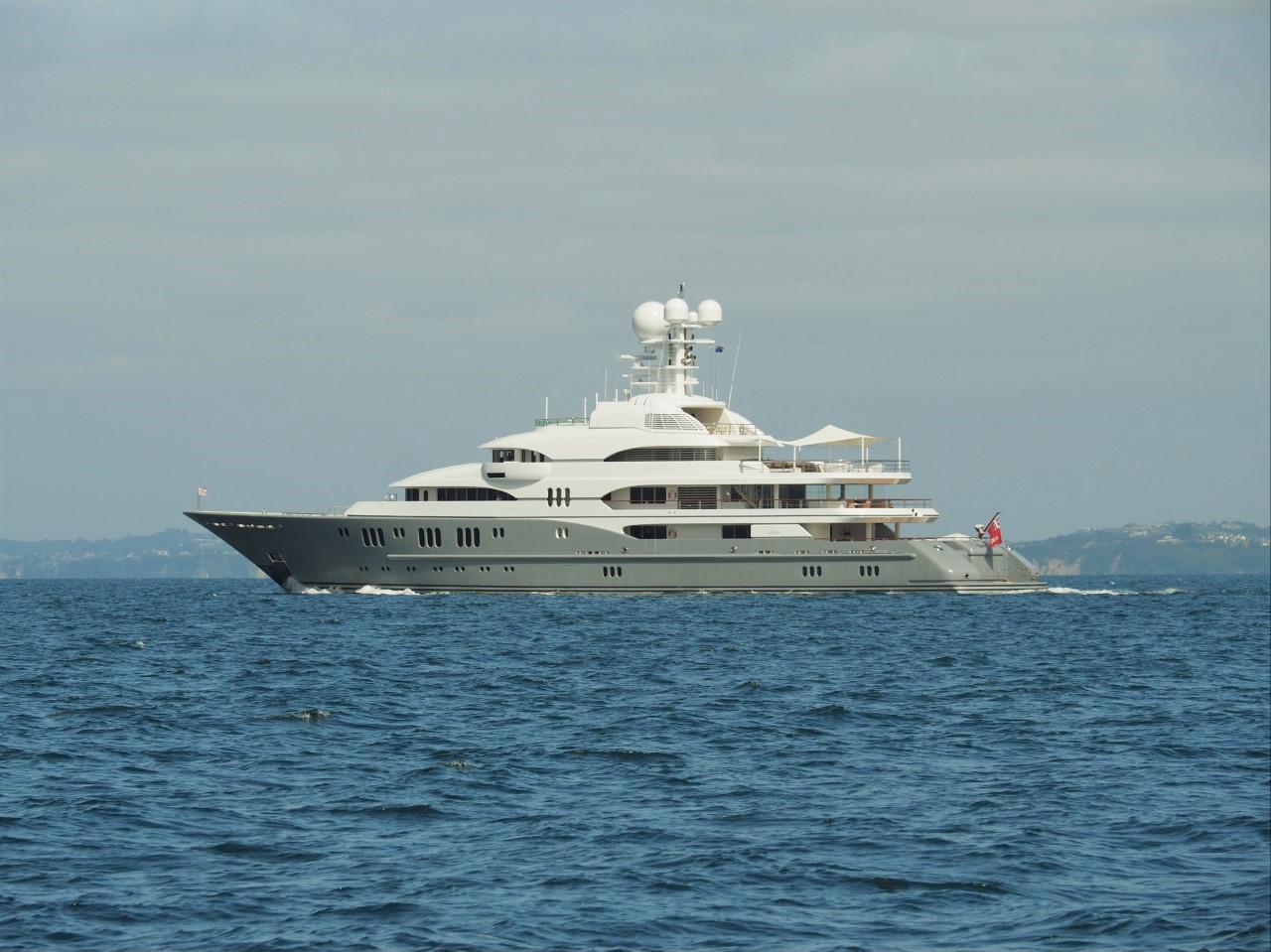 Rocinante entering the Rangitoto Channel. Photo by Superyachts in Auckland
Senses
Beside Rocinante at the Silo is one of the most famous of the expedition superyachts, Senses, bought by Google co-founder Larry Page in 2011 from New Zealand beer baron, the late Sir Douglas Myers. At the time, it was listed at €35 million ($60.5 million then). It was refurbished in Auckland in 2015. It, too, has a new owner, but so far I have not found out who.
At the time of the sale, Myers told the Dominion Post: "It's an adventure boat and, for its size, I think it is the best around. I have been going around the world for the last five or six years on that. It's been pretty good fun. It goes somewhere I want to go and I fly in, take some friends and spend a month or two."
Senses is listed for rent on YachtCharterFleet at US$325,000 ($462,000) a week. If that's a bit above what you can comfortably pay, a coffee-table book, Senses – A Circumnavigation with Style, is available at Boat Books in Westhaven for the more affordable price of $120, describing a round-the-world "dream voyage of the super-rich" when it was owned by Myers.
Senses is 59.2m long and was built in the Schweers shipyard in Germany in 1999. Said to have a Philippe Starck-designed interior, it sleeps 12 guests and carries up to 14 crew. Its ice-strengthened hull means it really is a go-anywhere craft, capable of crossing oceans with its range of more than 4800 nautical miles and powered at a cruising speed of 12 knots by twin Deutz diesel engines producing 3200 horsepower.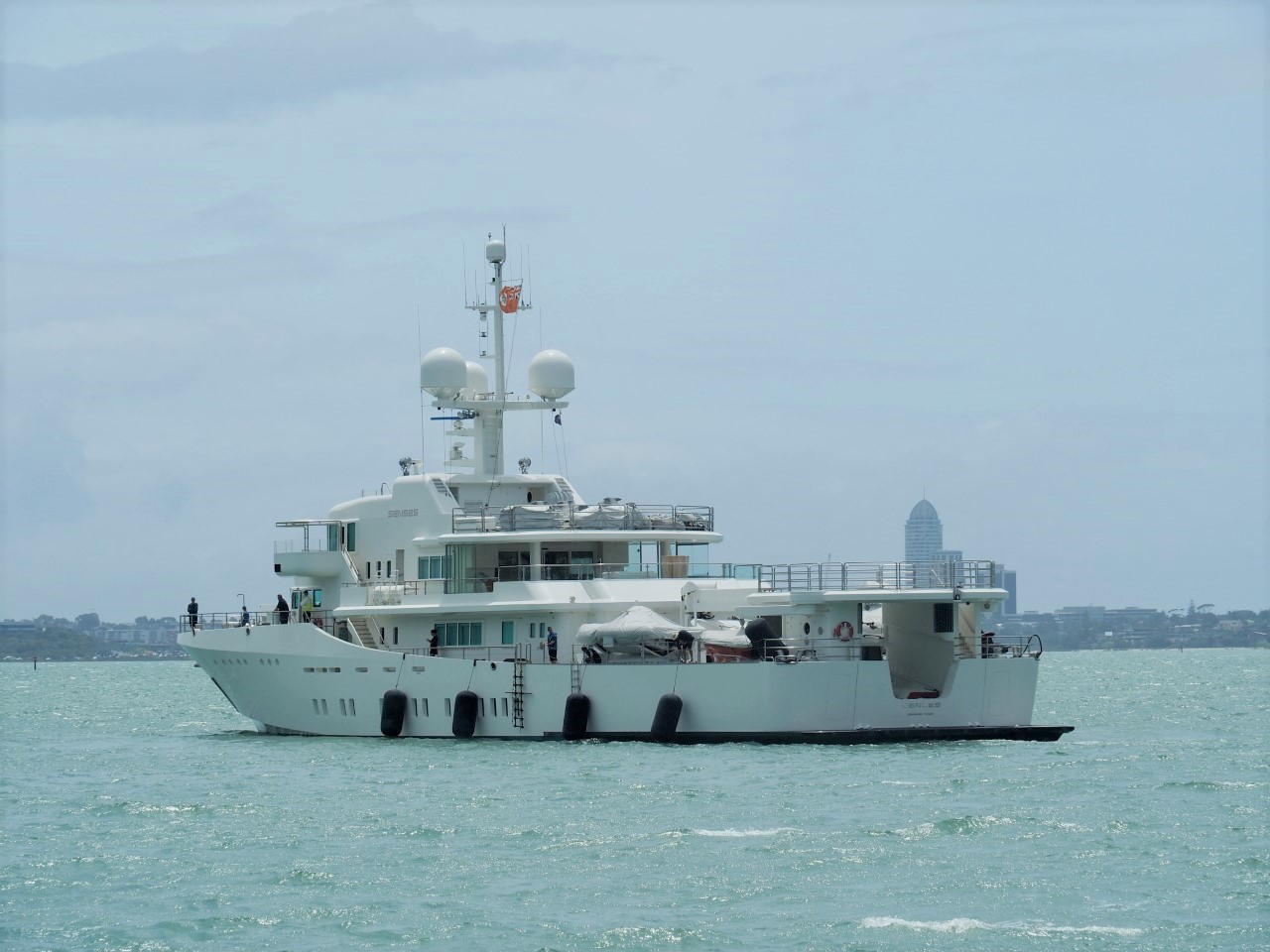 Senses. Photo by Superyachts in Auckland
Ulysses
Last, and absolutely not least, is Ulysses, the gargantuan vessel of New Zealand businessman Graeme Hart. It is probably the most capable superyacht in the world, with a purported price of US$275 million ($390 million) and, at 116m, nearly twice the length of Senses. It was built in Norway by the Kleven shipyard and finished at Dörries Maritime in Bremerhaven, Germany. Kleven lists both this Ulysses and Hart's earlier yacht of the same name on its website.
Ulysses carries its own 20.7m Princess powerboat on the foredeck in a sort of Austin Powers Dr Evil and Mini Me bonding. The superyacht has six decks and is a bit smaller than an inter-island ferry but certainly more luxurious for its passengers and crew. The helicopter pad has its own hangar and refuelling depot, naturally.
Twin Caterpillar diesel engines produce 5900 horsepower. Stuff reported in 2017 that the first Ulysses, now known as Andromeda, had been offered for sale at $265 million.
In a Boat International report on the first Ulysses, which included an interview with Hart, the writer described the superyacht as "a Tonka truck with a hull. It's an iceberg-dodging, wave-crunching, mile-munching, ocean-eating, horizon-conquering monster."
Hart explained why he had chosen a Norwegian shipyard better known for oil rig tenders: "What we learnt was that the real SUV of the sea was these OSVs [offshore support vessels] that support the oil rigs — that was the big 'ahhh' moment. These are the guys that really understand how to build a vessel that's intended to cope with any sea condition and provide maximum comfort, stability and safety."
*For younger BusinessDesk readers, Jacques Cousteau (1910-97) was a French, er, frogman who invented what we now know as scuba gear and popularised oceanography and diving with a long-running television series, The Undersea World of Jacques Cousteau. His style was mercilessly mocked in the 2004 Wes Anderson movie The Life Aquatic with Steve Zissou, starring Bill Murray.
* Ernest Shackleton (1874-1922) was an Anglo-Irish explorer who led three expeditions to the Antarctic, most famously his extraordinary catalogue of disaster and redemption (described in his book Escape from the Antarctic), in which he staged one of the greatest rescues of all time, saving his crew after their ship, the Endurance, was crushed by ice.