If recent releases are anything to go by, watch brands' love affair with women is well and truly blossoming. Having moved on from the days when a smaller case and a dusting of diamonds or a mother-of-pearl dial were the only things distinguishing women's watches from men's, watchmakers have realised that women want something to lift a mood, complement a look and deliver more than just the time of day. Which makes sense, given we've had decades of watches that do that with remarkable efficiency.
Now, just as men want something with a bit of oomph on their wrist, what woman doesn't hanker for a little surprise and delight? Complicated engineering is all well and good, but whatever the mechanics, it has to look the part.
It should come as no surprise that in any move to more playful time-tellers, it's names like Chanel, Bulgari and Dior that are coming to the fore, often showing the way to traditional brands in the watch sphere. These are houses that have understood feminine appeal — and how to create it — for generations. It's also a time for jeweller-watchmakers such as Van Cleef & Arpels, Cartier, Chopard and newcomers such as Richard Mille to shine. (Having become a go-to brand for the upwardly mobile man, the Mille company is now firmly catering to its feminine counterpart with equally out-there timepieces.)
The result? Be it from a famed Parisian maison or a venerable Swiss atelier, the suite of options for the feminine wrist has never been more diverse or alluring — as the following selection of newcomers illustrates.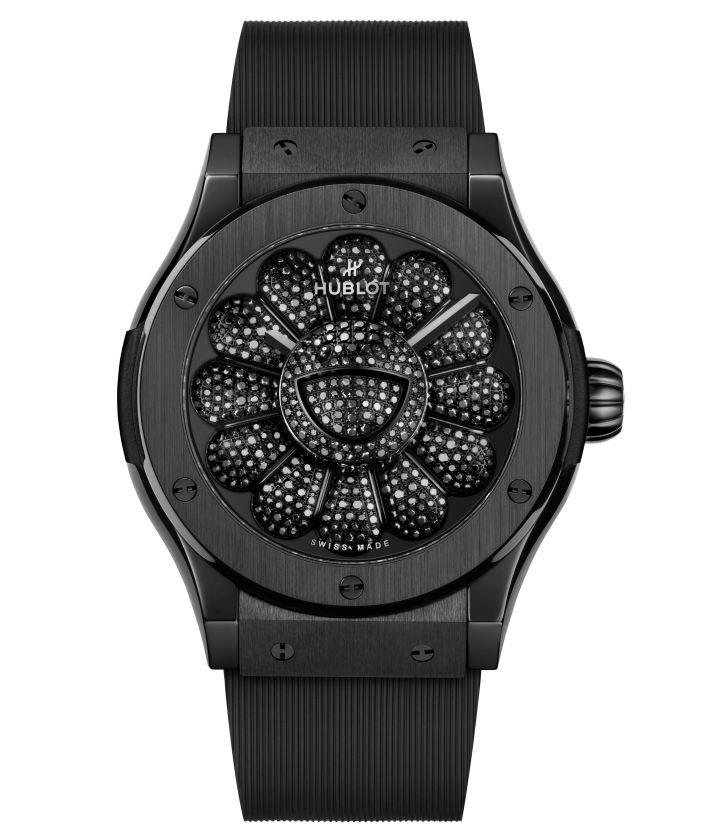 All spin
Hublot's Classic Fusion Takashi Murakami All Black brings the smiley flower motif of Japanese pop artist Murakami to the wrist, its 12 "petals" marking the hours. This watch is studded with 560 black diamonds mounted on a ball-bearing system that spins with the movement of your wrist, radiating light in all directions. The 45mm case is black ceramic, the movement self-winding. $40,000 range.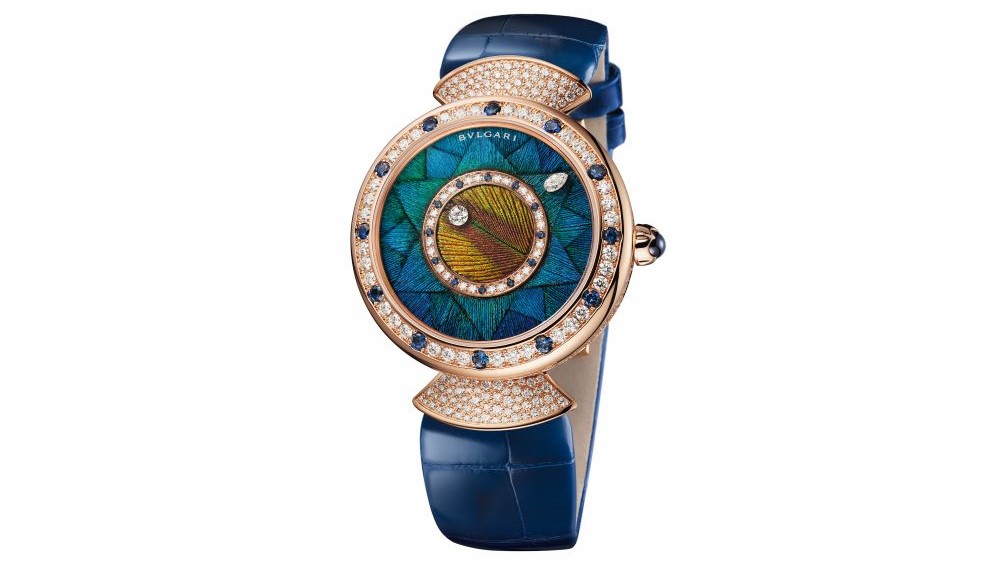 The eyes have it
The Bulgari Divas' Dream Peacock Dischi boasts a dial of hand-cut feathers — selected from nearly 500 examples — depicting the eye of a peacock. They're mounted on mechanically driven discs indicating hours and minutes, with a round and a pear-shaped brilliant-cut diamond acting as "hands". The hour markers are sapphires and 440 diamonds dot the case of this 37mm piece. $100,000 range.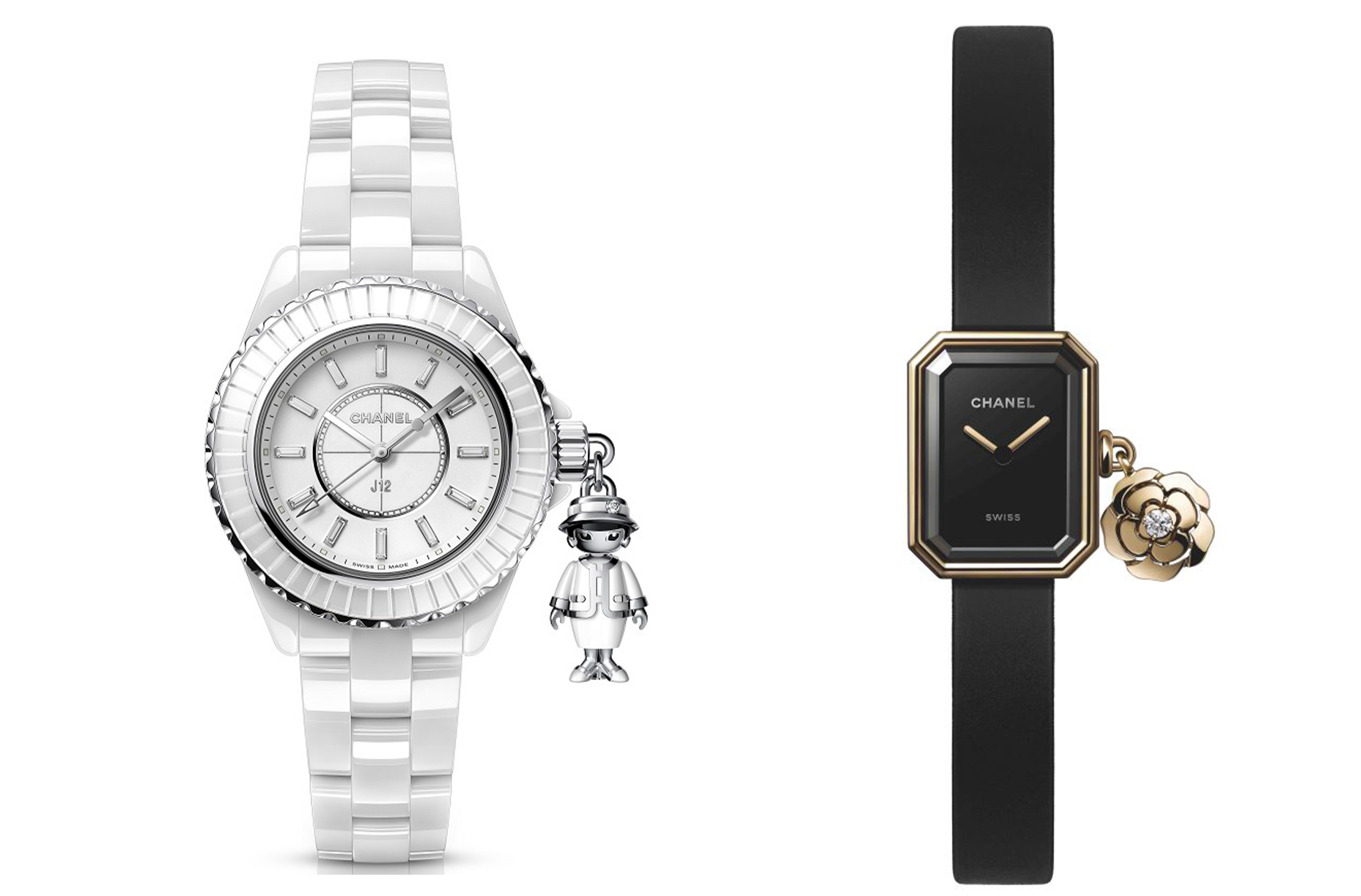 Simply charming
Chanel's iconic J12 watch gets a new addition — a gold-and-enamel charm in the "likeness" of Mademoiselle Chanel herself, set with a brilliant-cut diamond and anchored to the winding crown, pictured top left. Baguette diamonds mark the hours and the 33mm ceramic-cased piece comes in black and white versions. Limited to 550 pieces, $40,000 range. (If you miss out, consider the Première Extrait de Camélia black-lacquered piece with Gabrielle Chanel's favourite flower as a charm. $10,000 range, pictured top right.)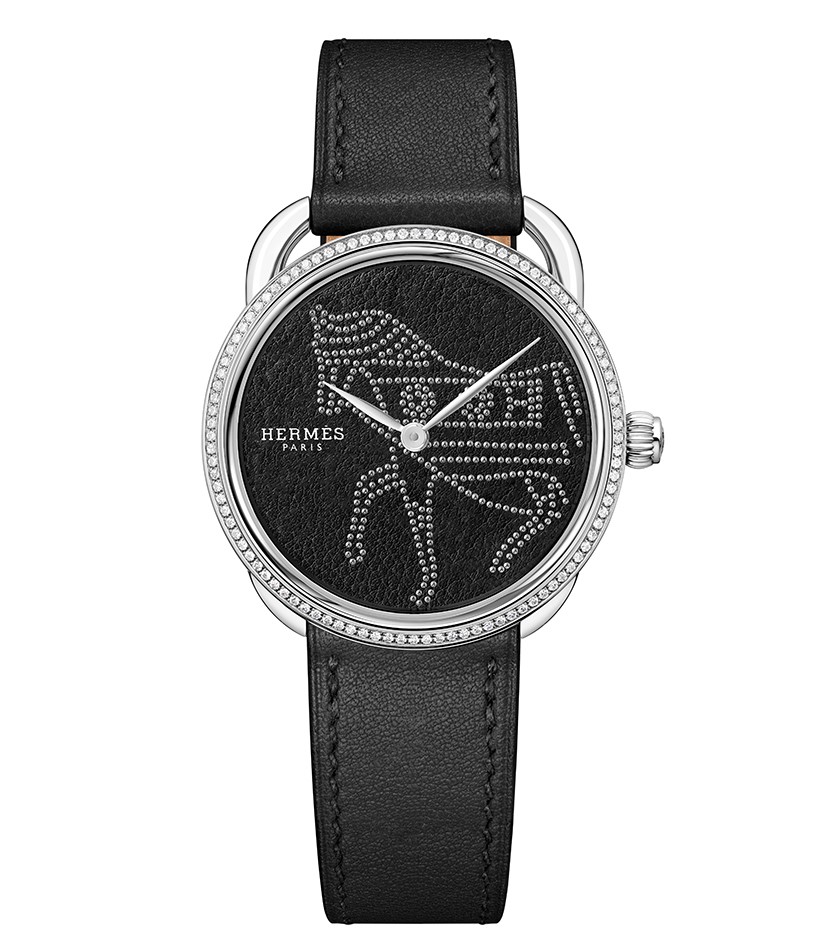 Giddy up
Hermès has taken the equestrian influences of its past and applied them to the dial of this Arceau Horse model, which is rendered in black or white leather with intricate studding — 395 tiny studs in all — outlining the maison's signature animal. One hundred diamonds circle the steel-cased watch, which has a quartz movement. $10,000 range.

Bold twist
From men's favourite Richard Mille comes two striking additions to its growing women's collection: the carbon-cased RM 07-01 Automatic Starry Night, with star motifs and featuring 181 diamonds, pictured top right, and the RM 07-01 Automatic, with a "sensuous" open-link bracelet with hand-finished links weaving red, gold and carbon together, pictured top left. Eschewing the usual "feminine" codes, they're a bold twist on femininity — at a bold price: $360,000 and $300,000-plus.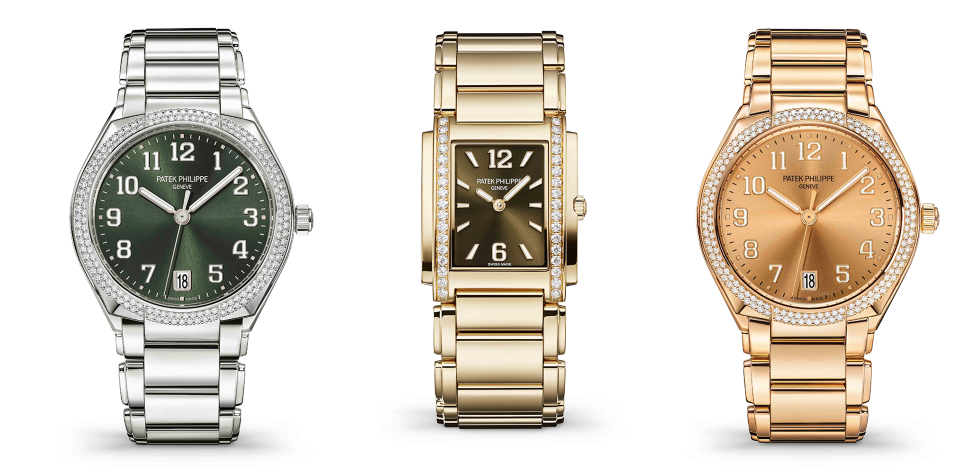 Traditional treat
If none of the above appeals and you're hankering for something a little more traditional, Patek Philippe might have what you're looking for. It's unveiled three new Twenty~4 models "designed to share the lives of modern active women". First up, a cuff-style squared-case 4910 Manchette watch with quartz movement in rose gold with a chocolate-brown sunburst dial flanked by 34 Top Wesselton diamonds, pictured above, middle. It's yours for around $60,000. It's joined by two Twenty~4 Automatics (reference 3700) in 36mm round cases, one in steel with an olive-green sunburst dial, pictured top left, the other in rose gold, its dial gilded with a rose-gold sunburst effect, pictured top right. Both are enhanced by 160 Top Wesseltons, the steel version priced around $40,000, the gold around $65,000.
Follow Bani @baniwatch