The National party is moving on its intention to make inflation an election issue by promising to remove employment considerations from the Reserve Bank's monetary policy mandate and make it focus solely on inflation.
In an interview with Bloomberg, an international financial news service, Luxon vowed that if National won the 2023 election, it would remove the so-called 'dual mandate' that requires the central bank to consider both stable prices and full employment when it sets interest rates.
The dual mandate is common around the world, but monetary policy purists have long argued either that it confuses the central bank's monetary policy task or it is meaningless posturing governments have inserted into the monetary authorities' instruction manual for political reasons.
Mission creep
"I'm not supportive of the dual mandate, I'd move it back to price stability," Luxon said. "There's been too much mission creep. You've got to be ruthlessly focused on price stability, that's the phase we're going to be in for the next few years."
With New Zealand inflation running at a 30-year high, with annual rate of 5.9% in the year to December 2021, National is betting that focus on what it calls a "cost of living crisis" will be a winner as it refocuses under Luxon's leadership for a general election to be held late next year.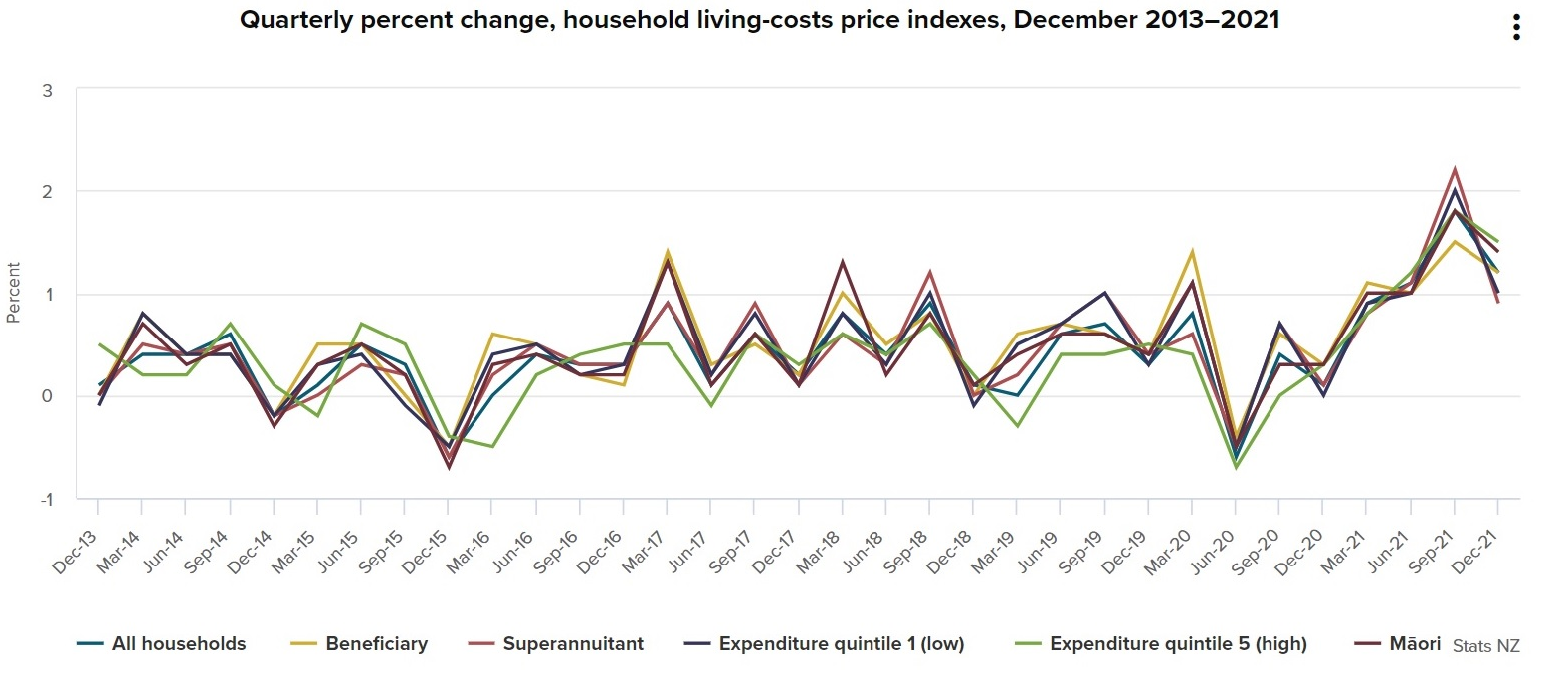 Stats NZ
A separate cost of living index, released today by Statistics NZ, confirmed the trend, showing the sharpest spike in living costs over the last year since just after the global financial crisis.
In comments to BusinessDesk, National's finance spokesman Simon Bridges said "the bank should be focussing on its core mission of price stabilities, like it did (with reasonable success) for most of the last 30 years".
Continuous meddling
Since the Labour-NZ First coalition changed the mandate in 2017, the government had been "continually meddling with its objectives and trying to pass responsibility for its own failures onto the bank".
Luxon also told Bloomberg he would not ask the RBNZ to try to factor house prices into its monetary policy considerations.
"Housing is a government responsibility not a Reserve Bank of New Zealand decision," he said.
Bridges, who is also the party's infrastructure spokesman, said that "removing barriers to building houses, supporting businesses to create jobs, or ensuring welfare system is focussed on getting into work are all issues for the government to address, not monetary policy".