New tenancy laws could see a spike in rental properties converting to Airbnbs as property investors are attracted to the less regulated aspects of the holiday housing market.
New Zealand Property Federation executive officer Sharon Cullwick told BusinessDesk that many of its more than 3,500 members were now looking at either converting existing rental properties or buying homes in resort-style locations for use as shorter-term rentals – potentially as Airbnbs.
This would reverse a trend observed last year among Airbnb hosts, who repositioned their rentals as longer-term options in an effort to ensure continued returns through the uncertainty of covid lockdowns.
Now, with the Residential Tenancies Amendment Act taking effect from Feb. 11, and healthy home standards already in place, Cullwick said members were actively reconsidering holiday home options.
Holiday homes also held the prospect for increased returns with "less administrative oversight" or risk of penalties, she said.
The RTA reform comes with civil and criminal penalties increasing between 50-and-80 percent across the board, while additional penalties have been introduced for landlords with six or more tenancies or boarding houses.
Steve Watson, national manager tenancy compliance and investigations with the Ministry of Business, Innovation and Employment, said fines could range up to $50,000 but the amount could ultimately be determined by the Tenancy Tribunal, which now has the discretion to levy fines up to $100,000.
Watson said MBIE - as the regulator - also now had the power to request bond, rent and other records relating to landlords' responsibilities under the RTA.
Student rentals to suffer
Kathryn Seque, the president of the Otago Property Investors Association said "it wouldn't surprise her" that owners were opting into holiday accommodation.
Seque, who manages 70 family properties in and around Dunedin, half of those rented to university students, said the major impact of the RTA will be into the student market as tenants now need to give only short-term notice with tenancies 'automatically' reverting to periodic tenancies after their 12-month fixed term.
In that respect, she said the RTA had largely ignored the student part of the market, which was quite different from longer-term tenants. "So those students who want to stay and do summer school, for example, might then leave only in April with no chance of us then letting the property out at that time of year."
She said the up to 1,000 workers who would be working on the new $1.4 billion Dunedin hospital were now a "safer bet" than students as they'd be in the city for up to nine years.
While Airbnb itself was mum on whether its NZ listings were up, a BusinessDesk scan of some 300 available properties on the site reflected pricing from $170-a-night for guest houses capable of housing a family of four.
That translated to roughly double the national median weekly rental price of $520-a-week, recorded by auction site Trademe last month, though that doesn't take into account associated costs such as cleaning.
There were premiums also for what Airbnb considers 'unique stays', which ranged from glamping in the Bay of Plenty for $334-a-night, renting a houseboat in Wainui for $322-a-night, to relaxing in a beachfront home on Waiheke Island at $3,356 per day (pictured).
Tax treatment
Like longer-term rentals, providing short-term accommodation is considered as income in NZ and is therefore taxable, though owners are allowed deductions for the costs of providing the accommodation.
Accountancy firm Property Tax Returns - an Airbnb specialist - notes that if the property is used for both private purposes and as a bed and breakfast, those deductions are based on mixed-use asset rules. If the property is used exclusively for bed and breakfast purposes, then the costs are deductible in full.
Kelvin Davidson, senior property economist with Corelogic, said property rental streams in general were looking increasingly appealing under current interest rates, though an Airbnb option would tend to be "lumpier" than longer-term options.
Davidson said that with rental growth typically running at between 4-to-5 percent a year, the spike in house prices will be putting some downwards pressure on rental yields, "but they still look, good against mortgage and term deposit rates."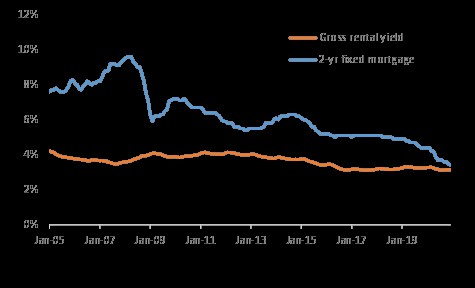 Source: Corelogic