Carter Holt Harvey is suddenly cutting building timber supplies to major trade suppliers Mitre10 and ITM, and to Bunnings, citing "critical supply issues" caused by booming housing construction.
The building supply companies could start running out of structural timber products from as early as Monday.
CHH, owned by Kiwi billionaire Graeme Hart's Rank Group, is now unable to honour supply commitments to the three hardware and building supplies chains, citing "critical supply issues".
Industry insiders told BusinessDesk that CHH had slashed supply to most of its customers apart from its biggest clients.
They include Fletcher-owned supplies company Placemakers and CHH's subsidiary, Carters Building Supplies. Both are understood to have supply agreements in place with CHH, with Carters contracted to receive about 90% of its timber supply from CHH.
Placemakers chief executive Bruce McEwen said it had been advised on Wednesday about changes to customer supply. "There had been no prior discussion about this move, but these changes will have no material impact on our ability to supply timber products to our customers."
Bunnings said it worked with a large number of timber suppliers and didn't expect Carter's decision would have any impact on product availability for its customers.
In an internal memo to ITM staff and shareholders, chief executive Darrin Hughes said the decision to cut supply with immediate effect was "a massive decision on CHH's part and one that will have ramifications for years to come".
He said the firm, which is the second biggest supplier in the building trade after Placemakers, spent almost $34 million with CHH per year, "so I know this will have a significant disruptive impact on many of your businesses". ITM is a cooperative with about 100 stores.
Hughes said the company was evaluating options, as "now is the time for us to band together as one and overcome this corporate attack on our otherwise highly successful business model".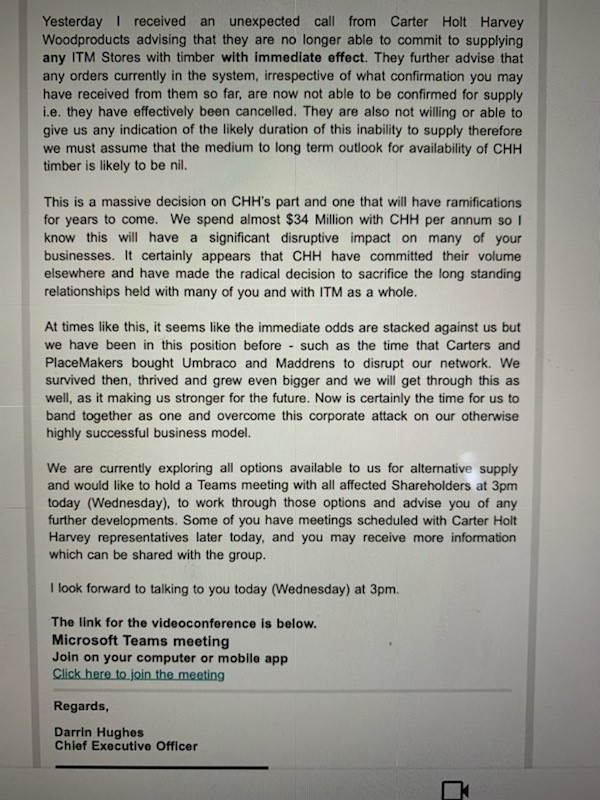 Prices also tracking up
CHH was unable to provide immediate comment on the decision but Building Industries Federation chief executive Julien Leys told BusinessDesk that it was clear CHH had made "some poor decisions" about capacity.
That includes the closure of CHH Timber's Whangārei mill last year.
He said prices were also tracking up at an "unprecedented level" with an expected price increase in June following increases of between 7% and 10% on Feb 1.
That could represent more than $70 on a cube of select length timber valued today at $700.
Leys said the price increases had also been driven by China's appetite for NZ logs, and by the political impasse between China and Australia.
That is understood to be at a substantial premium, he said, which puts further pricing pressure on the local market.
He said there was also a "certain irony" to the building supply issues, given the government's announcement earlier this week to put a handbrake on speculative investor activity.
Alternatives needed
Builders may now well be looking at alternative building solutions, he said.
"They could look at oriental strand board and laminated veneer lumber as options, and maybe when they start looking at those they won't go back," Leys said.
However, Placemaker's McEwen said Fletchers firm Laminex, which manufactures strand board, had also been experiencing high volumes. "We have been working on a number of productivity initiatives to increase supply but it may take six to 12 months to meet demand."
He said the company, like others, had been impacted by supply chain issues coupled with industry demand. That has come most acutely in the form of demand for multi-storey dwellings.
That has been a key driver of record consent levels in the Auckland market, where consents hit 17,100 by January, boosting nationwide consents to nearly 40,000 for the year through January, according to Stats NZ.
Mitre10 was approached but could not provide comment at the time of publication. Bunnings' comment has been added.