As I barrel along in the Chevrolet Silverado, I'm left wondering if this is a truck or some sort of mild torture device.
Get too close to the lane marker and the seat vibrates like an out-of-control concrete compactor.
Given Americans' aversion to all risk, well, there was a lot of vibrating going on.
Having only finished driving the Ram 1500 a couple of weeks back, I find it's impossible not to compare the two Yank tanks.
And that is a problem for the Silverado LTZ Premium I drive. The Ram 1500 Limited I tested is a superb vehicle, with similar mechanical capabilities, but better seats, a huge touch screen, and air suspension that provides a sedan-like driving experience. It also doesn't have a vibrating seat.
In contrast, the Silverado is a truckie kind of truck. It will do whatever you want it to do, but drives much better with a decent load on the rear tray. With just me and two others in it, the ride was bouncy enough to be endlessly commented on.
With no weight on the back, hitting the accelerator too hard as the traffic light goes green will spin the rear wheels in an embarrassing way.
But the Ram 1500 with air suspension is $163,000. That's a new Toyota-sized price increase over the Silverado LTZ Premium's $132,600, including extras like a 70mm towbar and bonnet protector.
It also lacks some of the clever touches of the Ram, such as thoughtful storage compartments both inside and on the side of the tray.
But what actually annoyed me, repeatedly, was the Silverado's insistence on locking itself every three seconds. If I unlocked the car, put something on the passenger seat, closed the door and then walked around to the driver's side, it would be locked by the time I got there.
And just having the key fob nearby is not enough for it to stay unlocked. I know Detroit has a rough reputation nowadays, but this seems like overkill, especially in rural Northland where we are not always consistent with even locking our houses.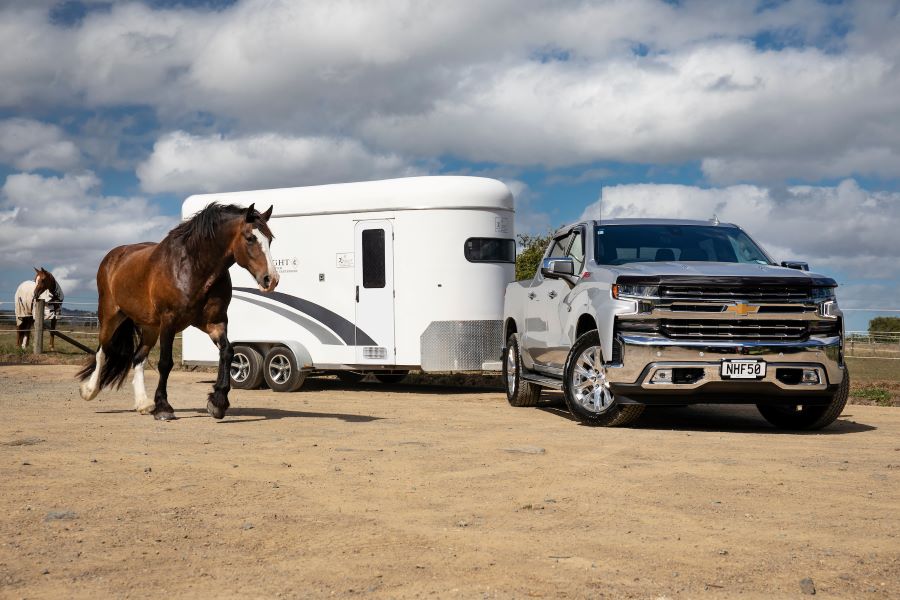 The Silverardo is 1.9 metres high.
But there are many great things about it. This includes Teen Driver Alert, which acts as a nanny for your kid. You can set rules such as insisting the seatbelt is fastened before the vehicle can be put into gear, limiting speed or audio levels, and more. And then the truck can give you a report card at the end, letting you know if your 17-year-old called Oscar (yes, oddly specific) has been listening to loud music, going too fast, or caused traction control to activate. I love it, mainly due to our 17-year-old called Oscar and knowing how his brain works.
With its 6.2-litre V8 engine, this really is a vehicle designed for towing. And it is very good at that, pulling 4.5 tonnes. It comes with a series of built-in features to make towing easier, including hook-up assistance, brake gain memory, safety checks, and even tyre monitoring for the trailer (depending on whether the trailer has that, of course).
Plus, if someone disconnects your trailer while the vehicle is locked, it sounds its horn and flashes its lights.
At 2.5 tonnes on the scales, it drives surprisingly light and quiet. It is 6 metres long, 2 metres wide and looks like three storeys high. (It's actually 1.9 metres.)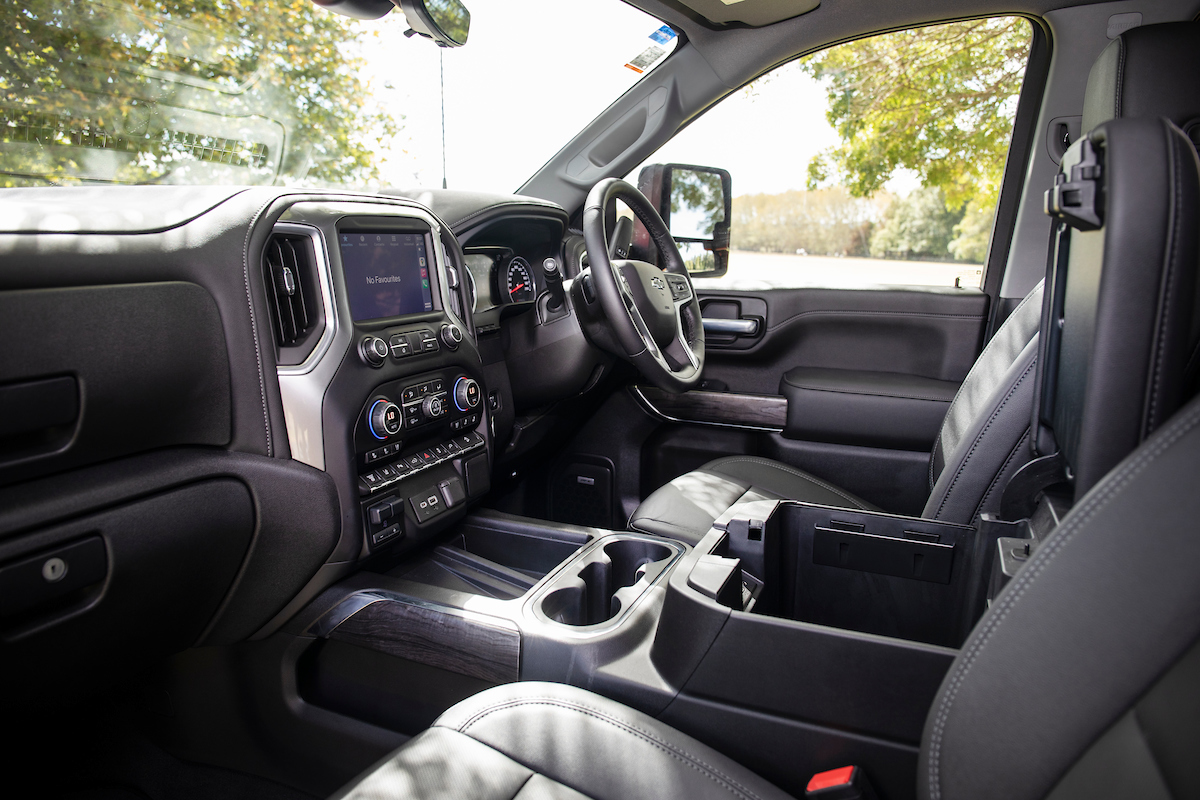 The Silverado features a Teen Driver Alert system for peace of mind.
The Silverado is a series of rectangles, from its muscular vertical cliff of a bonnet through to doors and other panels – lots of rectangles.
The bonnet and engine bay are as tall as many people and tower over smaller cars – and then when the cabin sits on top, you get a sense of the absolute scale of the thing.
You can also buy additional cameras for your trailer as accessories, which are compatible with the dashboard screen. This allows you to "see through" your trailer for a better rear view.
More generally, the cameras are a highlight of the Silverado. Its size means they are needed, and the 15-camera setup can do some clever things, like focusing just on the front wheels, or there's another option that gives a split screen to show how close the vehicle is to obstacles on either side.
It will also easily seat five people and tackle any terrain with its 10-speed transmission and low- and high-range 4WD.
It's a truck with a purpose in life, suited more to country life than inner-city shopping.
The 6.2-litre V8 will gulp about 12 litres for each 100km travelled, which is a travesty nowadays. But for that it generates 313kW of power and 624Nm of torque.
If that isn't enough, there's a diesel variant that generates an incredible 1234Nm of torque and 332kW of power. That thing would shift houses off their foundations.
GM has also just released the even bigger Silverado 2500 into the New Zealand market. It has a 6.6-litre turbo V8 that will tow 5.9 tonnes and is the same size as a supertanker.
This is a car for living big, but maybe not for popping down to Pak'nSave at the weekend.