On the final night, we went backwards. The SS Beatrice had spent the day docked downtown, but now, as the sun set over Castle Hill on the Danube's west bank, we sailed north through central Budapest, retracing the route we had taken that morning.
We were moving for logistical reasons, but for passengers, the half-hour relocation sailing doubled as a scenic evening cruise through one of Europe's most spectacular waterfront cities.
We glided past the imposing Buda Castle and citadel-topped Gellert Hill, and under the grand bridges connecting the Buda and Pest sides of the city.
From the top deck, the views were sublime. The whirr of camera shutters became a steady buzz as we approached the enormous Hungarian parliament, its limestone bulk illuminated in gold against the blue-black evening sky.
After a week on the water, this Uniworld cruise down the Danube was coming to an end. The river known as the Danube in English – Germans call it the Donau and Hungarians know it as the Duna – is Europe's second longest, stretching all the way from southwestern Germany to the Black Sea.
Uniworld's "Delightful Danube" itinerary focuses on the river's most famous section, encompassing Germany, Austria and Hungary.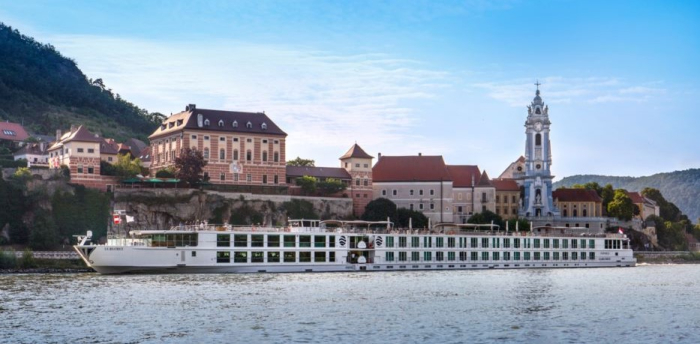 My journey had got off to a somewhat rocky start. Our sailing was scheduled to depart from Nuremberg, and I'd arrived in the historic Bavarian city two days early, giving myself enough time to sightsee before setting sail.
But plans changed: due to low water levels, the Beatrice could go no further than Passau, and those of us starting in Nuremberg had to take a two-hour coach ride to meet up with the ship.
Contingency plans
The flat bases of river ships mean they're able to sail in surprisingly shallow waters, but in summer, low rainfall can occasionally make sections of some rivers impassable. (The opposite can be true in a particularly warm spring, when meltwater from surrounding mountains risks creating water levels so high that a ship cannot pass under a certain bridge.)
Like every river cruise line, Uniworld has contingency plans for such situations, designed to cause as little interruption to the itinerary as possible. Starting a river cruise on a coach isn't ideal, but it's far from a dealbreaker.
Setting sail
Once safely onboard the Beatrice, any minor irritation melted away. Uniworld's design is modelled after the five-star Red Carnation Hotel Collection, both of them part of a portfolio of travel brands owned and operated by the Tollman family under the Travel Corporation umbrella.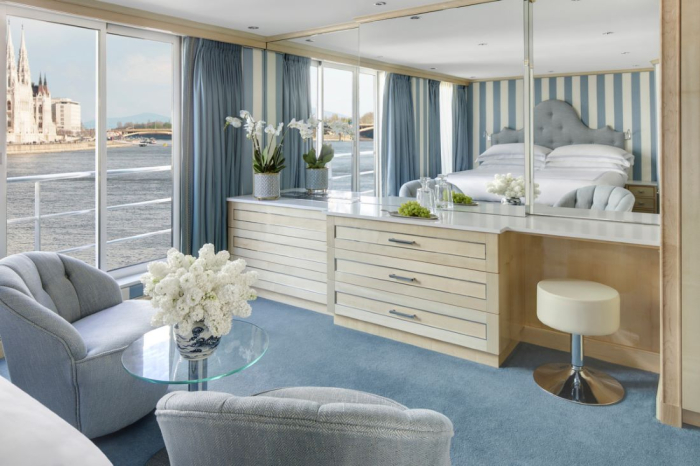 The Beatrice – named after the Tollman family matriarch – is one of the company's "super ships", top-of-the-line vessels with more suites and a higher passenger-to-staff ratio than others.
My 21 sq metres suite featured a luxury-yacht-inspired blue-and-white colour scheme, a marble bathroom, a fully stocked mini bar, and in-suite butler service – the latter a real godsend for a few older and frailer guests who I noticed spent most of the cruise in their rooms.
The staterooms are smaller, but the supremely spacious and comfortable public areas more than make up for it. As a fellow guest said, "I'm in my room to sleep and shower. What use is a big room to me?"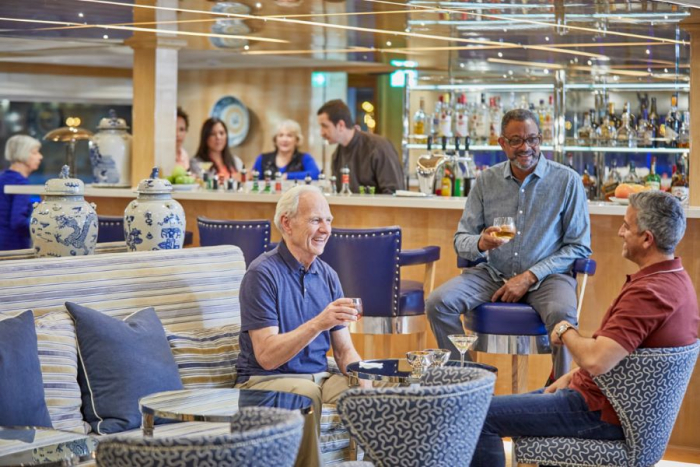 It's not only the ship's lounges that keep guests out of their quarters. Cruising on a river means you're never more than a few metres from dry land, and with no "at sea" days, it's naturally a more active form of travel than traditional ocean cruising.
Every day features at least one included excursion, with the option of taking part in some special experiences for an extra fee.
The Sound of Music
On the Danube cruise, for example, a group departed for a day trip to Salzburg – one for the Sound of Music superfans among us – while I joined a guided riverside cycle ride, crossing the German-Austrian border on two wheels instead of by water.
The path we took was a small section of the famously beautiful Danube cycle trail; as we finished our 28km ride, I vowed to come back one day and do the whole thing, from Regensburg to Bratislava.
The day before, I'd been on another bike ride through the countryside, this time setting out by myself to explore the woods and meadows around Passau, Germany's "city of three rivers".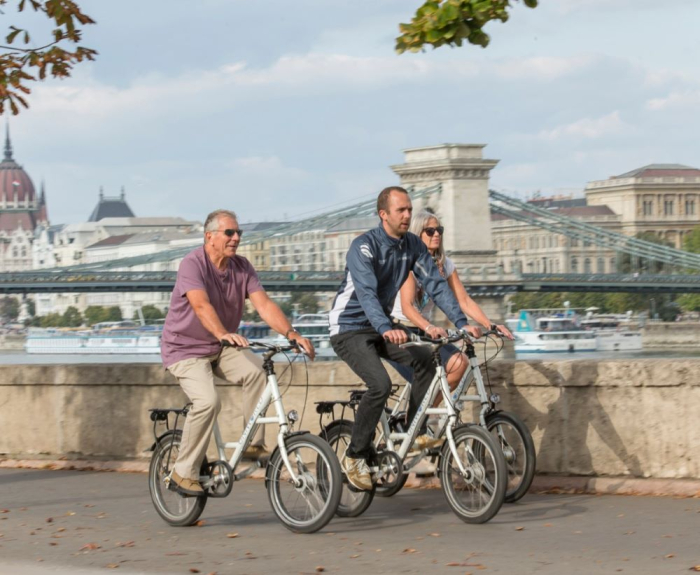 Among the attractions of river cruising are the plentiful opportunities to do your own thing; if you're a traveller with both an appreciation for luxury and a strong independent streak, you might find a cruise line like Uniworld a perfect fit.
Not all days out were quite so intensely active. Other mornings we spent exploring the medieval towns and magnificent cities lining the Danube, accompanied by expert local guides.
"Meet the locals"
In Regensburg, home to 1500 listed buildings (and, we were proudly informed, the highest concentration of bars in Germany), we wandered across the 12th century Stone Bridge, through the Unesco world heritage-listed old town, and on to Schloss Höfling, where we were treated to a private tour of this splendid Baroque castle still owned by the noble family of Thurn and Taxis.
In Passau we spent 20 minutes learning the tricks of the trade from a boutique jeweller as part of Uniworld's "meet the locals" programme.
And, in Vienna, our walking tour took in the architectural highlights of one of Europe's grandest capitals, followed by an afternoon free to visit a museum, have coffee and cake in one of the historical cafes, or simply to roam the city further.
Apricot treasure
Dotted with ancient monasteries, imposing castles and dramatically decaying ruins, Austria's Wachau Valley is probably the most beautiful section of the entire Danube river.
It's also one of Austria's top winegrowing regions, renowned for the quality of its grüner veltliner, the country's most famous varietal. Another treasure of the Wachau Valley is the apricot – but not just any apricot.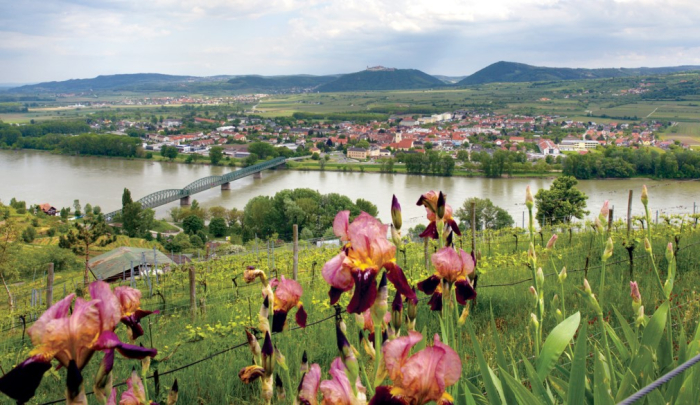 The "Wachauer marille" is widely recognised as central Europe's finest apricot variety and is one of the few Austrian products that is protected as its own brand within the EU.
In the small town of Spitz we toured a museum dedicated to the 3000-year history of shipping on the Danube, then sat down for a local wine tasting, followed by glasses of intense marille liqueur and decadent apricot-studded chocolate.
Germknödel and käsespätzle
Local culinary specialities are a focus of Uniworld tours, both onshore and on board the ship. With daily access to fresh produce – unlike on many ocean cruises – chefs have the freedom to create menus of superb variety and ambition, while also reflecting the unique cuisine of the area.
As we sailed east, new dishes appeared daily: in Bavaria, germknödel (a sweet dumpling filled with plum jam), Black Forest ham, and the ultra-cheesy noodle dish known as käsespätzle; in Hungary, pork goulash and apple strudel; and in Austria, Wiener rostbraten (Viennese-style roast beef and onions), bread with liptauer, a paprika-cheese spread, and schupfnudeln sauerkraut, a Germanic mix of potato noodles with cabbage – much more delicious than it sounds.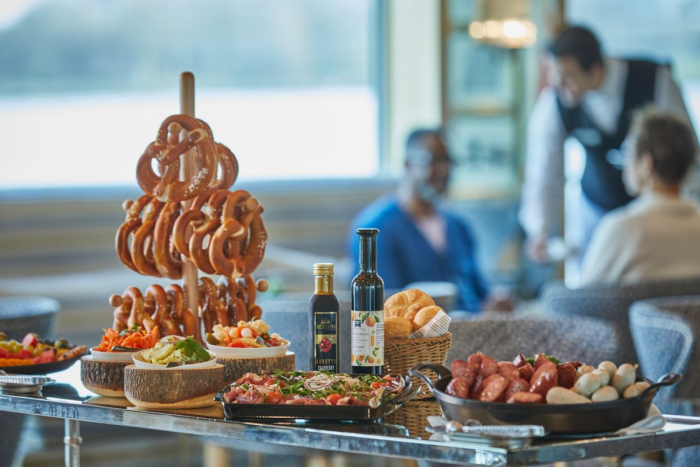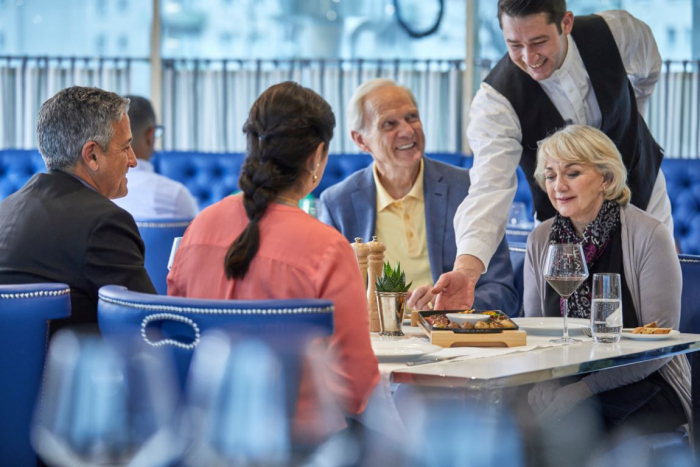 Breakfast and lunch were buffet-style and incredibly lavish; dinners were à la carte, with plentiful vegetarian and lighter options. In keeping with Uniworld's true all-inclusive ethos, all regular dining, wines, cocktails and snacks were covered.
Unless your tastes ran to top-shelf spirits and premium fine wines, there was no need to spend a single euro on food – or anything else, for that matter – for the duration of the cruise.
Cellphones pinging
Our final leg of the journey was from Vienna to Budapest, a lengthy stretch that necessitated sailing through the night. When we opened our curtains in the morning, we were gliding along the Hungarian-Slovakian border, our phones pinging back and forth as they connected to mobile networks on either side.
By lunchtime we were in Budapest. While some passengers peeled off to explore the city's Jewish history – part of this itinerary's unique Jewish heritage programme – a group of us joined a walking tour through the heart of the Pest district.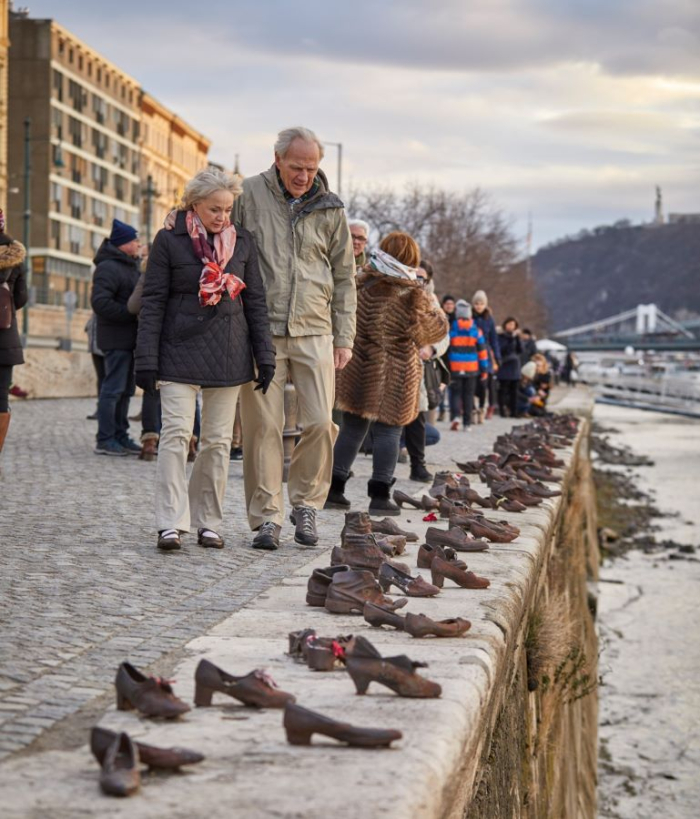 Our route took us past some of the capital's most impressive landmarks, into the neo-Gothic Central Market Hall (a packet of high-quality Hungarian paprika makes an ideal lightweight souvenir, I discovered), and included a stop in a local strudel shop for coffee and pastries.
Post-cruise extension
One afternoon is hardly enough to take in all this remarkable city has to offer, and it's little wonder that many guests chose to stay on for a two-night post-cruise extension.
But for me, it was time to return to real life. On an eight-hour train journey back to Germany, I had plenty of time to think about what it is that makes river cruising such a great way to travel.
Floating luxury hotel
In the past week, I'd visited three countries, two magnificent European capitals, and numerous lovely towns and villages I might never have discovered on my own.
I'd eaten like a queen, enjoyed excellent but non-obsequious service, and slept every night in what amounted to a floating luxury hotel. In many ways, small-ship river cruising is the polar opposite of the stereotypical megaship ocean cruise experience.
Intimate, elegant and culturally enriching, river cruises are an ideal way to discover Europe. I've done the Danube, but the Rhine, Rhône, Douro and Moselle still await.
Here's hoping I get to set sail again soon.
● Cat McGregor travelled courtesy of Uniworld Boutique River Cruises/The Travel Corporation.