It may look a bit like a Fiat 500 that's had a bad lip-filler job, but the new electric 500e has serious chops as a fun daily driver.
BusinessDesk is the first publication to get our hands on the 500e, partly thanks to our commitment to reviewing only electric vehicles – and also because I begged.
I owned a Fiat 500 a few years back but forced myself to sell it as it was broadly considered the world's worst farm vehicle. I couldn't really get any sheep in the back seat, for example. But still, I loved it.
Even though the new one is 56mm wider and 61mm longer, BusinessDesk would still not recommend it as a farm vehicle.
The 500e's performance – 0 to 100km/h in nine seconds – is downright perky, the interior is well finished and the phone connectivity actually works (it's a low threshold to greatness, but if you have ever owned a Fiat, you'll understand how amazing this is).
But the design strays just too far from the beautiful, balanced form of the petrol 500 to be not quite right. It is, well, bulbous.
It is still lovable, though, and driving it in the city is a joy. It handles well on a motorway, too, but due to Auckland's pathetic, rain-ruined joke of a summer, I didn't get to take it up north to the farm to try it out on rural roads.
True, it would have taken a lot for me to hate this car, so it gets a bit of any easy ride. For the record, my teen daughter did not like it – too small for her.
Fiat says the 500e's range is 320km, which made me think it was probably about 280km in real-world terms. Around urban Auckland, though, it was likely higher than 280km. After a week of using it for everyday chores, I had knocked only 54% off the battery.
Fiat wants its New Zealand range to be fully electric next year. Stock of the 500e is expected in Q2, and the super-quick 500e Abarth model will be here late this year. That will get to 100km/h in seven seconds thanks to 114kW of power and 235Nm of torque. Now we're talking!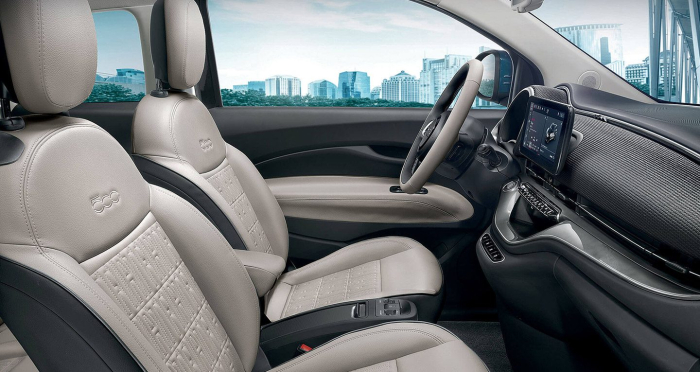 The 500e is priced at $59,990 plus on-road costs, but you get to take the $8,625 government rebate off that. It is $10k cheaper than the comparable Mini Electric.
Faced with buying either of those vehicles, choose the Fiat every single time. For a start, its stated range is 320km vs the Mini's 233km. The 500e also has the go-kart performance the Mini promised, and an Italian readiness that sparkles with la dolce vita.
(Also at the same price is the Opel Corsa-e, which is a massive seller in Europe and has much of the same specs but a longer range. It's definitely worth a look. Review coming soon.)
The 500e's 42kW battery can charge to 80% in 35 minutes. It produces 87kW of power and a peak torque output of 220Nm. Those numbers sound low, but this is a small, relatively lightweight package.
The seating position is stridently upright, especially if you have a teenager in the back seat. I don't think this is a car for anyone even near six feet tall.
The door handle is electronic, which takes a few seconds to get used to and is then fine. There is a manual one for emergencies, too.
The base model, called Pop, has level-two autonomous driving, 10.25-inch infotainment system, wireless phone charging and Apple/Android Play.
For $64,990, the Icon includes a fixed glass roof, various safety and interior improvements, adaptive cruise control, 360-degree camera, traffic jam assist and 17-inch wheels. I don't always recommend upgrading from the base model, but in this case it is worth it.
Would I buy it? Most likely. But the price category for $60k electric cars is getting increasingly crowded. BMW say they'll also have a sub-$80k EV in the market this year, so expect to see lots of action here.