My train journey from Picton to Christchurch began with an amusing snafu: my brother and I were mistaken for husband and wife. This was sorted out super-fast, however, and we quickly settled into enjoying the Coastal Pacific railway experience, with its wide, comfy seats, complimentary beverages, and top-class nosh.
Even on the overcast and sometimes rainy day we travelled, the rugged natural beauty of Te Wai Pounamu was awe-inspiring. While the seats in the Scenic Plus section recline, perfect for a quick kip, you really don't want to miss a second of the scenery, including vineyards, the pink-hued Grassmere salt plains, the stunning beaches of Kaikōura, and the highlight, the Ōhau Point seal colony. Besides, there's so much eating and drinking to do.
The train ride is excellent on its own, but the Scenic Plus experience elevates it to the next level, offering locally sourced wine, beer and non-alcoholic drinks and multiple courses that highlight the best the region has to offer. Marlborough salmon or the Canterbury lamb? How about both? It would be unfair to say which was better, as both were very good: fresh, perfectly seasoned and served on a salad of couscous and chickpeas.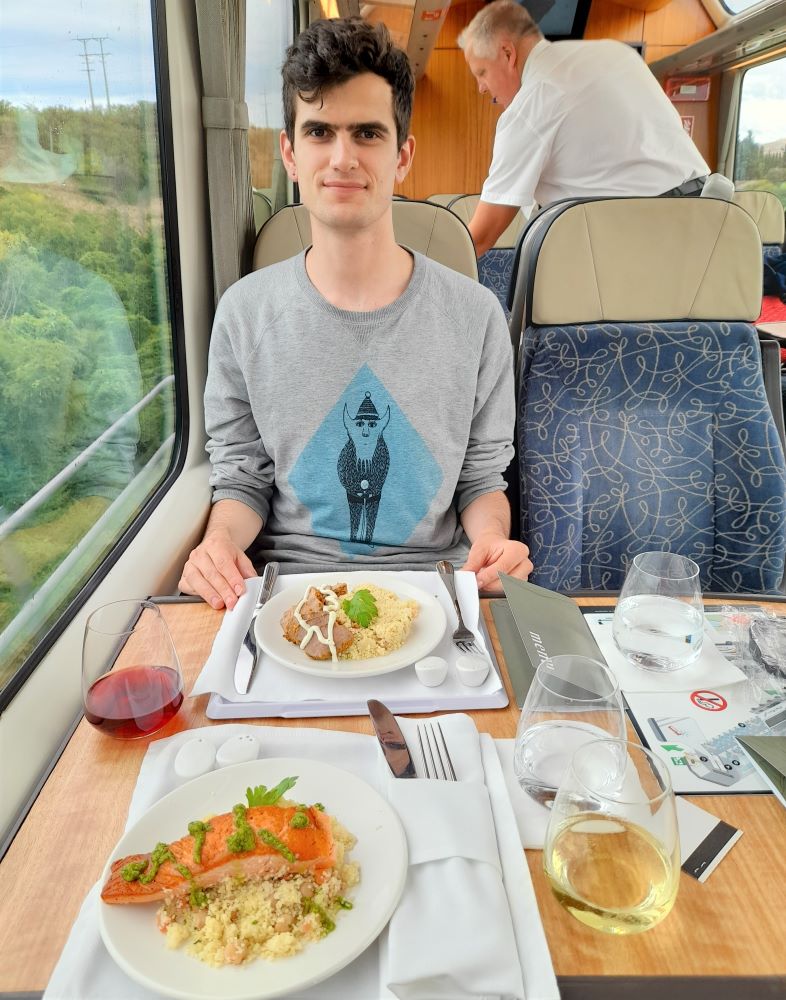 Passenger Max Nichol appraises the lunch service aboard the Coastal Pacific.
If we were worried a light lunch might not be enough to keep us full for the six-hour journey, our concern was misplaced: there was plenty more to come. A sweet treat of jewel-coloured macarons in an array of decadent flavours soon replaced our lunch plates, followed shortly after by an afternoon snack of canapés ranging from fresh fish to falafels. We had no qualms accepting seconds of these morsels as well, despite feeling more than a little stuffed. Throughout each course, our glasses were kept full, from red and white wine to tea and coffee.
We felt it was a good idea to break up the eating with a walk to the open-air viewing deck, where we were able to take in unobstructed views of the scenery and shoot off some snaps for our Insta, before retiring back to our seats for the final course – a cheese platter, locally sourced, of course, along with yet another refill of our glasses.
One feature of the Coastal Pacific journey is "live storytelling", something we were mildly apprehensive about – we'd imagined this might be live-action re-enactments of historical events by our friendly host, Stu. Luckily, the storytelling complemented the pre-recorded commentary – relayed through headsets – that was triggered as we passed landmarks. Stu pointed out areas of interest, yarned to us about the train and its history, and shared his insights as a Rangiora local as to what to do at the other end.
As we neared the area where the coastline was significantly altered by the 2016 Kaikōura earthquake, Stu stood with us and explained the huge impact the magnitude 7.8 jolt had on the area. I hadn't been down this piece of coastline since before the earthquake, and it was a surprise to see just how much the lie of the land had changed. Newly exposed rock that had been physically lifted up by the tremor made it very clear just how powerful it was.
After arriving at our destination we practically rolled off the train, stuffed to the brim with good wine and great food and grateful for the excellent service. We were completely sold on train travel as the best way to get around New Zealand.
I'm already hanging out to book a spot on the TranzAlpine, which also offers a Scenic Plus experience between Christchurch and Greymouth, as well as on the Northern Explorer, which runs between Wellington and Auckland.
New Zealanders might not be able to holiday overseas at the moment, but if you're looking for a first-class experience at home on an economy budget, the Coastal Pacific Scenic Plus service should be top of your list.