Two Heart of Darkness India Pale Ale beers – Kurtz's Insane IPA and Some Sorcerer Hazy IPA – rolled off the canning line at Behemoth's Mt Eden last month, marking the start of a unique relationship.
International beer has long been brewed under licence in New Zealand, with Guinness first brewed here back in the 1960s. Lion brews many brands under licence, including Stella Artois and Becks; Heineken is brewed by DB, and Carlsberg by Independent.
But for a Kiwi craft brewery to brew an international rival under licence is a completely different story.
"It's pretty unique for New Zealand," says Behemoth owner Andrew Childs.
Yeastie Boys, now that it is based in the UK, has its New Zealand beers brewed under licence by Urbanaut in Auckland but it is still a New Zealand-owned brewery.
The licence model differs from a contract brewing model, where a brand will pay a set fee to have its beer made by another production brewery. The under-licence model means Behemoth makes and sells the Heart of Darkness beers and pays a royalty back to the owners.
"They get a piece of the action of what we're doing," says Childs. "We make money, they make money – there's no downside."
But there's more to this than a commercial arrangement – it's a marriage based on mutual respect and shared ideas around beer.
Childs and his wife, Hannah, first encountered Heart of Darkness in Vietnam in 2017, when the brewery had been open only a year.
"On our honeymoon, we were just looking at what craft beer was around and we went to one place and all the beer was amazing. We were like, ''holy crap these beers are good', and we went back three times on the same trip."
That was the Heart of Darkness brewpub, where Childs briefly met owner John Pemberton and subsequently "put two and two together" when he realised the Heart of Darkness head brewer was a New Zealander, Duane Morton (pictured above, right, with Andrew Childs, left) who had worked at Moa and Panhead.
Childs and Pemberton later crossed paths at an Asian craft brewers conference and the pair decided the shared ethos between the brands – and a love of big, hoppy beers – warranted a collaboration.
Together they made a couple of hazy IPAs – Churtz's Insane and These Go to Eleven.
When Behemoth opened its own production brewery in Mt Eden last year, the conversation turned to brewing under licence.
This is a good alternative to exporting beer – especially hop-heavy beers, which can deteriorate on board a ship. Refrigerated containers can help but the long-distance travel is not ideal.
"Exporting hoppy beers is problematic," Childs says. "Brewing here means they get to bring super-fresh beer to New Zealand without it having to travel from South-east Asia.
"They realise New Zealand is a really good craft-beer market and they have a partner they can trust with the beer."
Trust on quality control is imperative. Childs sends back samples of the beer via FedEx for the team in Ho Chi Minh City to assess.
"We send samples back to them and make sure they are happy with the product, but we share similar palates and we've drunk beer with them and understand what they want."
The hops in the New Zealand versions of the beer are the same as the Ho Chi Minh City originals but the malt base differs due to availability of grains. But Childs points out Morton is well versed in the flavour profiles of the New Zealand malts through his work with Panhead and Moa.
In a video talking about bringing his beer to New Zealand, John Pemberton said having Morton's friends and family taste his beer was a strong factor in the decision to brew here.
"New Zealand has a special place in our hearts as Duane is from New Zealand and it's special for us to take his beer back home – his dad, Morty, will be super proud. And I couldn't be more stoked to be working with the team at Behemoth.
"I met Andrew and Hannah on their honeymoon. There's a lot of mutual respect and we have similar approaches to beer and we both love to push the boundaries."
For Morton, there's a feeling he's coming home. "I came to Vietnam for a challenge and a bit of change. Having Heart of Darkness brewed in New Zealand is like coming full circle for me – my dad, my brother-in-law and friends in New Zealand get to try Heart of Darkness beers fresh and well made."
The beer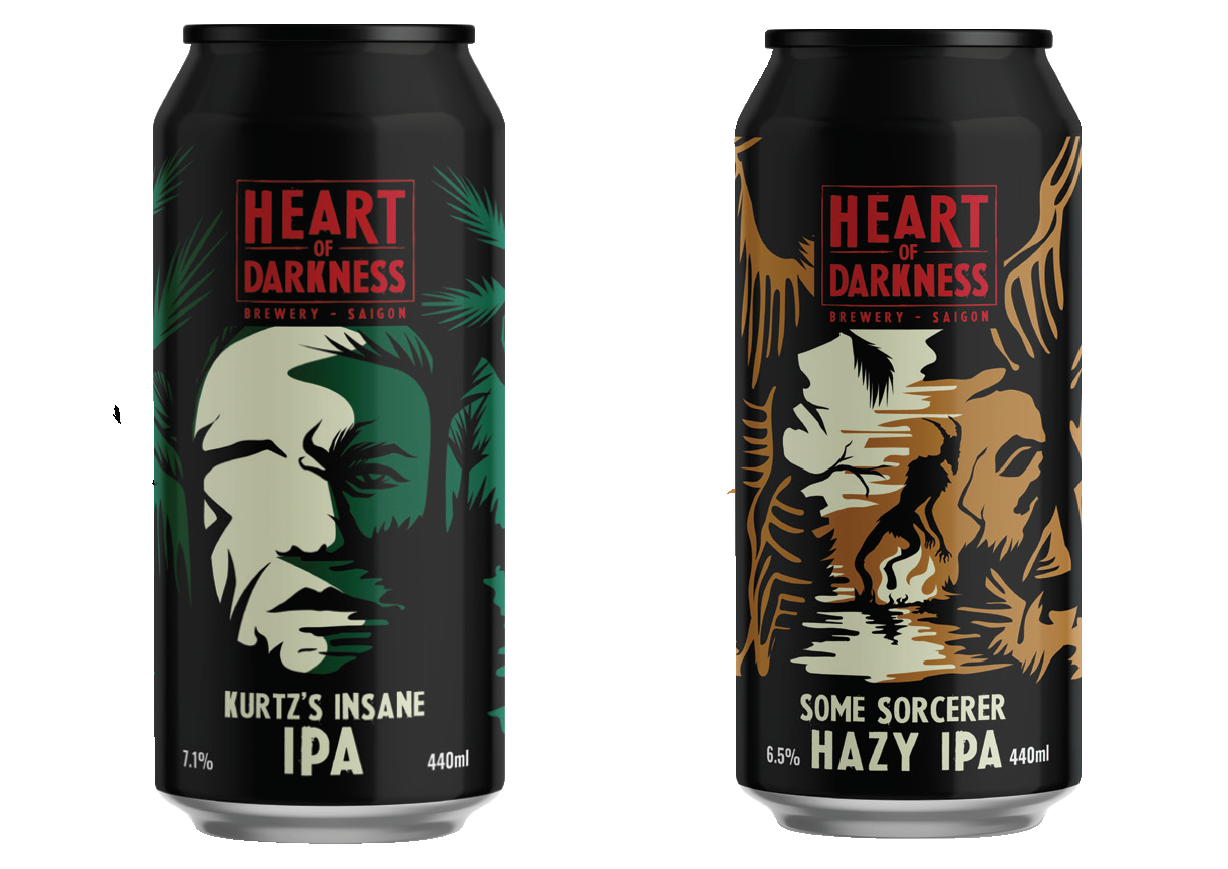 Kurtz's Insane IPA (7.1 percent): Anyone familiar with Joseph Conrad's novel Heart of Darkness will know it's the loose basis for the Vietnam War setting of the cult film Apocalypse Now. Both the film and the book feature a character called Kurtz (played by Marlon Brando in the film), who is described as insane. So, a beer named for such a character better be larger than life and that's the case with his huge hop-hit. It's a classic American West Coast IPA, circa 2010, with a malt base that features caramel malts eschewed by more modern styles. But that toffee base is a glorious, rich canvas for a beer with hops. It's thick, resinous, round and bursting at the seams with condensed hop goodness. The finish is tightly bitter, easily brushing aside the malt sweetness to create a perfectly balanced beer of XL proportions.
Some Sorcerer Hazy IPA (6.5 percent): This hazy IPA is based on Churtz's Insane, the original collaboration Behemoth did with Heart of Darkness. As a result, Pemberton felt it was "a natural one to release in New Zealand". It packs way more grunt and flavour than its alcohol-by-volume level of 6.5 percent might indicate. It has loads of ripe tropical fruit, like a banana smoothie made with a tin of fruit salad blitzed in, but there's just enough citrus and grassy bitterness to hold all the sweetness in check. A creamy, lush mouthfeel creates a chewy, hefty mouthful of beer that makes it hard to chug it down too quickly. That said, the surprisingly dry finish makes taking another sip all too easy.