In this extract from Bryce Langston's book Living Big In a Tiny House, he talks about The Hazel, a 24-square-metre home in Auckland that was built for just $150,000.
Shaye is no stranger to tiny-house building. Years ago, I visited her and her ex-husband, Tom, and their newborn, Hazel, just after they had finished building a beautiful green cottage named Lucy.
That was my first tiny-house tour. Ever since, I've watched Shaye's blossoming career as a tiny-house builder with great interest.
After completing her first, Shaye started designing and building tiny homes for other people.
At the time, tiny houses were a new concept in New Zealand, and Shaye's home generated a lot of interest.
Eventually, she started her own company, and her ideas have grown, evolved and helped to shape the tiny-house industry both in New Zealand and overseas.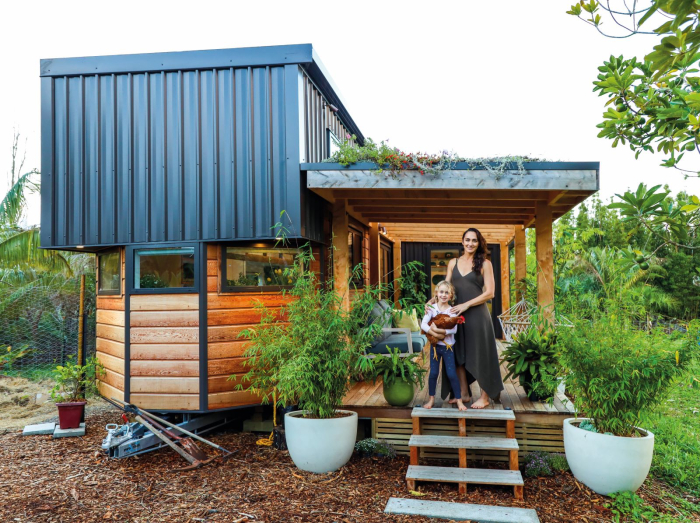 Perhaps the pinnacle of her designs is the home she built for herself and her daughter, after whom the home is named.
Shaye's work is a great example of how practice and experimentation is essential to create cutting-edge designs. Refining her ideas over the years has resulted in a home that is functional, innovative and stylish.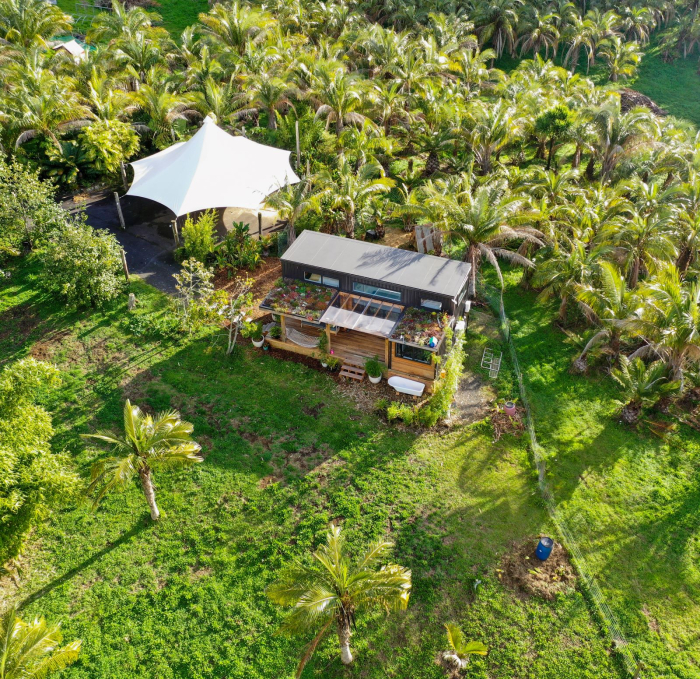 Shaye's home is parked on a large property with a listed garden that boasts thousands of species of native and exotic plants.
Its living roof, built out over the deck, also has many vibrant plants, helping connect the home to its surroundings.
The Hazel lies in what they call the 'forgotten corner' of the garden. There, Shaye's daughter has space to keep chickens.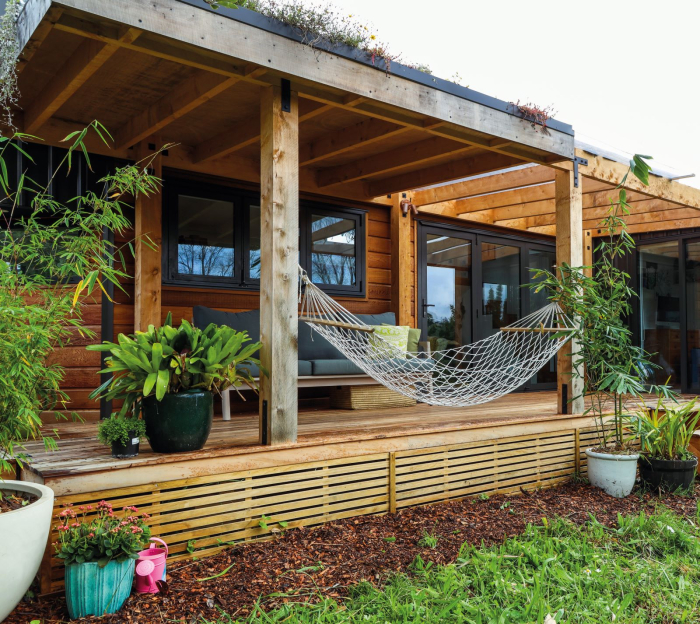 The main part of the tiny house is built of cedar and metal, on wheels, and measures 8.5 x 2.8 metres, attached to an extension module pod. This has been placed right beside the main house, and is accessed by an external door (waterproofed with additional flashing), or across the deck and through French doors.
The module was added for extra space. Shaye wanted to future-proof the house in case her family grew. In the meantime, it provides additional office space and a spare room for guests.
After moving out of Lucy, Shaye and Hazel spent years renting, so building this tiny house was an opportunity to create a space for themselves again.
Shaye designed The Hazel with her mother, which makes it particularly special to her. It combines all the lessons she had learnt from previous work.
The interior of the home is every bit as stunning as the exterior. A green wall creates a plant-themed aesthetic inside the house. Shaye is a huge fan of house plants.
She originally thought of hanging artwork on that wall, but then reconsidered. What better artist is there than nature?
So the plant wall came to be – literally a high wall festooned with plants. This adds life and colour to the space, and will forever be a naturally evolving part of the home.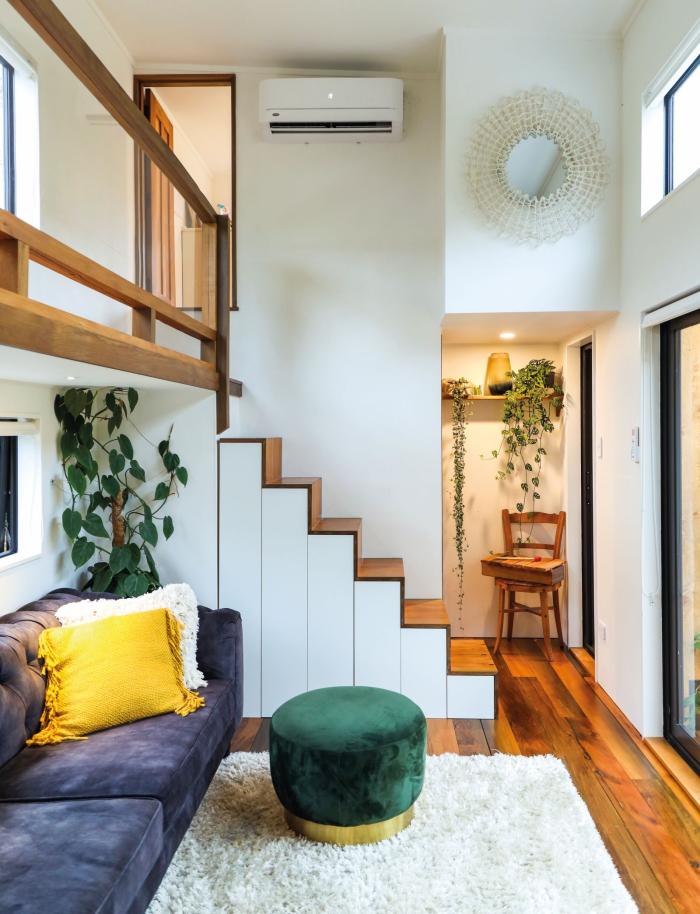 It was important for Shaye that she and Hazel each have their own room, with doors to ensure privacy, something that will be increasingly essential as Hazel grows older.
The two rooms are connected by a walkway, with a bannister for safety. Rather than a ladder, Shaye has constructed a simple, effective staircase that provides easy access to the bedrooms.
Everything has been crafted with equal parts function and beauty. Gorgeous 150-year-old river rimu and kauri timbers add warm tones.
Mirrors strategically placed throughout provide an additional sense of space.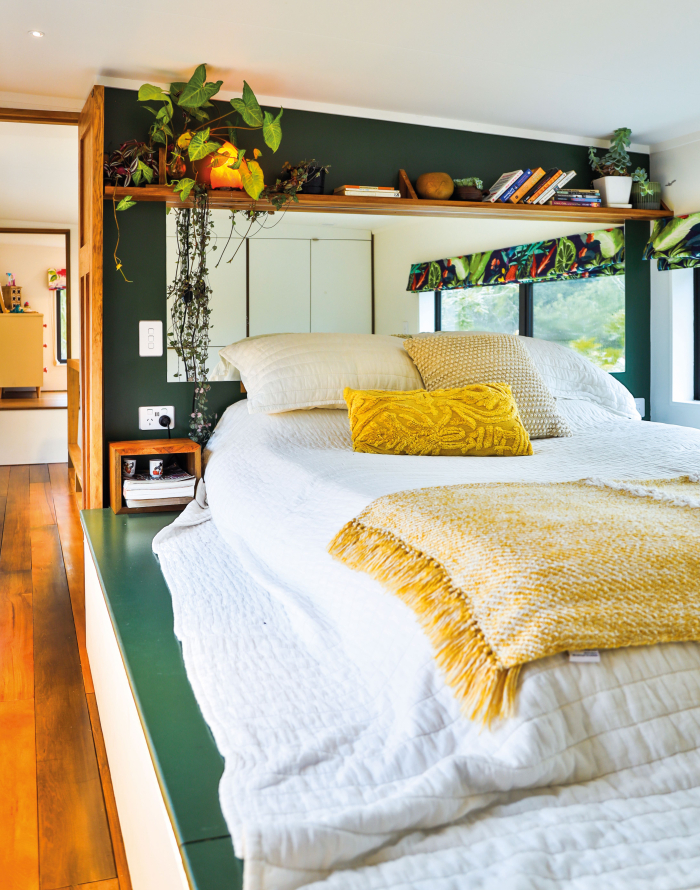 An extension modular pod has been placed next to the house, to one side of the deck, to provide more space. It is accessed by an external door.
Needless to say, the whole home was built with functional family living in mind. The large kitchen has plenty of storage and full-sized appliances. As well as the two private loft bedrooms, there is a large lounge and spacious bathroom.
For Shaye, this home represents a place of stability for Hazel and herself.
Shaye has learnt first-hand how fast your circumstances can change, so building the home was very much about creating a solid foundation for her small family.
It's a sanctuary, and gives Shaye much peace of mind.
Living Big in a Tiny House by Bryce Langston is available now, published by Potton & Burton ($49.99).