Twenty-seven years ago, NZX investors were fascinated by Peter Witehira and his never-go-flat battery. His company, Power Beat International, listed on Oct 12, 1993, and two days later, its share price reached $18.
Witehira and Power Beat International were heading for the stars, but less than two years later, the company had been suspended by the NZX. What happened to Power Beat? Why didn't the company fulfil its enormous expectations?
Peter Witehira
In 1987, Witehira, who was a policeman, read a story in Reader's Digest about the world's 10 most needed inventions. One of these was a never-go-flat battery and he decided to design a car battery that would always maintain a charge.
Evan Bydder, a Waikato University scientist, helped Witehira refine his ideas and Witehira established Power Beat in Hamilton in 1989 after patenting his invention.
R&D Magazine in the United States named the battery as one of the world's 100 most technologically significant new products.
But invention is one thing, commercialisation of an invention is another. Witehira waded knee-deep into controversy when he attempted to commercialise his new innovation.
Licence agreements
In May 1993, Power Beat entered a licence agreement with a fully owned subsidiary of the Vancouver Stock Exchange-listed Trend Vision Technologies (TVT), which would pay US$4.5 million to the Hamilton-based company over the following three years.
The initial scheduled payments were as follows:
US$100,000 on or before May 12, 1993.
US$150,000 on or before June 15, 1993.
US$500,000 on or before July 15, 1993.
The first payment of US$100,000 on May 12 was late. The second payment of US$150,000 was also late and Power Beat accepted US$100,000 in cash and US$50,000 worth of TVT shares.
The third payment of US$500,000 was due on July 15 but arrived on July 28 in the form of a cheque post-dated to Sept 29. Power Beat informed TVT that the post-dated cheque was unacceptable and a new cheque, dated July 30, was issued.
On Aug 27, Power Beat was told this latest US$500,000 cheque had been dishonoured.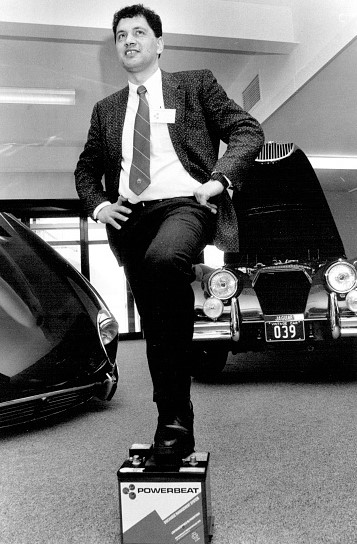 Peter Witehira at the 1991 Sydney launch of Power Beat International. Photo: Getty
Capital raising and listing
On Aug 4, 1993, Power Beat issued a company profile. This included forecast revenue of NZ$2.7m for the March 1994 year, mainly comprising revenue from the TVT licence agreement.
On Sept 6, the company issued a short-form prospectus for the issue of 383,951 shares, on a 1-for-7 basis, at $6 each that raised $2.3m.
Power Beat listed on the NZX, through the direct listing process, on Oct 12. Its Aug 4 company profile and subsequent short-form prospectus were the main sources of investor information.
The company's share price closed at $16.70 on listing day. Two days later, it reached an all-time high of $18, but by Nov 4, it had fallen to $11.
On Jan 25, 1994 – almost five months after the US$500,000 cheque had been dishonoured – Power Beat acknowledged it had not received the half-million-dollar payment.
A few months later, the company reported a loss of $983,000 for the March 1994 year compared with its profit forecast of $1,112,000.
Its licensing agreement with TVT was terminated, and the Canadian company announced its intention to sue Power Beat for US$100 million for doing this. It also said it planned to sue Witehira for US$20m for defamation.
Power Beat chairman Waari Ward-Holmes wrote in the 1994 annual report: "The company is evaluating a number of approaches by potential investors seeking equity participation. These evaluations are ongoing and include a review of manufacturing options."
Major public stoush
Power Beat began to attract considerable media attention in mid-1994 as a high-profile public stoush erupted between Witehira, who owned 20.9% of the company, and Ward-Holmes.
Ward-Holmes represented the Maori Development Corporation (MDC), which was an original Power Beat investor and had a 20.3% stake.
It was Witehira and Bydder, the Waikato University scientist who was now on the Power Beat board, against Ward-Holmes and the MDC.
On Aug 5, 1994, Power Beat announced that it was looking to establish a manufacturing plant in Huntly because of "a significant increase in the demand" for its batteries. The announcement also said that Bydder had replaced Ward-Holmes as chairman, although the latter remained on the board.
This was followed by a huge number of announcements leading up to two highly charged meetings: the company's annual meeting on Oct 19, followed by a noisy and vindictive extraordinary general meeting on Dec 20, 1994.
A new pro-Witehira director was elected to the Power Beat board at the annual meeting on Oct 19 after Bydder disallowed an MDC proxy that voted against this candidate.
The Dec 20 extraordinary general meeting, which included a motion for Power Beat to list on the Nasdaq, was extremely personal and nasty. There were arguments about the dishonoured US$500,000 cheque and requests that the police, Justice Department and Serious Fraud Office should investigate the company.
Shareholders were concerned that the company appeared to have granted a global licence for the battery to a new party, US-based Tri-Pacific Resources. They wanted to know who had granted this licence and how much did the company receive in return.
The voting results for the Dec 20 meeting, which weren't released until Dec 28, showed that shareholders had decided to dump Ward-Holmes but to list the company on the Nasdaq.
However, in April 1995, the High Court overturned the original results of the Dec 20 extraordinary meeting where Ward-Holmes and two other MDC candidates had been defeated.
Although the court decided that Ward-Holmes and the other two MDC candidates were elected at the meeting, Companies Office records show they never became official directors.
NZX enquiry
Meanwhile, on Aug 10, 1994, the NZX's Market Surveillance Panel announced an enquiry into several issues relating to Power Beat, including the accuracy of pre-listing company profile and the US$500,000 TVT cheque.
On April 26, 1995 – more than eight months after the enquiry began – the panel announced the immediate suspension of the trading and quotation of Power Beat shares. The full panel report, which was released on May 15, 1995, had several conclusions, including:
Power Beat failed to correct information contained in the original company profile and short-form prospectus regarding the US$500,000 TVT cheque.
Witehira was censured for his role in Power Beat's non-compliance with the listing requirements. The panel concluded that "Witehira ought reasonably to have known at the date Power Beat first listed that TVT was unlikely to be in a position to perform its obligations under the agreement".
Power Beat's shares would remain suspended.
The panel took far too long to complete its report, reflecting the NZX's laid-back approach towards regulation and enforcement in the 1990s.
Power Beat's demise
Power Beat received a major boost in Aug 1995 when highly successful Hamilton businessman William (Bill) Gallagher joined the board, but he was gone less than two months later.
Over the next few years, 16 different directors arrived at and left Power Beat until a liquidator was appointed on Oct 17, 2011.
The liquidator realised only $1,153.15 from the former NZX-listed company.
Witehira changed his name from Peter to Pita, adopted a much lower profile and seems to be involved in several small Hamilton companies with Bydder.
However, he was back in the media spotlight in Dec 2014 when London's Daily Mail reported that he had spotted a huge unexplained wake in Oke Bay, Bay of Islands, which he said could be a creature around 12 metres in size.
Maybe Witehira had spotted a large amphibian vehicle powered by a never-go-flat battery.
Disclosure of interests: Brian Gaynor is a non-executive director of Content Limited, the publisher of BusinessDesk, and of Milford Asset Management.
brian@businessdesk.co.nz