Welcome to My Net Worth, our regular column on the lives and motivations of our country's top business, legal and political people, in their own words.
Andrew Bayly is the MP for Port Waikato, having been first elected to Parliament in the Hunua electorate in 2014. He is the National Party's spokesperson for finance (revenue), infrastructure and statistics, and is the highest-ranked caucus member after the leader and deputy leader. Bayly trained as an accountant before working in merchant banking for a decade. Formerly an officer in the New Zealand Territorial Force and the British Parachute (TA) Regiment, he is a keen adventurer, being one of fewer than 150 people in the world who have trekked to both the North and South poles. He is a fellow of the Royal Geographical Society in London.
I grew up on a farm in Whanganui. I learnt the importance of independence and self-reliance.
I always wanted to go into business so I studied accounting and finance at university, plus other distractions... As a student I loved sport – and study, to some extent!
I was fortunate to join Southpac Merchant Finance, initially in the money markets and then in the mergers and acquisitions team. Being prepared to learn is essential in working in that type of environment. Understanding what motivates people is also a crucial skill.
Having good teams of people makes any job easier. I also learnt the art of negotiation. When teams don't work well together, they inevitably fail.
I have drawn on the experiences of many but regard my predecessor as MP for the area, Sir William Birch, as a trusted friend.
My best piece of political advice? Hang in there!
People underestimate how hard you work as an MP; that's the biggest misunderstanding about politics.
My journey to the poles was a fantastic opportunity to share something special with one of my boys – I've continued to do adventures with my other two sons.
I saw first-hand the impact of climate change – it's devastating in the Arctic, where it's a lot more visible.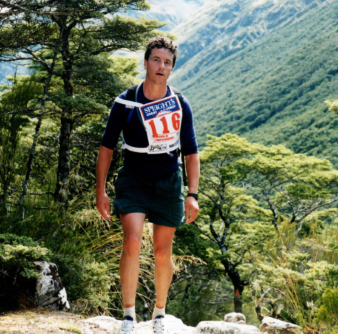 During the 1997 Coast To Coast race.
Covid-19 – it's going to affect all New Zealanders. The best thing was seeing the way communities came together to look after the most vulnerable. But increasingly we will have an inter-generational issue as to how we pay back Government debt.
I have a number of valuable things, but one of them is the Victorian Derby Waterford Trophy, which my parents were lucky to win with their horse Lion Tamer at Flemington in Melbourne in 2010.
My wife and I bought a painting to celebrate 30 years of marriage. That's the last thing I splurged on.
The last book I read was Carve Her Name with Pride, by R J Minney, about the World War II British/French special agent Violette Szabo, who was interrogated by the Gestapo and later executed at Ravensbrück concentration camp. She was posthumously awarded the George Cross and the Croix de Guerre. True bravery knows no bounds.
It's very important to keep fit and to take those brief moments to be with my family whenever I can. I also enjoy getting on my tractor and harrowing my paddocks.
As told to Pattrick Smellie
This interview has been edited for clarity.