Welcome to My Net Worth, our regular column on the lives and motivations of our country's top business, legal and political people in their own words.
Andrew Wilson has led Destination Rotorua since June 2020, taking on full time a role he held in an interim capacity in 2016 while he was senior adviser for economic growth and sport and recreation at Rotorua Lakes Council, where he worked for five years. Before that, he was planning and development manager for the Ministry for Primary Industries, leading a team of 34 business analysts and advisers, and spent three and a half years with MAF Biosecurity NZ, initially as planning and performance manager and then as assistant director of cargo clearance. His first executive role in the public service was as national manager of the detector dog programme with the quarantine service, and his first taste of senior management in the private sector was as general manager of Mt Eden Bakery for four and a half years at the start of the millennium. Wilson, who studied at the University of Auckland and the Stanford University Graduate School of Business in California, also has his own business-strategy consultancy firm and co-founded Rotorua-based software developer Salt + Tonic Ltd.
I grew up in Christchurch. My brother and I spent a lot of time climbing trees and mucking about by the river, riding bikes, just goofing off as kids, really. We didn't spend much time parked in front of the TV.
I think my mum thought we were a bit of a nightmare. She'd take us shopping and we'd be crawling under the display racks and jumping out at people.
I was a bit average through primary school and hit my stride at secondary school. I had ambitions to head off to med school and become a doctor, but I blew that interview quite spectacularly.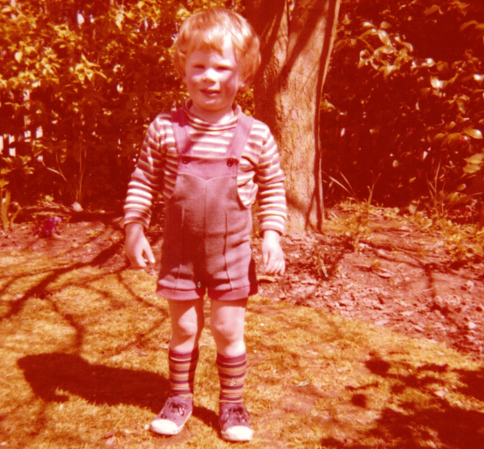 Andrew Wilson aged three.
I started doing a BSc in biological sciences, but after a couple of years discovered there was no way I could see myself becoming a scientist. I started a BCom, but then shifted to international business.
I did an executive education course at Stanford University and it was a truly formative moment – lifting your sights from what can be a small pool in New Zealand. It left me with a view of what's possible.
One of the things I still use today is around good strategy – being really clear about things you're not going to do and communicating that. It's pretty powerful because it narrows your focus on what you're going to achieve.
I can get a bit impatient. My dad used to tell me to slow down and take a pause. Occasionally I just need to stop and make sure I've brought everyone else on the journey with me.
I probably learnt the hard way about keeping things internalised; it doesn't do you any good. So, for me, part of leadership is about making sure people are comfortable sharing issues and talking through things.
My wife, Alex, is my biggest influence. I think she's a way better people leader than I am. She's ultra-good at what she does and – she's going to find out now – I sometimes imitate what she does. I really take my hat off to her.
On the weekends, I spend a lot of time mountain biking – we're really lucky with what we have on our doorstep in Rotorua. I also love house music, which makes my kids despair. I probably spent way too much time in clubs in the 90s. It's a bit of a running joke with my kids in terms of what's on the playlist.
I've got a bit of a hobby brewing beer, which takes up many hours on a Saturday. A friend brought over some hemp, so we made a hemp IPA; we've called it Hugh Hempner. It's pretty good, although I wouldn't give up my day job. But, you know, future career aspirations could involve running a brew pub somewhere. That would be nice.
As told to Jacqui Loates-Haver.
This interview has been edited for clarity.