Welcome to My Net Worth, our regular column on the lives and motivations of our country's top business, legal and political people, in their own words.
Businessman and property developer Ben Gough comes from one of Christchurch's wealthiest families. He worked in their heavy-machinery business for more than a decade before it was sold to Malaysian investors for $211 million in 2019. Four years earlier, the Court of Appeal ruled in favour of him and his sister, Gina Satterthwaite, in a case in which another branch of the family tried to loosen his grip on Gough Holdings, of which he was both a board member (deputy chairman) and an employee (strategic development manager); he and his sister had a controlling interest, by a small margin. The Supreme Court refused to hear an appeal. Through investment vehicles, Ben Gough has shareholdings in Mike Greer Homes, Southbase Construction, Pathfinder and medicinal-cannabis firm Rua Bioscience.
I grew up in Canterbury on a small farm. I spent my early days thinking about a career in agriculture. That probably helped shape me, to a reasonable degree, because you're dealing with a lot of salt-of-the- earth people. I think that background has always helped me be very grounded.
I don't think I made the most of my school days. And so, when I started getting into multi-sport, I suddenly realised a lot more how effort equals results and how positive that can be in the right environment.
I spent a lot of time working on farms just being a general labourer and helping out – in between trying to have a nice summer as a young kid. Then I spent the early part of my career being a shepherd, literally running around farms chasing sheep with a team of dogs. And it was great. And I think that aligned with my passion for the outdoors.
I did a little bit of time at Lincoln University, but I wound up working; I didn't complete my degree.
I had a relatively non-traditional career path. And I've had a lot of things that have shaped me on the way.
In my 30s, I had the good fortune to sail around the world in the BT Global Challenge yacht race. It was a really interesting time, learning about how to deal with people, learning about myself, leadership – how to do it and how not to do it.
The more I reflect on that adventure and that experience, the more I realise I can apply what I've learnt from it.
For a time, London was my base, and my wife and I did a Iittle bit of the typical going and experiencing the world and seeing what it has to offer. But it was also based around the BT Global Challenge.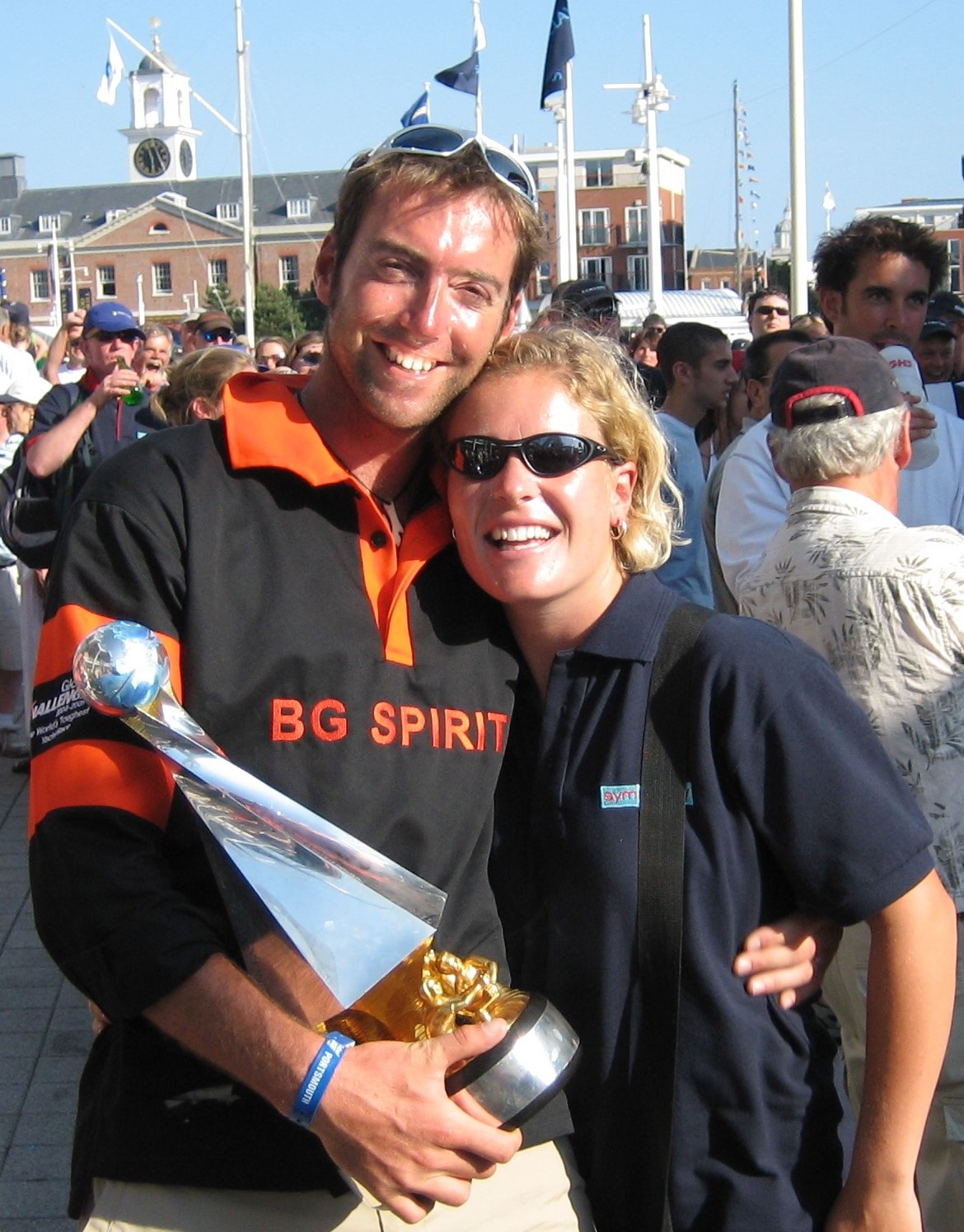 Ben and Penny Gough at the end of the BT Global Challenge yacht race in Portsmouth, UK, 2004/05.
Oil and gas exploration company BG Group sponsored our yacht and its CEO, Frank Chapman, and I had a lot of great conversations sitting on the side of the boat as we were sailing around the world.
I picked his brain a lot, particularly around good governance, good leadership, what that looks like.
Moving into the family business felt like a natural progression, and the opportunity was always there.
I started at the bottom. I think the first day I walked in, there was a little room that had no windows. And someone had very kindly put on the door that it was the broom closet – and my new office.
I literally spent time in all parts of the business: the parts department, learning about the engine business, and spending time on the road with the sales reps.
In 2008, when I joined the board, we also had the Global Financial Crisis. It was a very steep learning curve. But I was surrounded by good people and learnt a lot through that period.
The court case – it was very stressful going through a situation like that. But, you know, we've moved on from that.
The business tied a lot of the family members together. A lot of the family live around the world and have different interests that they now pursue.
I've had a lot of fun reading Shoe Dog, the Nike story, by Phil Knight, the founder and CEO.
Wanaka is my spiritual home. Our family spend a lot of time there. I feel like the stress just melts away as soon as I see the lake and the mountains.
My ebike was my latest purchase, a few weeks ago, and I'm just loving the hills of Wanaka.
The other thing I probably shouldn't confess, but I will, even though I am terrible at it: I really enjoy playing the guitar. I feel a little sorry for my family because I end up playing songs over and over again. I'm trying to learn Wanted Dead or Alive, by Bon Jovi. My family's probably sick to death of it, but it's a lot of fun.
As told to Victoria Young.
This interview has been edited for clarity.