Welcome to My Net Worth, our regular column on the lives and motivations of our country's top business, legal and political people, in their own words.
Brianne West was 24 and halfway through a science degree at the University of Canterbury when she began making products in her kitchen that would eventually lead to the creation of her ethical beauty brand, Ethique. She felt it made no sense to add liquid to shampoo, conditioners or cosmetics, and that it would be better for the planet to sell her products in concentrated solid-bar form direct to the consumer, sans any plastic packaging.
Today, the Christchurch-based company's range of 40-plus shampoos, conditioners and face serums are in thousands of stores in 22 countries.
West estimates Ethique has saved 10 million plastic bottles from going to landfill and she is aiming to ramp that up to half a billion within 10 years.
Last year, the firm secured a deal bringing on US and British investors and allowing a significant expansion with Woolworths in Australia, getting Ethique products in another 950 stores.
I was born on the Isle of Man in the UK and moved to New Zealand when I was seven. I mostly grew up in Queenstown and attended Wakatipu High School. It was a great school: lots of outdoor education, and an emphasis on leadership skills being taught through a bit of adventure. It was an affluent area and a party town, so I saw some interesting things growing up.
I had a wonderful chemistry teacher who inspired my love of science and nurtured my curiosity, but I despised anything to do with maths and economics. I think my least favourite time at high school was school holidays, but then I was an odd kid. I found them very boring.
My parents instilled in me a belief that I could do whatever I wanted to do, not in a "draw on the wall way", but as in big ambitions. I always felt that regardless of what I wanted to try, they would support me. Failure was never looked at as a real issue, but not trying things or avoiding things for fear of them was. Which is why I still believe I could be an astronaut.
I started a pet detective company when I was eight years old, which was an excuse to go out and explore and look for animals. I also started an art gallery around that age – even though I can't draw to save my life – mainly because I wanted a business card like my dad had.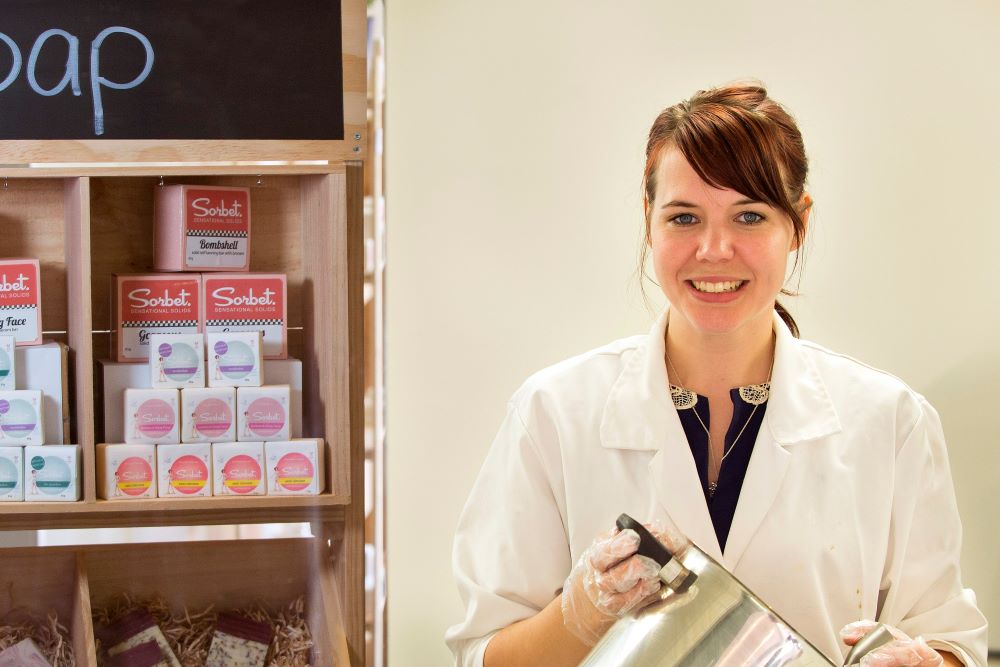 Brianne West in 2012.
Back when I had a life, I used to go to dinner parties a lot and I would always take a dessert. I'd run out of time, so I'd go to the supermarket and try to pick up something really easy to make. I got the idea for a spoonable fudge business – something you could keep for an indefinite period of time because it is 50% sugar, meaning it doesn't go off and doesn't need to be refrigerated. The demand was incredible, but then we got to the Christchurch earthquakes so I couldn't get into commercial kitchens. The difficulty for me was keeping up with commercial manufacturing – though I think there's still a market there for stuff like that.
I guess my current business is a little bit like going retro – back to basics. Your typical shampoo or conditioner is between 70% and 90% water, and it seems mental to me that we buy water, ship it around the world and then use it in a room in which water is literally on tap.
Our biggest challenge during covid was international freight out of New Zealand. Air freight was down to about 23%, so sea freight was coming under pressure and getting stuff out of the country was difficult. Making sure we hit deadlines with retailers was just that little bit more of a task for the team. That's my biggest stressor.
This business has taught me some important lessons – and one is the necessity for strong financial management. So, while I love the creative aspects of business and controlling my own destiny, the more exposure I get to the planning and financial side, the more I'm enjoying it – and I can't believe I just said that!
Like most people I love travelling and miss it as I would easily spend 2-3 weeks a month out of the country. I'd struggle to pick a favourite destination so far, and I'm sure new favourites lie in destinations I haven't been to yet. I'm dying to go to Costa Rica for the incredible biodiversity, and to parts of Africa – Namibia, Zambia and Tanzania.
I love England because it feels like home and I love the history. And, of course, I love being on the Isle of Man - its wild weather, rough seas and amazing scenery.
As told to Brent Melville.
This interview has been edited for clarity.