Welcome to My Net Worth, our regular column on the lives and motivations of our country's top business and political people, in their own words.
James Shaw joined the Green Party in 1990 and has been co-leader since 2015. In the Labour-led coalition Government in office since 2017, he has been Minister for Climate Change, Minister of Statistics and an Associate Minister of Finance. Before entering Parliament, he was a management consultant, primarily in London, where he lived from 1998 to 2010. He and his wife Annabel now live in Wellington.
I grew up in Wellington's Aro Valley, which was a wellspring of the green movement well before I was born, and attended Wellington High School, which was a multi-ethnic, inner-city school.
My mother came off a multi-generational family farm outside of Ōpōtiki in the eastern Bay of Plenty. She and her sisters and brothers were the first generation of the family to move to the city, go to university and join the professions – she was a history and social studies teacher.
As a student I was terrible. Ask any of my teachers.
I was a partner in a small consulting firm during the Global Financial Crisis. Our clients stopped paying and we were in real danger of going under.
Every morning, we had an all-hands "daily cash call", which gave us our marching orders for the day: ring everyone who owed us money and see if we can get even a few thousand pounds out of them to keep the lights on tomorrow.
What's been the hardest political lesson for me? Don't get cocky.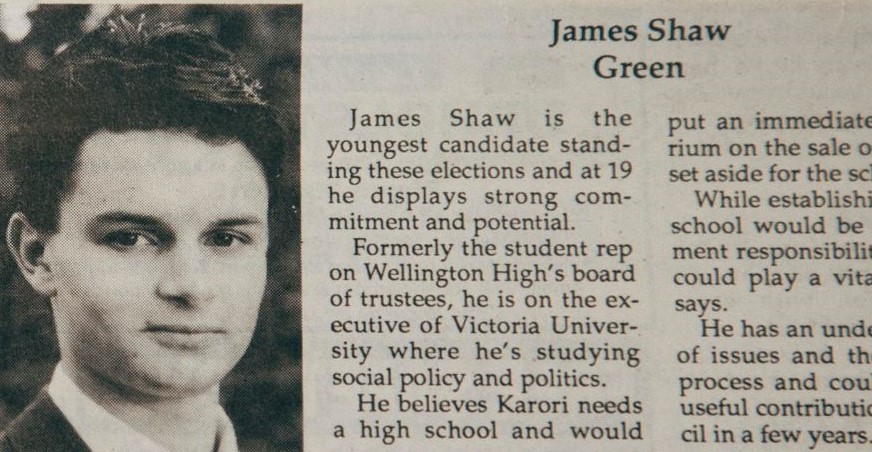 A 1992 clipping featuring 18 year-old James Shaw in his bid to stand for Wellington City Council
When I ran for co-leader of the Green Party, I said I wanted to lead the Greens into government and safely out the other side – defying the history of support parties under MMP that have collapsed under the weight of government. But, more importantly, I want to use my time in government to – finally – bend the curve of New Zealand's greenhouse gas emissions downwards, such that the momentum then carries us rapidly towards a zero-carbon economy.
Making New Zealand one of the first countries in the world to enact the 1.5⁰C threshold of global warming into our primary legislation through the Zero Carbon Act – with the unanimous support of the House – has been my biggest political achievement to date.
My regret? The failure to enact a capital gains tax and start to redress the imbalance between tax-paying wage and salary earners on the one hand and asset owners on the other.
I figure work-life balance is a balance across my life as a whole. I reckon I should net out about even by the end of it.
People tend to think politics is really transactional and all about "leverage". It's not – it's relational. The quality of your relationships determines your ability to influence the outcome.
Covid-19 has given me hope that, when confronted with an existential crisis, we have the capacity to respond appropriately to the scale of the challenge. Now to repeat the trick with climate change.
As told to Victoria Young
This interview has been edited for clarity.