Raelene Castle, ONZM, was born into a sporting family. Father Bruce captained the New Zealand rugby league team and mother Marlene represented the country in lawn bowls at four Commonwealth Games, winning a silver and two bronze medals. Castle's early professional career included top marketing and communications roles at Fuji Xerox, BNZ and Telecom NZ. In 2007, she landed the job that ultimately led to her becoming a household name: CEO of Netball New Zealand. Six years later, her appointment as the first woman to lead an NRL club (the Canterbury-Bankstown Bulldogs) was headline news on both sides of the Tasman. In December 2017, she switched codes to become head of Rugby Australia, and three years later took up her present role at Sport NZ.
I was born in Wagga Wagga, New South Wales, but was raised in Bucklands Beach, Auckland. Mum, dad, me and my brother, Ryan, who is three years younger. I had an amazing childhood in a great suburb. We were lucky to live across the road from the beach, so we spent all our time swimming and having fun and adventuring and fishing.
I loved school. I definitely had a bent for sports. Some would argue I went to school to play sport and then learn some things, in that order. And that was probably true. I had a lot of friends from different groups – sports people and music and arts people; to me, differences are what makes life interesting.
My parents taught me that values are really important. They never differentiated by gender, so my brother and I were brought up in a house where equality was expected. Ryan and I both learnt to cook, to use a hammer, change a tyre on the car and chop firewood. It was the starting point for a conversation where I believed I could do anything.
My mum tells the funny story that when I was very young, maybe four or five, we pulled into the petrol station and the man came out; it was still the days when you got service. I said to mum, "When I grow up, I want to be a service station attendant."
As I got a bit older, initially I thought I'd be a stockbroker, but I graduated from school and went to study for a bachelor of commerce degree at Auckland University around the time of the stock-market crash in '87. So I looked at other options and was lucky to get my first job at Fuji Xerox, which was a place that gave me lots of different experiences. I couldn't have asked for a better platform.
I had always wanted to work in sport. I remember driving down the road and I heard on the car radio that the CEO of Netball New Zealand had resigned. And I thought, "This is the one that I'm going to chase really hard." When I was appointed, it was my first CEO role and it was a big deal because I never believed when I left school that I would ever be able to be a CEO, because I wasn't the smartest person in the class. But then you realise that, actually, when you bring a group of skills together, that's what enables you to be in a leadership role.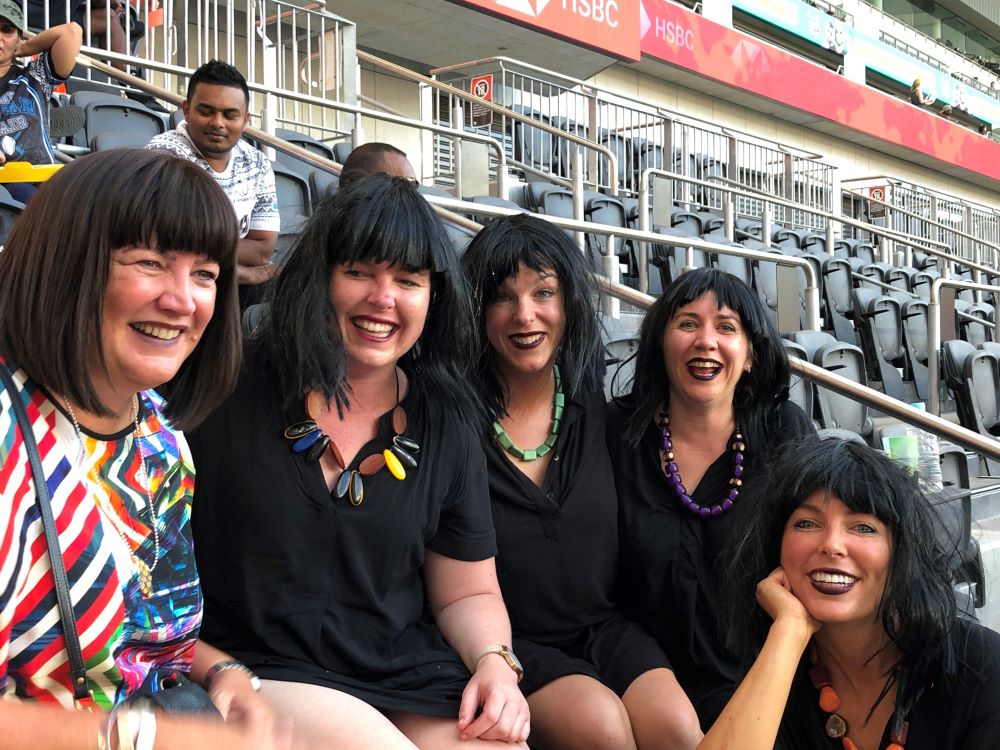 Raelene Castle with the 'Raelenes' at the Sydney Sevens in 2019.
I have a people-based philosophy: you get the right people, you get the right outcomes. I'm not afraid to employ people who are much smarter than me. My job is to bring that group together and have that team work efficiently.
In a personal sense my biggest success is being a good friend and a good family member. I feel really proud of that. Being close to family is something that keeps things real. I get an enormous amount of energy and support from them and it's really important to me.
There will be a public perception of my biggest failure from my time at Rugby Australia, and around the Israel Folau issue [his statements against homosexuality], or the Wallabies captains' letter [11 former skippers called for a change of leadership at the organisation]. And sure, people would say, "Man, they're failures", but if you live on the inside of those things, they're enormous learnings. And there are things about that to be proud of – around standing up for what you believe in. And, really, regardless of all the negativity and noise and media focus, being brave enough to continue to stand up under pressure, I think that's really important. If you can be certain in your mind that you've made the right decision for the good of the organisation, not for the good of yourself, you can put your head on the pillow every night and be sure that you've done the best you can. And that's okay.
There are lots of things I would do differently. You couldn't go through a situation like Israel Folau and not think there were things that you would do differently, and it would be arrogant to say that you've got everything right. But where the mistake comes is if you don't take that learning into the next opportunity. The red lights should start to go off earlier in the next situation because of the learnings that you've had when you've come out of a situation like that.
My best advice for women in business is to be the best that you can be. Because if you're capable and competent and really good at what you do, then you take that out of the equation for any debate or discussion. Secondly, you can't get a job you don't apply for. Have the confidence to step in and back yourself. The third thing is around gender pay – always ask for more money.
About 90% of social media engagement with me is negative. A lot is from keyboard warriors who don't know me, who aren't brave enough to put their name to things. I'm okay with it. For my family, that's hard. It can get very personal very quickly. And the overlay for women is a very different conversation on social media. It's about appearance, it's about your weight, your age, it's about what you're wearing, and men don't necessarily face that.
I'm good at separating the things I should worry about from the things I don't worry about because I can't change them. So, you can't take responsibility for things that you can't move or change.
I like spending weekends with my partner, Greg, and our friends and it usually involves wine and food, because we really like to be social. I love having people over and cooking something that they really enjoy. I'm one of those people who will try a recipe for the first time when I've got 10 people coming for dinner.
My latest splurge was on some nice furniture and a piece of art from a local artist to go in our new apartment in Wellington.
As told to Jacqui Loates-Haver.
This interview has been edited for clarity.