Welcome to My Net Worth, our regular column on the lives and motivations of our country's top business, legal and political people in their own words.
Victoria MacLennan got her start in the digital technology industry installing eftpos machines in bars, cafes and supermarkets in the top half of the South Island. In her early 20s, while doing her OE in London, she was part of the team who programmed the "Trusted Xenix" unix-based operating system. Upon returning to NZ, she worked as an Oracle database and unix system administrator. Often the only woman in her teams, she experienced gender bias, including being passed over for promotion because she was a young mother. Once she was even told to stop showing up her male colleagues. Eventually, she and a business partner founded their own data services company, OptimalBI. She has since also supported a long list of start-ups as an advisor, investor and director. MacLennan has served as co-chair of the business group NZRise, advocating for the NZ-owned digital technology industry, and as chair of Digital Future Aotearoa, a charity established to raise the digital capability of New Zealanders, and has held a range of ministerial advisory roles related to the sector. In March, she took over as chief executive of IT Professionals NZ, which represents thousands in the tech-industry workforce and is their voice to the government.
I was born in Dunedin when my parents were teenagers. That was in the late 60s and it created a bit of complexity in my family life as it was an unscheduled pregnancy and they were not married. My parents would probably hate me for saying this out loud, but they had a shotgun wedding. They're still together today and they had three more children, so for me, they're very young parents.
I had a lovely childhood. I'm quite a bit older than my siblings, so I was the responsible one and got to prepare meals and read bedtime stories and make sure people went to bed – all of those wonderful things that the oldest sibling often gets to do. So that was really nice.
In primary school, I wanted to be a teacher. I think that was because I thought I could be better than the teachers who were teaching. I was quite bored at school. When I went to college, I wanted to be an architect. The reason I'm not an architect is that I failed physics. I think that was because I discovered boys.
Swimming became my thing. I swam 365 days a year and trained twice a day in the summer. I would travel around the country going to competitive swimming meets. I'd get billeted. I got to see my first gig on a swim trip – it was the Mockers.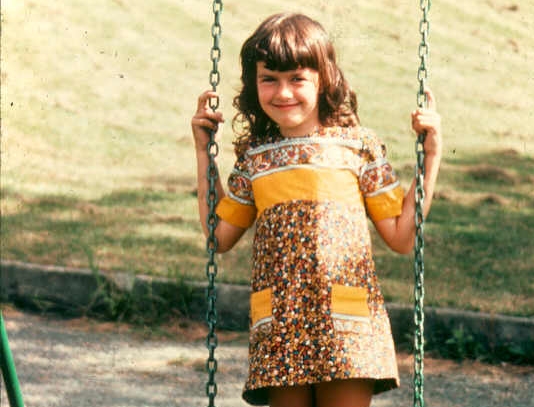 Victoria MacLennan aged 8 wearing a dress made by her nana Pam.
My parents taught me about standing up to bullies and to never stand on the sidelines when you see someone else being bullied or persecuted or challenged. A lot of the stress that I do still feel in my life is when I encounter bullies.
There was a time in my life when I was working for a state-owned enterprise for a couple of years. I was in an environment where all of my colleagues were male; I was the only woman at the senior leadership team table. And bullying behaviour was instilled in them. I'd been in that position for about a year when I started to notice that I was taking on some of the characteristics and that I was being short with people. I was forgetting there are two sides to every story and all of the things I firmly believe in. I caught myself behaving differently. So I had to leave. That was a really important lesson for me and I check myself against it all the time.
One of the best pieces of advice I've been given is that you've got to look after yourself first. It's like being on the plane when the oxygen masks drop: put your own on first and then help others.
I'm incredibly proud of myself for making that transition from being a backroom techo to holding CEO roles, starting businesses, growing businesses, employing people. I'm also very proud of some of the work I've been involved with around equity and changing the face of our industry.
The hardest thing is you don't know what you don't know. You look at people above you in the food chain and think, I could do that job. But you're only seeing it through your lens, not through the whole prism of what they do.
I went through a phase of feeling the weight of the world was always on my shoulders, and I'd wake up in the middle of the night panicking about things. I've really had to learn how to manage that and how to manage stressful times in a much more considered way.
I love yoga. My daughter, Imogen, is a yoga instructor so I'm very lucky that I have her constantly in my ear. Yoga is important not only for my physical health but also for my mental health.
If I want to just get away from the world, I will cook an elaborate multi-course meal and bake something fantastic.
At weekends, I usually write to my nana. She's 96 and has dementia. I also have a friend in the UK who's going through cancer treatment and I write to her every week or second week, just to give her something to open and read and think about while she's having her treatment.
My partner, Steve, and I moved from central Wellington to a large section on the Kāpiti coast and we've discovered gardening. We've been planting trees. If we can plant 20 trees, that's a good weekend.
As told to Jacqui Loates-Haver.
This interview has been edited for clarity.