Auckland is spoilt for choice when it comes to Italian-inspired menus – think Amano, Bivacco, Andiamo, and SkyCity's Gusto. But Bossi is traditional Italian, and it is well executed.
Owner Jenna Carter is very invested in the business – she's bought, not leased, Bossi's two downstairs retail spaces at Auckland's Pacifica apartment building, and her family own several of the units upstairs.
Carter is an Australian-Italian who moved to New Zealand with her Kiwi husband during the pandemic.
Her executive chef, Shaun Dowling, married into an Italian family and is also back from an extensive career abroad.
Both are passionate about Bossi's food being the real deal.
"I hope the NZ public gets it," Dowling tells BusinessDesk. "People come into the deli and ask for scones, or they go into the restaurant and point out we don't have pizza. But I've got to stick to my guns."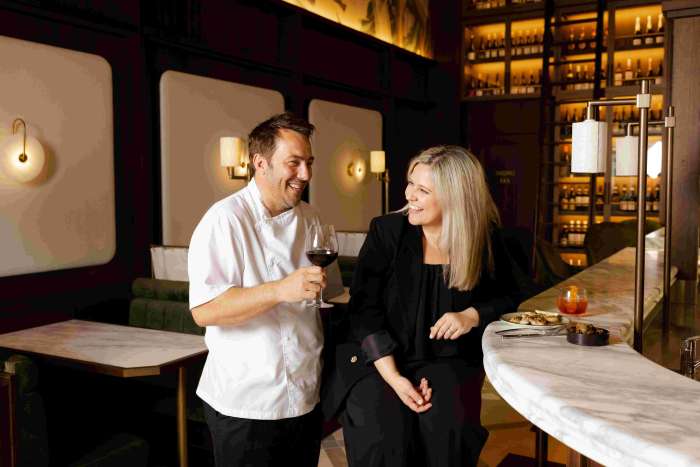 When BusinessDesk arrives on a Saturday evening for an 8 o'clock sitting, the two-level restaurant is packed, with diners spilling out onto the footpath and crowding the bar.
Bossi is rowdy, with large groups at the main tables, and couples seated at the bar – hardly romantic, I'd say, but like many establishments these days, the bar offers a good view of the chefs at work.
There's more of a heritage feel to Bossi's decor than at your average Auckland restaurant: sage chairs, brass fittings and marble – lots of marble. Extravagant but tasteful. Plans for a baby grand piano in the corner were scotched, apparently.
A Michelangelo-inspired mural by Ross Lewis overlooking the dining area and bar tells you this place ain't just Italian influenced or inspired, you are meant to feel like you are in Italy.
With this in mind, an Aperol Spritz is requested, but the bar is out of it.
Given the drink's recent resurgence in popularity, I would find this mildly outrageous for any establishment, let alone an Italian one, but my friend is very content with the gin martini she ends up with. It's Peroni on tap for the boys. Easy!
Communal eating
Bossi's menu is set out in a traditional fashion – aperitivo, antipasti/insalata, primo, secondi, dolce.
A separate menu for the kids offers fresh spaghetti, fish & chips, or pasta with crumbed chicken (all $25).
My three companions and I are keen on communal eating so we share all our plates.
Our appetisers arrive at 9pm, about 45 minutes after we order. We're not happy about this, but fortunately, they are both excellent.
The bucce di patate fritte (fried potato skins, $15) is just the skins – there's no flesh left on there. They're crunchy and crisp, and served with a rich aioli.
Even more outstanding are the baby calamari ripieni ($26) – stuffed squid with explosive pancetta and pinenuts.
The dish comes with a wee slab of ciabatta to mop up the most excellent garlickly lemon sauce. I wish we weren't sharing this one.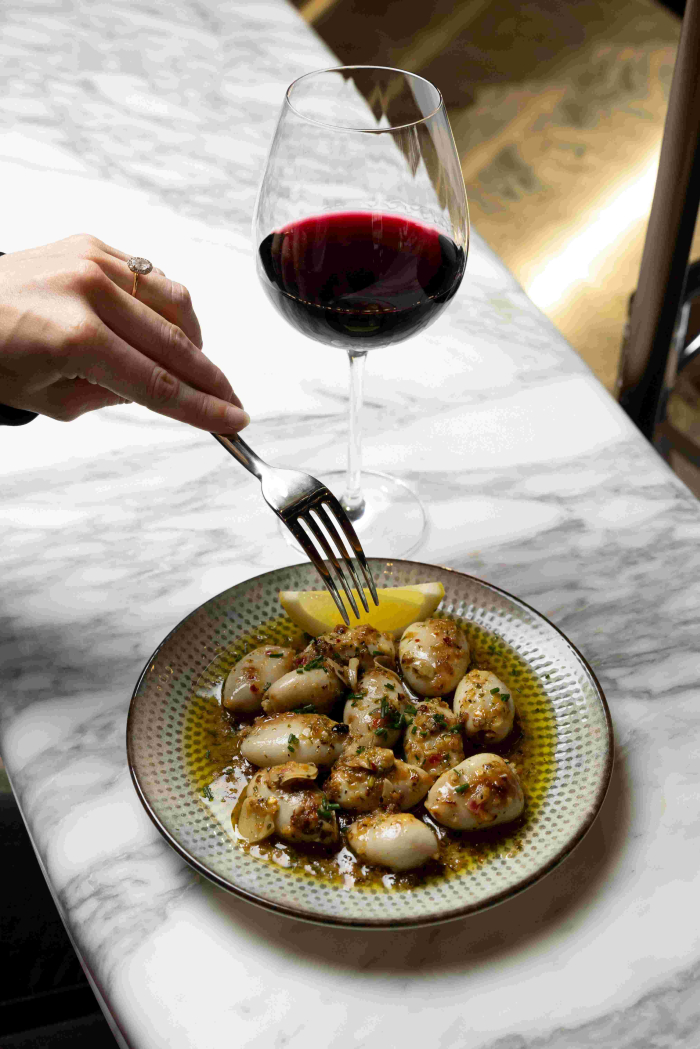 Everything is baked in-house; Bossi boasts NZ's only Rofco bread brick oven – Belgian technology that allows steaming while baking.
I am dead keen to try the spaghetti vongole, or white-wine clam pasta. NZ's Cloudy Bay clams are fatter than anything you'd ever find in Venice, but again, Bossi is out of those, too.
None of the antipasti catches our eye so it's on to the maltagliati ($30), which translates to "badly cut" pasta. It is served with a tasty lamb ragù. The pasta sheets are cooked perfectly but are longing for a tad more sauce, in my opinion.
The scampi mascarpone risotto is excellent. It has four unshelled scampi (hooray – no messy fingers) atop perfectly cooked rice, with a wee spicy kick.
Honest recommendation
We have reluctantly ordered the steak scamone – I say "reluctantly" because our first option was the bistecca Fiorentina (Florentine steak), rocket and parmesan.
But when we come to order it, our server advises us not to. It's strange to have a negative recommendation, but the waiter says he has seen the steak on offer tonight and advises us to come another day to get it – today's cut won't be nice.
His honesty is refreshing, I suppose, and the steak scamone ($49) is a perfectly cooked tasty piece of meat.
Dowling tells me honesty is the best policy – that someone in the kitchen left the hefty Florentine steak in the sous vide too long and that's why he wouldn't serve it.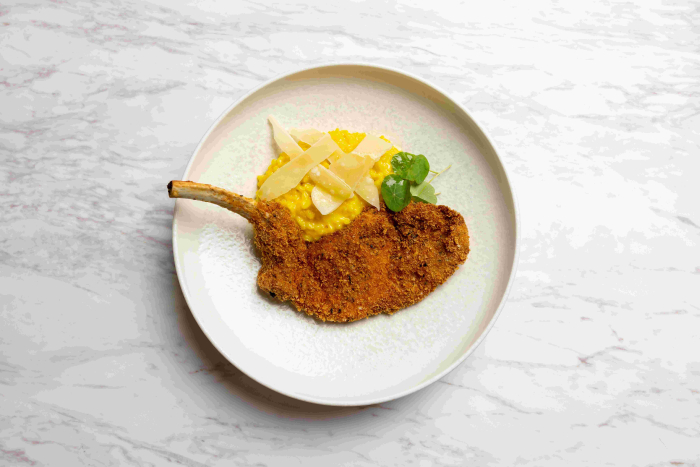 The cotoletta risotto Milanese ($42), a large, breaded pork cutlet on a saffron parmesan risotto, is well done. The crispiness of the cutlet goes nicely with the sticky risotto, which is salty and firm.
Bossi's drinks list is extensive, and its wine wall elaborate. We pair our meal with the 2020 Two Rivers 'Isle of Beauty' Rosé, from Marlborough. Excellent.
The dolce menu has us spoilt for choice – the cannolo, limoncello baba and tropical cake all look excellent.
But we can't go past tiramisu family style ($26), a hefty dessert about the size of a block and half of butter and meant to be shared between two.
Bossi ain't just a restaurant, it's a business. Dowling will soon produce pasta for the deli and has plans for a take-out-only kitchen operation. It is already doing in-room dining for the high-net-worth residents upstairs. Watch this space.
$370 for four
Bossi
10 Commerce Street, Auckland.
(09) 948 0906
Open Tues-Sat, noon till late
Bossi Deli
(09) 948 0819
Open Mon-Thurs 7am-5pm, Fri 7am-8pm, Sat 7am-4pm (kitchen closes at 3pm).
bossi.co.nz