It would be hard to find a worse year than 2020 for the beloved Euro in Auckland to relaunch itself. Who wants a side of chicken liver pâté with their apocalyptic doom and gloom? Perhaps that's why it feels like the Princes Wharf stalwart is now undergoing another rebirth with the introduction of head chef Uelese Mua and an audacious autumn menu.
Gone are the three-course meals and starched tablecloths of old. The new Euro is young, modern and, to be honest, more interesting than its previous incarnation. If you haven't been for a while, you'll notice an easy elegance to the space (comfy seats, oversized light fixtures) and to the service (sharp, friendly).
Staff bounce across the floor in bright white sneakers, providing information and refills when necessary, but they don't linger. The mood is: take a load off and experiment. Make this place your own.
Mua is a star-on-the-rise, fresh from FISH at the Hilton and, before that, six years in France. He was drawn to Euro by Nourish Group executive chef Gareth Stewart, a mentor since they both worked at Soul in the Viaduct Harbour precinct a decade ago. Together, they have pulled off a complete transformation, from fading establishment bolthole to hip Kiwi cuisine playground. Mua's Samoan heritage is woven through the food. Artwork on the menus by Hōhua Ropate Kurene adds another dimension.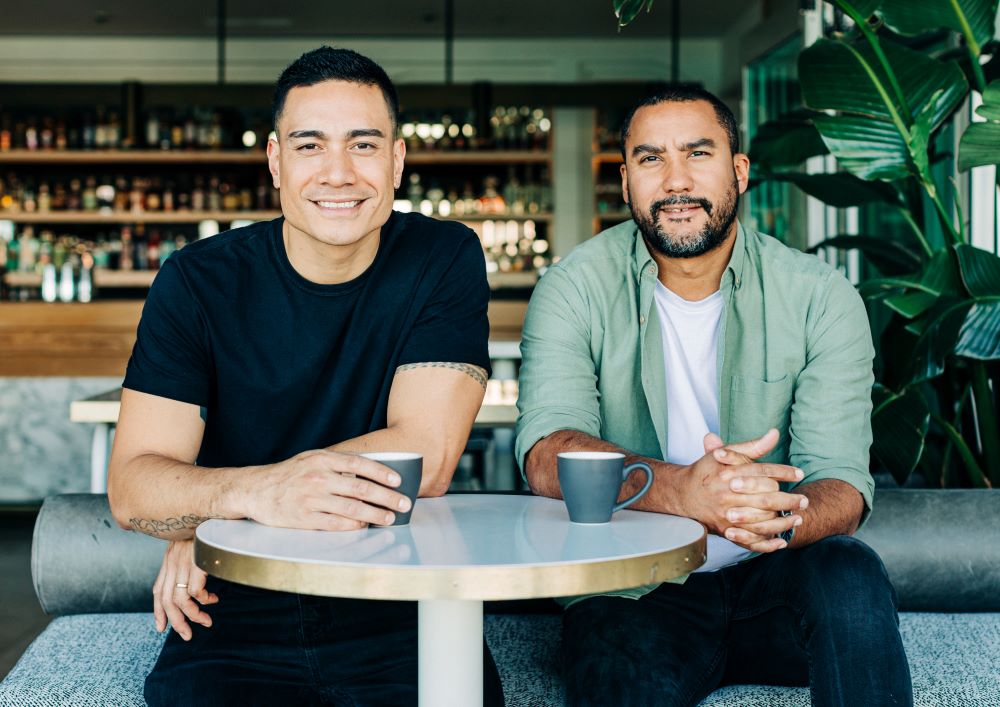 Euro head chef Uelese Mua (left) and Nourish Group executive chef Gareth Stewart.
Overwhelmed by enticing options (steamed duck shumai, "bang bang" soft shell crab, heirloom tomatoes with flatbread and whipped goat feta), we choose the Table Menu ($70pp), a selection of the chef's favourites. Job done, we order some damned good cocktails – the Island Highball and Hot 'n' Cold (ginger-infused tequila with pineapple, lime, chilli and soda) – and settle in to people-watch. The crowd is a mix of families, couples and workmates finishing the week on a high. A fashionable girls' night out group pose for selfies.
The pacing for the Table Menu is spot on, with two sharing plates coming at once, three times over. The taramasalata is an instant favourite, the high-end snack food of dreams: I could eat this dish all day, every day. Load creamy scoops of the smoky snapper belly mixed with radish and taro onto crisp shards of lavosh. Wait for the satisfying burst of salt as you break through the membrane of the salmon roe. Repeat until you've run out of lavosh and have to ask for more.
The trick is not to ignore the second dish, because it deserves attention. More than anything else, the yellowfin tuna ceviche tastes fresh and clean, almost unadorned. The fish is cured in lime and topped with tiny slices of raw jalapeño, juicy chunks of charred corn and some coriander. The simplicity is genius, and it's soon gone.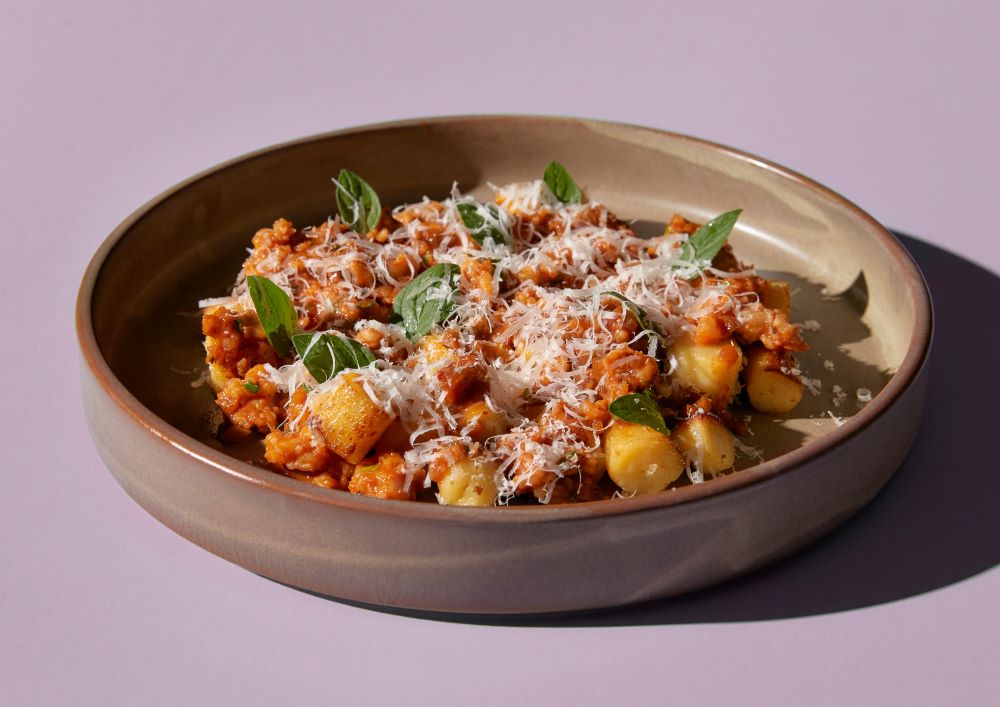 Fiordland crayfish bolognaise.
The pigs' ear is a joyous surprise, basically a bowl of thinly sliced crackling coated in a sticky hot sauce and sprinkled with spring onion. It arrives topped with a gently fried egg and the advice that you break the yolk and mix it into the bowl to form a sauce. The overriding impression is of candy: a salty, sweet, umami, crunchy treat. Yes, please.
Unfortunately, the pigs' ear comes to the table at the same time as another standout, and the two don't play well. Fiordland crayfish bolognaise served on handmade gnocchi (is there a hint of starchy taro in there?) is comfort food with a twist, briny and warming and topped with lashings of pecorino – a dish that would normally serve as a meal's star attraction. As it is, it has to compete with the pigs' ear for attention. The pigs' ear wins.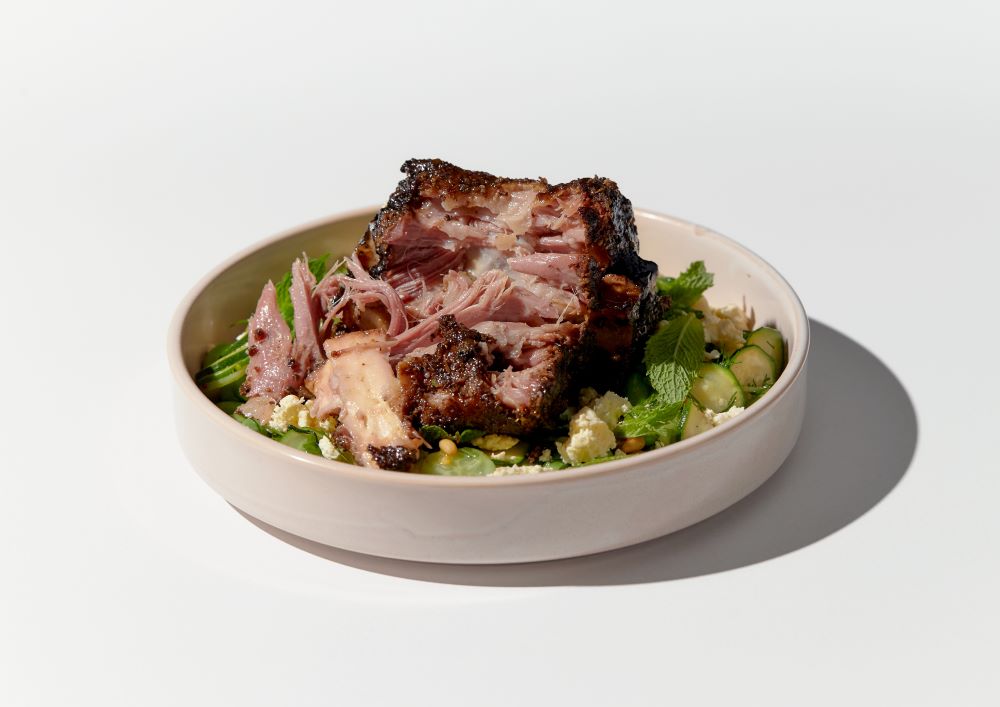 Hawke's Bay lamb neck.
The meal's final combo is more harmonious: lamb neck, smoky and falling off the bone, paired with goose-fat potatoes. The meat is bold in flavour, almost gamey, with a lingering aftertaste of campfire. Our server tells us it is brined and then smoked for two hours to create this effect. It comes with paper-thin slices of brightening courgette, peas and feta. The potatoes, sitting on a dollop of tahini yoghurt, carry an unexpected chilli heat. They are good but not exceptional.
The evening, though, is exceptional – a night at the new Euro is a good time. The music and conversation are loud enough to invoke celebration, the food is inventive and memorable, the staff are consummate professionals. The overall impression is of a contemporary, sophisticated restaurant drawing on our diverse cultures and people, reflecting the fact that New Zealand's biggest city is also the largest Polynesian city in the world. It feels right, like it's about time.
Menu: Sharing dishes $15 to $55; $145 for the spicy barbecue pork belly, which must be pre-ordered.
Where: Shed 22, Princes Wharf, Auckland CBD.
Hours: Tuesday to Sunday, noon to late.