I'd heard about Ghost Street long before I booked a table for an early dinner on a drizzly Sunday. The word of mouth was promising: Chinese street food with a focus on Xi'anese and Sichuan flavours, cool underground location, top-notch service.
What I wasn't expecting were the delightful flourishes: thick felt-tip pens for choosing your dishes, little pegs for hanging your marked menu above your table, an open kitchen with steam billowing and David Bowie growling softly in the background. Ghost Street is unpretentious good fun.
My dusky pink Sichuan Negroni looks and smells like expensive perfume. Run the liquid over your tongue and there's the warm snap of pepper, followed by a bitter hit of orange. A giant ice cube slowly melts in the centre with a decorative scrap of orange peel perched on top. It's glorious.
Our server, Anthony, from southeast China, compliments me on my adventurous beverage choice, possibly to soften me up for his far-more-adventurous recommendation of snapper fillet poached in "a sea of fire", which totally works. My husband chooses a more quaffable cocktail called The Plume, a combination of plum wine, maraschino, mandarin, cassia bark and clove, which is sweet, spicy and oh-so-nicey.
Emboldened, we tick-tick-tick boxes on our menu until we have mapped out a meal, then sit back to take in the room. I had assumed a windowless basement would feel a tad oppressive, but as reimagined by Dajiang Tai and James Ting of Cheshire Architects, the heritage space is austerely beautiful, its original beams and raw walls setting the scene. The tables are made from recycled timber, hessian is used to upholster cushions and lampshades, and the lighting is strategic, focusing attention on the food.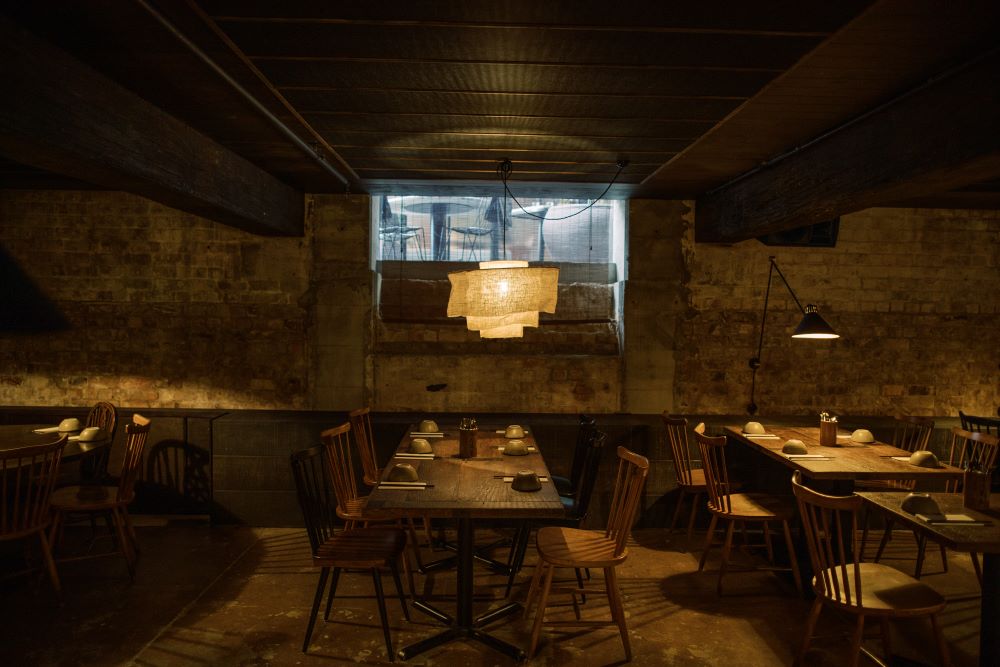 Ghost Street interior. Photo: Anna Kidman.
The small restaurant is filling up and the kitchen – led by executive chef Nathan Houpapa and head chef Khai Yee Khor – is ablaze with activity. Laden bowls soon land on the table. The biang biang noodles, served with a little spring onion, some coriander and a whole lot of chilli oil, are an early favourite. The plump noodles have been thrown by hand, are firm without toughness, and extra long.
They rather overpower the more subtle, earthy flavours of our eggplant (cooked in chilli bean paste, soy and ginger) and the Dong Po pork belly, a dish that has apparently been made in one form or another for a thousand years and is so tender it falls apart with the press of chopsticks. Both are good, but we can't get enough of the noodles, until we start panting for water.
We munch on jewel-like pickled vegetables served with salty fried wonton skins, as recommended by Anthony, who says they offer a soothing counterpoint to the bold, expressive dishes we ordered – with the most exciting about to arrive.
When I was growing up, someone told me that if you are truly enjoying a meal, you will make a mess. I still believe that to be true, so take it as a good sign that I end up with our star dish everywhere.
Not only does the snapper arrive basking in that "sea of fire", it is sprinkled with dried red chillies. So it's hot – but also tart, salty, smooth. The broth is flat-out amazing, so I scoop spoonfuls into my bowl and slurp it like soup until I realise the insides of my lips are vibrating to the point of numbness.
It turns out the tiny green balls I find in my broth and bite into to release a sharp, citrusy rush of juice are Sichuan peppercorns, which contain the molecule hydroxy-alpha-sanshool. This stuff affects your nerve receptors and is responsible for the tingling effect. It's a wondrous feeling but also a bit overwhelming, so I return to the plate of pickles. Following a restorative break, I pull chunks of snapper into my bowl without the broth, and find it delicate, a little sweet and just the right amount of salty/warm/tart.
Anthony tells us that while most people don't drink the broth, he does, which makes me feel just a little bit badass and a lot less like something's gone awry at the dentist.
I can see us returning to Ghost Street again and again, like we have done with Cafe Hanoi, another excellent eatery run by the same crew (Krishna Botica and Tony McGeorge are also responsible for XuXu Dumpling Bar and Saan). But the snapper, as tricksy as a carnival, is a once-a-year-meal for me. Something you both look forward to and gird yourself for, then talk about for days after.
Menu: Shared plates $9 to $37; dessert $6 to $16.
Where: Basement floor, 27 Galway St, Britomart, Auckland.
Hours: Lunch, Thursday and Friday, noon to 3pm; dinner, seven days, 5pm to late.
ghoststreetakl.nz