Homeland is a restaurant unlike any other in Auckland. Peter Gordon's passion project is an educational facility or "food embassy" that happens to have a dining room attached. Sustainability and community sit at the heart of the operation; it's not about maximising covers on a wet Friday night.
You can't fault the philosophy or the authentic, aroha-filled way it is delivered, and the food is pretty damn good, too, although there were a couple of missteps when we visited.
The space is large – training kitchen and shop to one side of the reception area, dining room to the other. As a result, Homeland has a bit of a showroom atmosphere, like you have arrived to choose kitchen tiles rather than enjoy a meal.
That feeling soon dissipates. Warmly welcomed and provided with drinks – a whisky cocktail called Penicillin and Rod McDonald rosé on tap (from the "savvy, aromatic, vivacious" section of the menu) – we struggled to winnow down our wish list. Creamed pāua on toast, hāngī pork belly, kūmara with kawakawa pesto… yes please. Next time.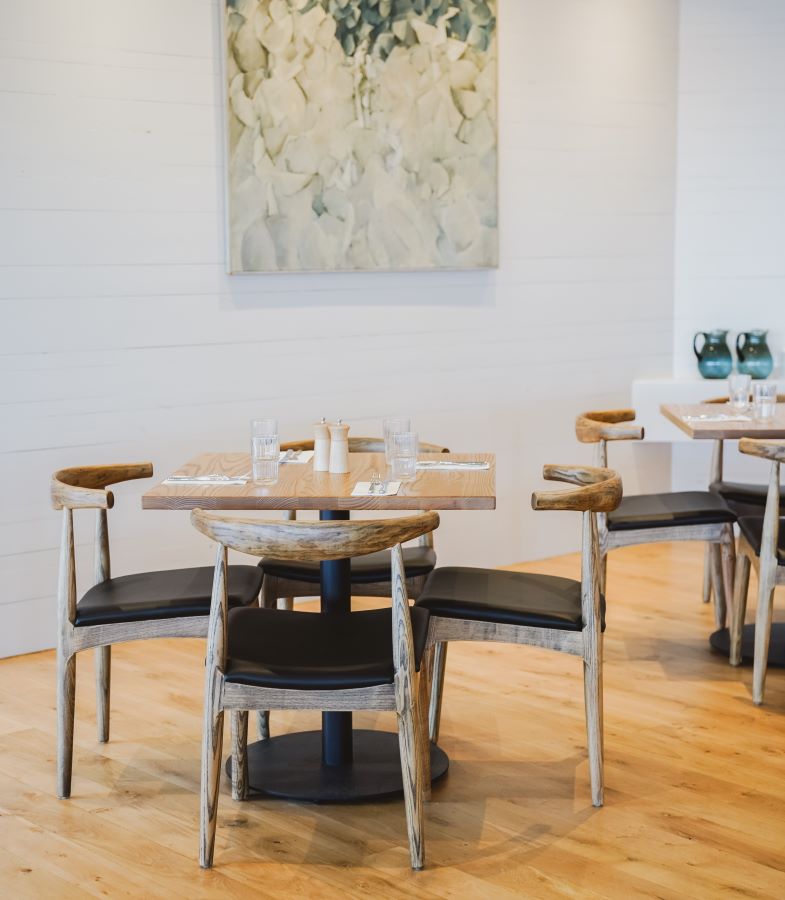 Homeland's interior. Photo: Supplied.
Best things first: the grilled sirloin was exceptional. If you are a carnivore who loves the occasional slab of beef cooked to perfection and served with bold sides that can hold their own, look no further. This is your dish.
Thanks to the tasting notes that came with the menu, I know that it was Greenlea Butcher Shop beef, hailing from one of a number of farms that supply the company, which grew out of a Gisborne butcher's shop. The meat was lightly grilled (ranging from mushroom brown to pink on the inside, with lovely seared edges) and topped with a generous coating of anchovy hollandaise, which has to be the most moreish sauce I've ever had with steak. It's ridiculously good.
The polenta "chips" were cheesy-mealy slabs with a crisp coating – substantial, like two little sofa cushions sitting on the plate. The very fresh, very green side salad was a knockout, the salty-citrusy-crunchy brussels-sprout leaves and kale licked with chilli heat. In a final flourish, the plate had been given the parmesan treatment: cheese confetti covered everything.
As my husband commented, this was happy, healthy beef, the kind of meat that is so flavourful it makes other steaks seem ordinary, and when you're making an effort to eat less animal protein, this is what you want to spend your dollars on.
The steak paired particularly well with the spiced cauliflower dish. A quarter of a head of cauli had been gently roasted and served with an abundance of hummus, garlic yoghurt and chilli butter. Salty, crispy chickpeas dotted the plate.
The night's other winner for us was an inventive paneer taco dish. We struggle ever to let a taco go unsampled, so we had to dive in. Paneer – the soft, non-melting Indian cheese that is used as a meat substitute in curries – had been dipped in a beer batter and fried to give it a satisfying crunch, before being tucked in a tortilla atop a bed of slaw and topped with sweet chilli and avocado. You get two tacos, so sharing is recommended.
The paneer at Homeland is made from raw milk produced in Southland, a partnership between a migrant family and local dairy farmers. It's exactly the sort of relationship Homeland wants to celebrate and nurture, and a heartening success story. In these uncertain times, we need more of this.
The "low point" food-wise was the dish I had been most excited about. Roast Jerusalem artichokes, sliced down the middle and topped with cheese (the menu mentioned whipped blue, but it was mozzarella), served with firm crescents of beetroot and topped with pine nuts from Marlborough. The artichokes were almost creamy in texture and flavour but would have been more interesting paired with the blue cheese. And if the advertised gunpowder chilli was present, it had been applied with great restraint.
The other small quibble would have to be inexperienced service staff. As this is a teaching facility, it seems unkind to complain about orders that could have been taken more promptly, or the lack of advice about how to pace the meal. So I won't – but if uneven table service would bother you, take heed.
Menu: Large and small plates, $10 to $45. (The $78 salmon dish serves two.)
Where: Pier 21, 11 Westhaven Drive, Westhaven, Auckland.
Hours: Wednesday, 8am to 3pm; Thursday to Saturday, 8am to late; Sunday, 8am to 3pm.