Sometimes I like to imagine cars have personalities. It is normally a good sign when a car has an obvious way about it, rather than being plain vanilla near-perfection.
So, let me introduce Klaus. He's originally from Germany, but migrated to New Zealand just before covid and is pretty pleased to be here. He's big, strong and capable and likes to get out to see the country.
Whatever you ask of Klaus, he'll be able to do it (within reason – he's not some burly British Land Rover).
These little conceits help me envisage my car reviews. They're also a comical voice in the back of my head as I drive.
The AMG GLE 53 is a car for our times. Mercedes has proven its electric-vehicle capabilities with the superb EQC and applied those learnings to fossil-fuel cars like the 53.
It sports a turbo-charged three-litre petrol engine and two electric motors (called EQ Boost in Mercedes speak). One sits between the engine and the transmission to power the car at low speeds and when coasting. The other sits above the engine and acts as an electric supercharger to provide the kind of acceleration you'd expect in a V8. There is zero turbo lag here.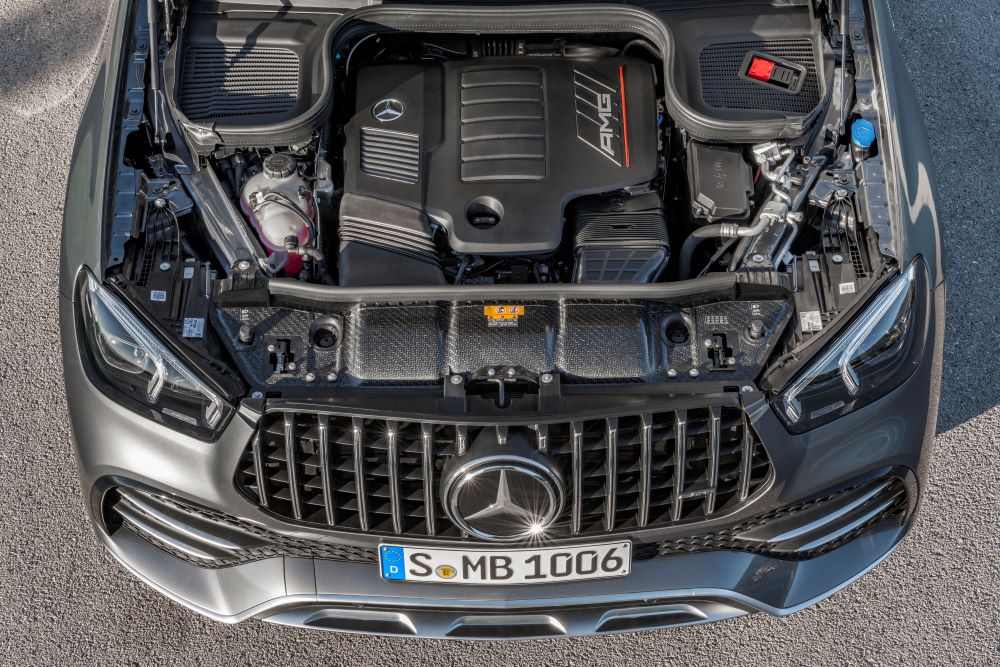 This makes the 53 a fuel-miserly beast. Grunty exhausts would convince most folk that it has a massive V8 inside, and a convenient button on the steering wheel can even make the exhaust sound gruntier.
In fact, it is the older-sibling GLE 63 that has the V8, but you'd pay $230k-plus for it, whereas the 53 is a mere $180,000.
As driven, the GLE 53 has active ride control, 22" wheels, metallic paint and a motorised fold-out towbar.
But back to the fun. Holding the gear paddle while starting the car produces a special AMG roar to impress your mates, or random people on the street who are into that sort of thing (tradies and traders, I guess).
The Mercedes best-in-class voice-command system makes setting the aircon, changing the radio station and many other commands a breeze, though it did not seem to be quite as good as in the EQC, and a few times it interrupted conversations when I'd not said, "Hey, Mercedes". That's a bit rude, Klaus.
"Kinetic seats" are intended to keep the driver aware on longer trips by gently and randomly moving as you drive. This is disconcerting at first – it's a bit like sitting on Jabba the Hutt – but you get used to it. Straight-up massage seats would be better.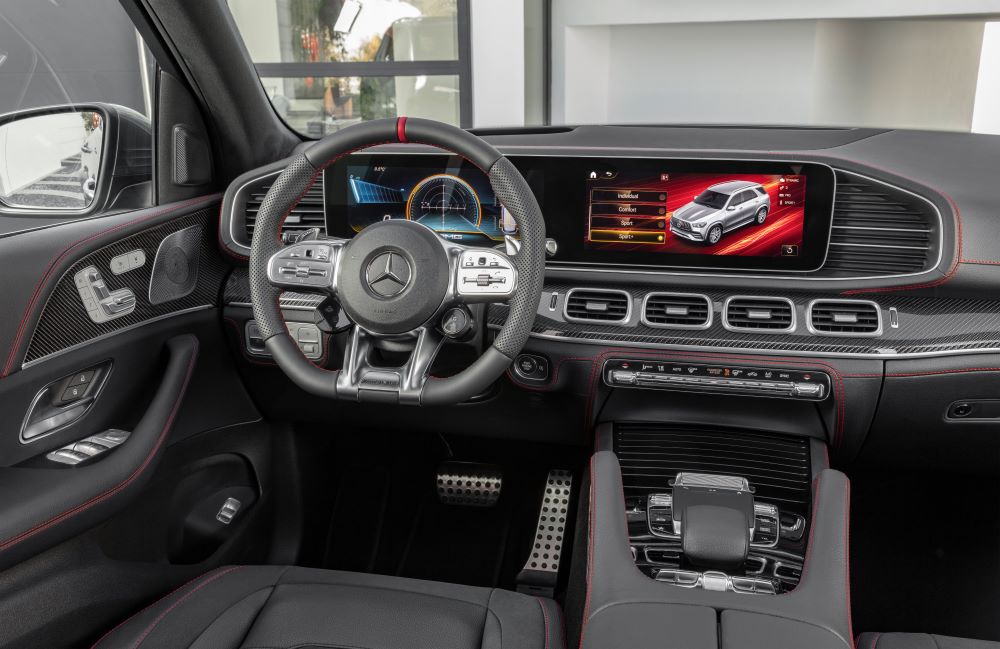 There are various default Mercedes things that should be mentioned. The driver assistance package is excellent, and the car will happily propel itself along the motorway if you keep a lazy hand on the steering wheel. The stereo from Burmester is great, and the range of ways to do any one function should please everyone. I really like the iPhone-style steering-wheel buttons for swiping between tracks, etc. The centre-console mousepad is too easy to swipe and inadvertently alter a radio station, for example, when reaching for a drink or anything else.
Like a lot of these flash cars, the massive electronic console can be moved through various modes, from traditional to aggressive racing style. Although essentially pointless, this can be fun.
For physical driving, the 53 has various modes, but two were of particular interest.
Sand: I have no idea what sand mode does, but I decided to test it. I failed to get up a sand dune on to the beach near Helensville, even after taking advice from a group of friendly trail-bike riders. Luckily, I was able to reverse back onto the hard surface okay. That could have been embarrassing.
Sport Plus: The normal mode is pretty quick, the sport mode is even quicker but the Sport Plus mode is freakin' awesome. The background rumble of the engine/exhaust intensifies to a pleasing roar and steering and acceleration get whip-smart-quick responses. I'd leave it in this mode permanently if I had a love of speeding tickets.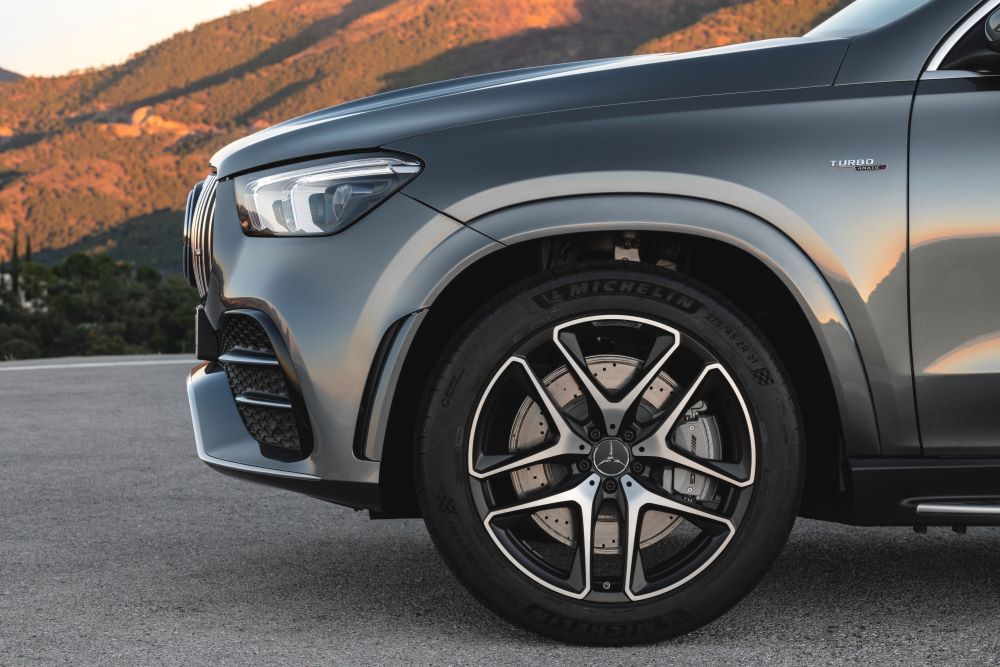 Although the 53 is a big (and somewhat ungainly looking) vehicle, e-active body control scans the road ahead to level out bumps and aid cornering. Combined with the optional AMG active ride control, this makes it feel a little more like a sports car.
AMG is the performance sub-brand of Mercedes, but this car is more than grunt. It is clever in the way it accelerates and drives, it is capable in pretty much any situation you'd get into and it is also slightly mad. My only gripe: it is probably too expensive when compared with competitors such as the more-mild-looking VW Touareg V8.
Is it worth spending the extra money to buy the V8 GLE 63? No. Don't do it. The 53 is all the SUV you'll ever need.