It does not corner. It glides gently into the future. You do not sit in it. You luxuriate in its embrace.
And once you've owned one, you won't buy anything else (and that's a statistic).
The new Mercedes-Benz S-Class is the pinnacle of what the German carmaker's engineers can create. Over its history, the S-Class has been used as a catalyst for great leaps forward in car design and quality.
Mercedes-Benz pours everything into it, including a bottle of perfumed stuff in the glovebox, which then gets gently wafted through the car.
After I find and remove it, the smell of old man's cologne clears. This is a great relief and now I can really enjoy the car.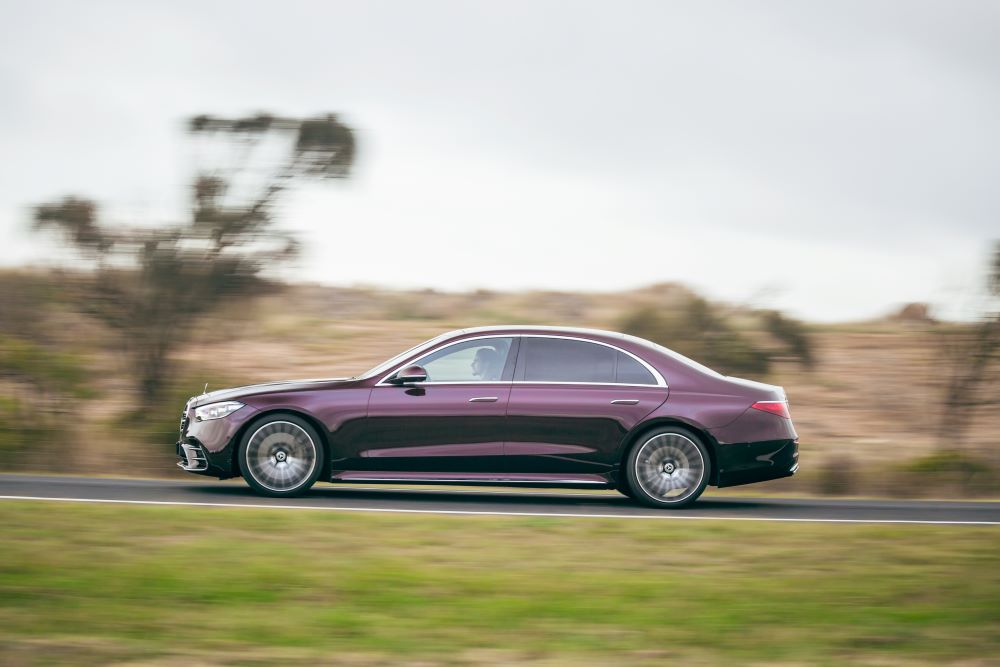 The Mercedes S 450 in full flight.
The S 450 retails for $215,000, though the version I have has enough extras to push the price to $257,340.
It has a three-litre V6 engine with mild-hybrid electric "EQ" boost, capable of generating 270kW of power and 500Nm of torque. It does 0-100km/h in 5.1 seconds.
Mercedes-Benz says it will need just 8.2 litres of petrol per 100km, thanks to an aerodynamic shape and being 60kg lighter than its predecessor.
The 110mm-longer L variant even has airbags for the rear seats – a first.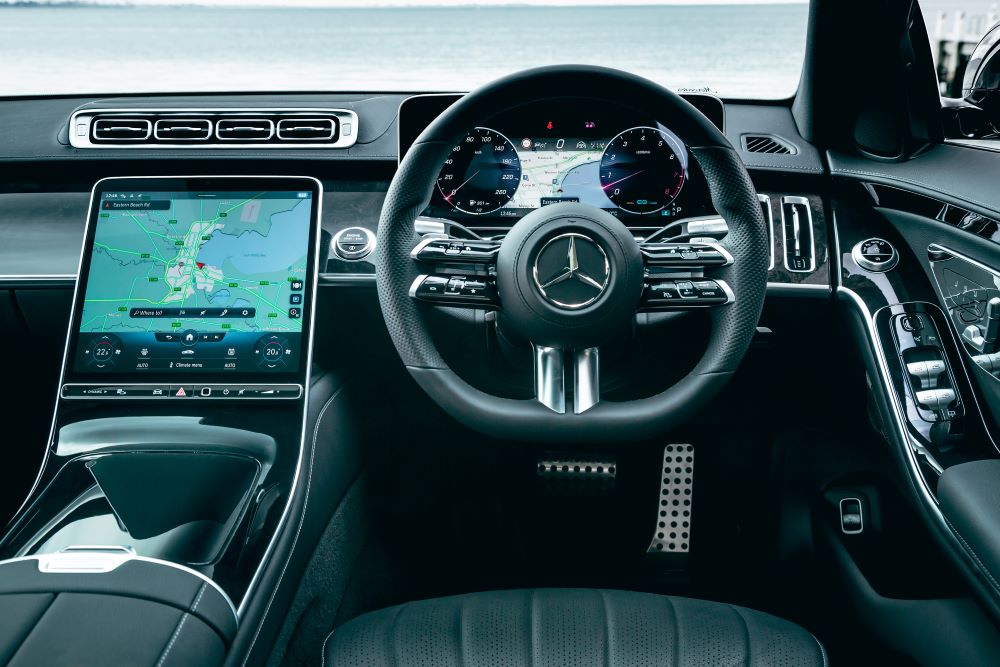 Behind the wheel of this large automobile.
In fact, the new S-Class is so loaded with refinements, advanced tech and power, it is almost impossible to review. What am I meant to say? It is a large car that corners like a sports car? It does everything well and I can't fault it, other than to say maybe it feels a little "safe", but I am stretching to come up with genuine criticism.
Here are a few snippets:
The driver is aided by augmented reality for navigation, and also for making the dashboard console look 3D for no reason other than fun.
Rear-window shades will roll down when you look at them.
If you want to alter a rear-vision mirror, just look at it first and then adjust. The car knows where you looked and what you want to do.
The retractable door handles pop out when you approach with the key in your pocket and are electric rather than mechanical, so they close quietly.
The rear compartment is meant to be a mobile office, with business class-style seats and heated neck rests to "gently release tension".
You can fit an entire body in the boot. (Yes, I tested that – I am a professional.)
If it is dark and you start looking around to find something, it will turn on the light.
I am not making any of this up.
If all of this is not enough, the top-spec S 580 L has a four-litre V8 and 370kW of power for $291,700. If I was a dictator, this'd be my car. The S-Class is fitted with the latest version of Mercedes' voice-activated driver-assistance software, MBUX. I suspect the people who end up buying it won't relentlessly ask, "Hey, Mercedes, turn the interior lights to red/blue/rainbow", as my kid did.
Four driving modes are available, right up to Sport Plus. In most cases, you get in a car and drive in the normal mode for a bit, then switch to Sport and leave it at that. In the S-Class, I slightly confounded myself by just putting it back into normal. There was no need to mess with a car this balanced. Maybe if I were doing 250km/h on an autobahn, it would make a difference, but State Highway 1 north of Auckland is no German raceway.
This S-Class is a remarkably complete vehicle. The overwhelming quantity of tech never overwhelms the driver, the detailing is incredibly well thought through, and it is a joy to drive.
Because of its position in the market, this car poses a slightly different question to most others. It is less about what is it like to drive, and more about what is it like to sit in the back and be driven.
More than 500,000 of the last S-Class variant have been sold so far – with a third of those going to buyers in China with an average age of 40. I suspect most will be sitting in the back typing emails and buying and selling large things.
There's no doubt it is a status symbol. Those who know, understand. In this seventh-generation S-Class, Mercedes-Benz has yet again created a car that screams understatement and refinement.