Heading north of Dannevirke, turn left at the Junction Winery onto State Highway 50, drive 58km and at Maraekakaho, about where the GPS starts to lose its mind, make a hard right. Here, you'll find The Manse, a grand old colonial home a long way from anywhere. Which is precisely its appeal.
It's home to Gary Grootelaar and his wife, Dietske van Kessel, a couple whose backstory is as interesting as the 110-year-old villa that houses their boutique accommodation.
Gary, originally from Lower Hutt, was a golf pro who followed his career to Europe in the 80s. When he wasn't whacking balls around a course, he was working at Michelin-starred restaurants, learning how to turn seasonal produce into the kind of food you want to eat all the time.
Gary met Dietske in the Netherlands and in 2012, driven by a desire to run their own luxury lodge, the couple found this home, which was once part of the sprawling Maraekakaho Sheep Station. Legend has it the station's owner, former Cabinet minister Sir Donald McLean, made land available for a manse and in 1910, this grand dame was built for the local Presbyterian minister (McLean, a Highlander, had once trained for the Presbyterian ministry in Scotland).
I'm not sure how much Gary and Dietske spent on architecturally rejigging the house to create their five-star idyll, but I'm guessing it was a lot.
The Manse is set over three hectares and perched high atop a hill with postcard-pretty views across vineyards, the Ngaruroro River and up to the Ruahine and Kaweka ranges. It's where you go to slow down, switch off and reset.
Room with a view
A maximum of four guests means you're far from the madding crowd. Guests are housed in two rooms – the Garden Suite and the River View Room. We luck out with the latter, a generously proportioned room that's a joy to behold: the ceilings and thread count are high, the couches are deep and the decor is neutral, with crisp pops of green and white. And there are spectacular views of the flat, grey river.
Dietske clearly has a good eye and brought much of the lodge's furniture and fittings in Europe, so it has that cool old-school, classic vibe. But while it's artfully curated, it's genuinely relaxed and never tips over into pretension.
My major whinge with most hotel rooms is that there's never enough room to put all your luggage. The Manse gets around that by having a huge walk-in wardrobe, so you can bring as much stuff as you'd like.
Bonus points for the freshly baked cookies and chocolates next to the bed.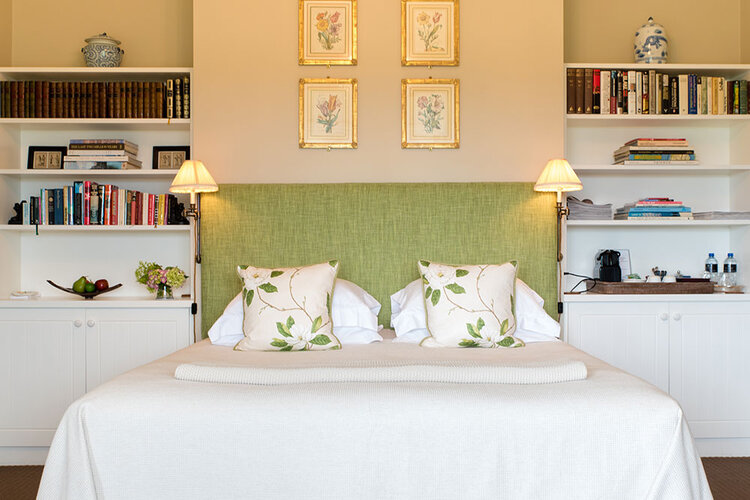 Eating and drinking
Few things are as satisfying as sinking your teeth into a three-course meal cooked by someone with more than one Michelin-starred restaurant on his CV.
But first there's a generous G&T in the living room in front of a crackling fire. We're given the choice of sitting at the formal dining table or perching at the large kitchen island. As it's only us staying tonight and the couple are so personable, interesting and well-travelled, we choose the latter, watching as Gary darts around the kitchen.
Dinner is fresh truffles from the farm next door, thinly sliced over a hunk of grilled grouper. It's served atop a rustic tomato stew, the recipe for which Gary managed to persuade a Sicilian grandmother to part with. Panna cotta with truffle honey takes our calorie count to the next level.
Breakfast the next morning is more of the same: all the food groups represented in portions that mean I don't have to eat for the rest of the day.
Things to do and see
As well as being a golf pro, Gary once taught at the Royal Hague Golf & Country Club, rated the number-one golf course in the Netherlands. So, if you fancy a game or a golf lesson, you've come to the right place.
Also on offer is clay-bird shooting, fly-fishing down the road, or visits to nearby wineries. If you're inspired by Gary's sumptuous meals, he's happy to give you a cooking lesson.
No one will judge you, though, if you want to just kick back and enjoy the shady veranda, do a few laps of the pool or wander around the lush gardens, saying gidday to the couple's menagerie, including Mickey and Tilly, the friendly kunekune pigs.
There's also a suitably dark and moody library where Gary's other passions are available: more than 65 single malts and 200-plus Cuban cigars.
3519 State Highway 50, Maraekakaho, Hastings 4171