The 2022 Specialized S-Works Levo mountain e-bike will set you back a cool $26,000. But with supply-chain issues limiting the supply of this year's models, Specialized could offer me only the Turbo Levo SL – retailing for a more-modest $11,800 – for review on a recent trip to Rotorua.
It says something about the sort of money being spent by well-heeled mountain bikers that an e-MTB retailing for just shy of 12 grand is so much cheaper than its state-of-the-art stablemate.
I was never what you'd call a brave or skilful mountain-bike rider but a bout of stage-four cancer of the spine and hip four years ago has scared me off tackling bumpy downhill rides on my ancient Giant hardtail mountain bike.
I was curious to see whether the full-suspension Turbo Levo SL would cushion the bumps sufficiently to ease my worries.
There's arguably no better place in New Zealand than Rotorua's Whakarewarewa Mountain Bike Park to try out a new mountain bike. Its trails range from gentle beginner rides to full-on, high-adrenalin, downhill roller-coaster-style tracks.
But it was on the ride from suburban Rotorua to the park that I got the first taste of the bike's full-suspension cushioning abilities. Normally, I lift my bum off the seat when riding over judder-bars, but what better, safer test of the bike's ability to smooth out bumps?
I wouldn't say it floated over the judder bar but it definitely removed the jarring I'm paranoid about – so much so that I happily rode on and off kerbs to join and exit some of Rotorua's many separated cycle paths.
It wasn't the bike's full suspension that most struck me, though, it was how similar it felt to riding an acoustic bike. And with its compact motor and integrated battery, the Turbo Levo SL could, at first glance, easily be mistaken for Specialized's non-electric Stumpjumper. That sleekness of design results in three things: highly responsive handling, a comparatively light e-MTB – at just over 22kg – and a motor that delivers less power and a lower range than many other e-bikes on the market.
The 320Wh battery and compact Specialized 1.1 drive motor deliver about half the power output of a full-power e-bike – but weigh considerably less.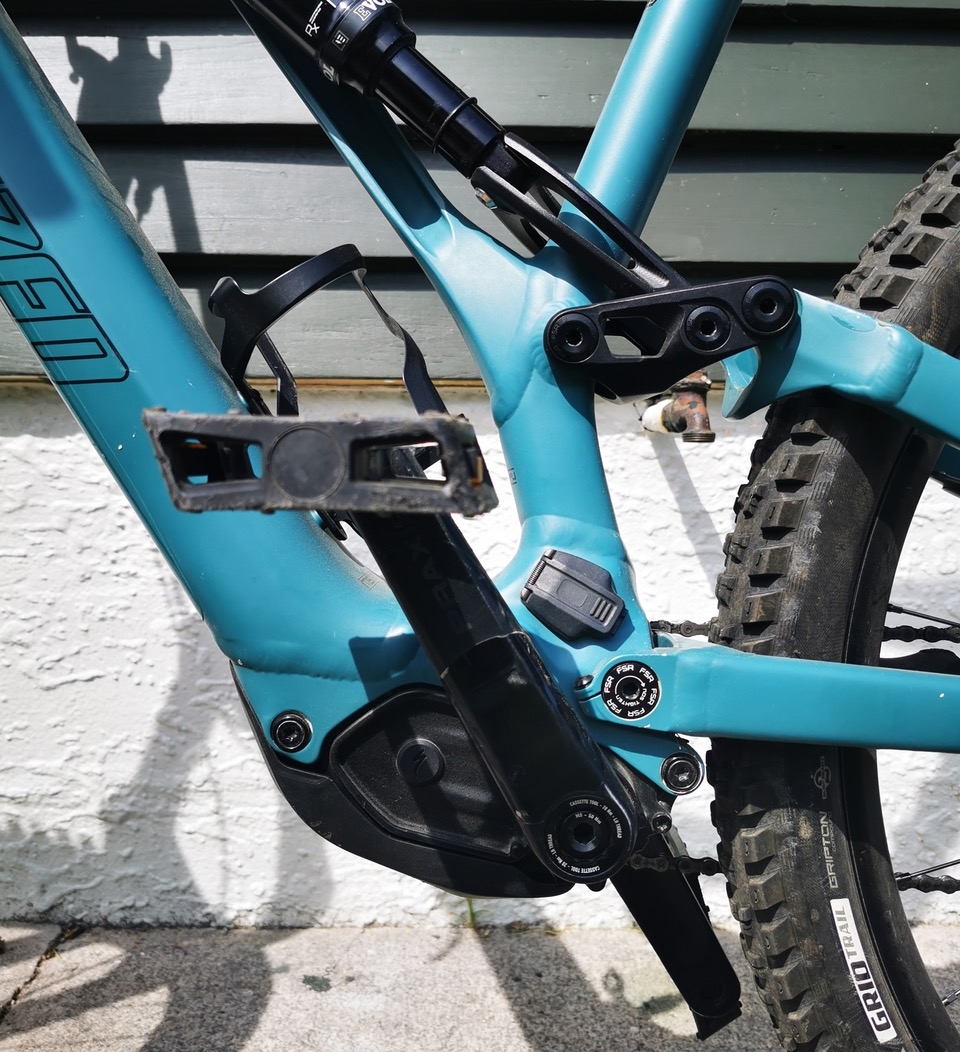 The Turbo Levo SL has lockable front and rear suspension. Photo: Jeremy Rose.
On my first day with the Turbo Levo SL, I limited myself to the beginner trails. It was a blast. I wouldn't say it flattened the hills entirely but it definitely made them a lot less daunting. And the full suspension gave me the confidence to tackle downhill rides that I would have avoided on a hardtail. Better still, the dreaded bone pain gave no hint of reappearing.
Day two saw me tackling the Whakarewarewa Forest Loop Trail, a 35km mainly grade 1 and 2 track that takes you through redwood and native forests and past three lakes. It's a stunning outing and a reminder that mountain bikes truly deliver the sort of back-to-nature experiences SUV manufacturers routinely tout in their adverts.
A part of me has always viewed e-bikes as cheating, but in truth they're opening the outdoors to more than just the fit and strong. A little assistance from an electric motor opens up rides like the loop trail to people of all ages, shapes and sizes, and fitness levels. I rode part of the loop with a guy in his 70s who told me the e-bike had changed his life. He was out three to four times a week exploring the many, many trails around Rotorua.
It took me two hours 45 minutes to complete the 43km loop from my lodgings in Rotorua and back. The health app on my phone tells me I burned 1304 calories during a journey that saw me climb and descend 698 metres. Knowing nothing about calories, I'm not sure what that means but I suspect I would have burned twice as many on an unassisted bike and been truly buggered by the end of the ride.
The last three or four kilometres of the journey was completed without any battery assistance. I had had the bike set to the maximum assistance level – which doubles your pedalling power for the entire trip – and hadn't been keeping an eye on the battery level.
The battery-life monitor sits on the bike's top bar. Photo: Jeremy Rose.
Day 3 saw me taking a road trip to Lake Ōkareka. Both the rear and front suspension can be locked, giving the bike an even more responsive feel. It handles beautifully and is a comfortable ride – even with the suspension locked – but considering how much it costs, it was a surprise to find the hills slower and more tiring than they would be on my five-year-old Avanti roadster, which cost a quarter of the price but assists riders up to 150%.
Unlike most e-bikes designed primarily for riding on the road, the Turbo Levo SL lacks a handlebar-mounted computer monitor. Instead, it has a row of lights on the top bar which indicate the remaining battery life.
The onboard computer can be connected to Specialized's Mission Control mobile phone app, which allows riders to tune the bike's motor to their riding style, estimates the remaining ride distance, and does all the other things modern cycle computers do.
Ditching the handlebar-mounted monitor is a sensible move. More adventurous riders than I am will appreciate the lack of easily breakable accessories on a bike that's designed to be ridden to the limit.
For the technically minded, the Turbo Levo SL has an aluminium frame and 29-inch wheels, and its rear Fox Float DPs performance shock has three-position adjustment with 150mm of travel.
So, would I want one in my stable of bikes? Hell, yes. Would I shell out $11,800 for one? Not likely.
It's the perfect bike for trips to mountain-bike parks but it really is a specialist machine and not particularly well suited for the daily commute, long day rides or touring.