Alfa Romeo's new Tonale hybrid SUV is the first tentative step in the marque's move to full electric in 2025. It is also aimed squarely at the mid-market rather than at anyone looking for a performance vehicle.
It is as though all of a sudden, Alfa has grown up, bought a house in the suburbs and cares about selling lots of cars.
I have a lot of love for Alfa Romeo. My wife had a terrible 1987 Alfa Giulietta back when we was a'courtin' that spent more time broken down than operational and was eventually rear-ended by someone and joyfully became an insurance write-off.
But the Alfa Romeo Giulia Veloce Carbon is my favourite petrol vehicle, and it is a crying shame that purchasers of 3 series BMWs have not cottoned on to how great it is. If I wasn't worried about the impact of internal-combustion-engine vehicles on the environment, I'd buy one.
Special and desirable
So I had high hopes for the Tonale. Maybe too high.
The model I test for a week is the top-end Veloce version, which, with various extra packs, comes in at about $76k. The base model is a more reasonable $59,990 and the base price for the Veloce is $66,900. You also get $1,200 back thanks to the clean-car rebate.
In Alfa red, the Tonale is a great-looking SUV. The Alfa grille marks it out as something special and desirable. And brake lights across the back form a sinewave, which is just cool.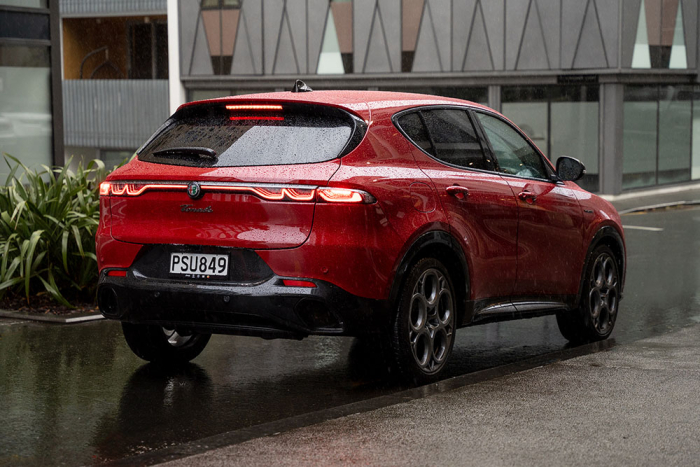 The interior looks great, too, and everything works. Personally, I'd swap the steering-wheel-mounted start button with the dashboard DNA power settings button to make them both more useable, but otherwise, it is spot on.
The car is powered by a 1.5-litre (so little!) engine with a variable geometry turbocharger, which delivers 118kW of power and 240Nm of torque. These are not bad numbers, but the car feels a tad underpowered.
I need to remind myself that it is not a sportscar, it is a compact SUV. Then I like it more. But then my brain says, it is an Alfa Romeo, right?
Fuel consumption
The Tonale's hybrid system has an 800-watt battery paired with a 15kW motor that can power the car in low-speed situations and when coasting. This is a nice trick, although the Lexus UX 250H ($64,400) does the same thing.
But here's the rub. That powertrain can do 0-100km/h in 8.8 seconds and has a claimed fuel consumption of 5.6 litres per 100km.
That is worse than the almost 4.8 litres per 100km I get from my two-litre turbo 2017 BMW 330.
And also worse than the comparable UX 250H's 5 litres per 100km and faster at 0-100km speed from its two-litre engine. The Tonale and the 250H are identical in size.
So the Tonale has a smaller engine that is working hard to push this compact SUV along and using probably too much fuel for modern standards. But it is fresh from the design shop and part of Alfa's move to be fully electric in two years.
CO2 emissions
The Tonale wins with its seven-speed gearbox (with paddle shift on the Veloce) as opposed to the Lexus' CVT transmission.
It emits 143g of carbon dioxide per kilometre, as opposed to the lower 114g/km of the Lexus.
Still, it is an Alfa …
Putting the Tonale into sports mode (called D in their DNA nomenclature) does produce a noticeable improvement in performance, but the increase in revs makes me suspect this should be a temporary thing.
This is the first Alfa that makes use of a Miller cycle turbo set-up. This makes it more effective at lower speeds and is explained here.
Light steering
Steering is light, even flighty, which takes some getting used to, but is superb for avoiding Northland's many, many potholes. The test model has 20-inch wheels. I'd personally opt for the 19-inch on the Veloce model. Smaller wheels improve acceleration.
The car does rev high, almost to 5500rpm, when accelerating hard, particularly on a hill. Once the turbo cuts in, the speed quickens.
I repeatedly detect a shudder when the car moves from battery-electric propulsion to petrol, and I struggle to get decent bass from the 14-speaker Karman-Harden stereo.
These things aside, the Tonale is a fine vehicle. I think I need to look at it in comparison to other compact SUVs rather than other Alfas I've driven. That would be fairer.
Later this year, a plug-in hybrid version of the Tonale will be on sale here. That looks impressive.
So Alfa has created a car for what people actually buy. I can't blame them for that. As the first electric-aided Alfa, it is fine. Now, bring on the electric sports cars.