Big sky, sheer rock bluffs, a powerful river rolling through a remote canyon – Central Otago is the part of New Zealand where your Spotify music feed is locked on 'lonesome, Western'. That raw southern landscape, all schist and scrub, gave us a 19th-century gold rush and now sustains a unique wine industry. Both the heritage and Central's signature ruby-red intoxicant make it a region you should take time to explore.
Pedal power
The Otago Central Rail Trail is New Zealand's seminal multi-day cycle experience, and still among the best. But that trail is a three-course meal; if you just want a quick bite, try the Roxburgh Gorge, a one-day ride through an equally vivid Central landscape of bluffs, stone miners' huts and wild thyme beside the emerald-green Clutha River. With the middle section of the track out of bounds, you can put your feet up on the 13km jetboat transfer between Doctors Point and Shingle Creek.
For a gently indulgent cycling experience, ride from Wanaka to Albert Town, refuel at the criminally good Pembroke Patisserie, then follow the Upper Clutha River Track to a foaming beer at the historical Luggate Pub. Or hit the still-under-development Lake Dunstan Trail, which when completed in the new year will link Cromwell to Clyde via the dramatic Cromwell Gorge. Currently, you can ride it from halfway up the lake to Cromwell's heritage precinct, then on to Bannockburn Bridge and back to Cornish Point.
If you like your cycling a little more touch-and-go, Central has its share of challenging tracks. New mountain-bike park Bike Glendhu offers mixed-ability trails 10 minutes' drive from Wanaka village at Glendhu Station. Or take the chairlift at Cardrona to challenge yourself on high mountain trails, and then tackle the 10km 'Peak to Pub' run, descending 1,270 metres to the famous Cardrona Hotel. Alternatively, splash out on some heli-biking. Heliview Flights offers chopper-assisted guided and self-ride enduro-style riding in the ranges near Cromwell.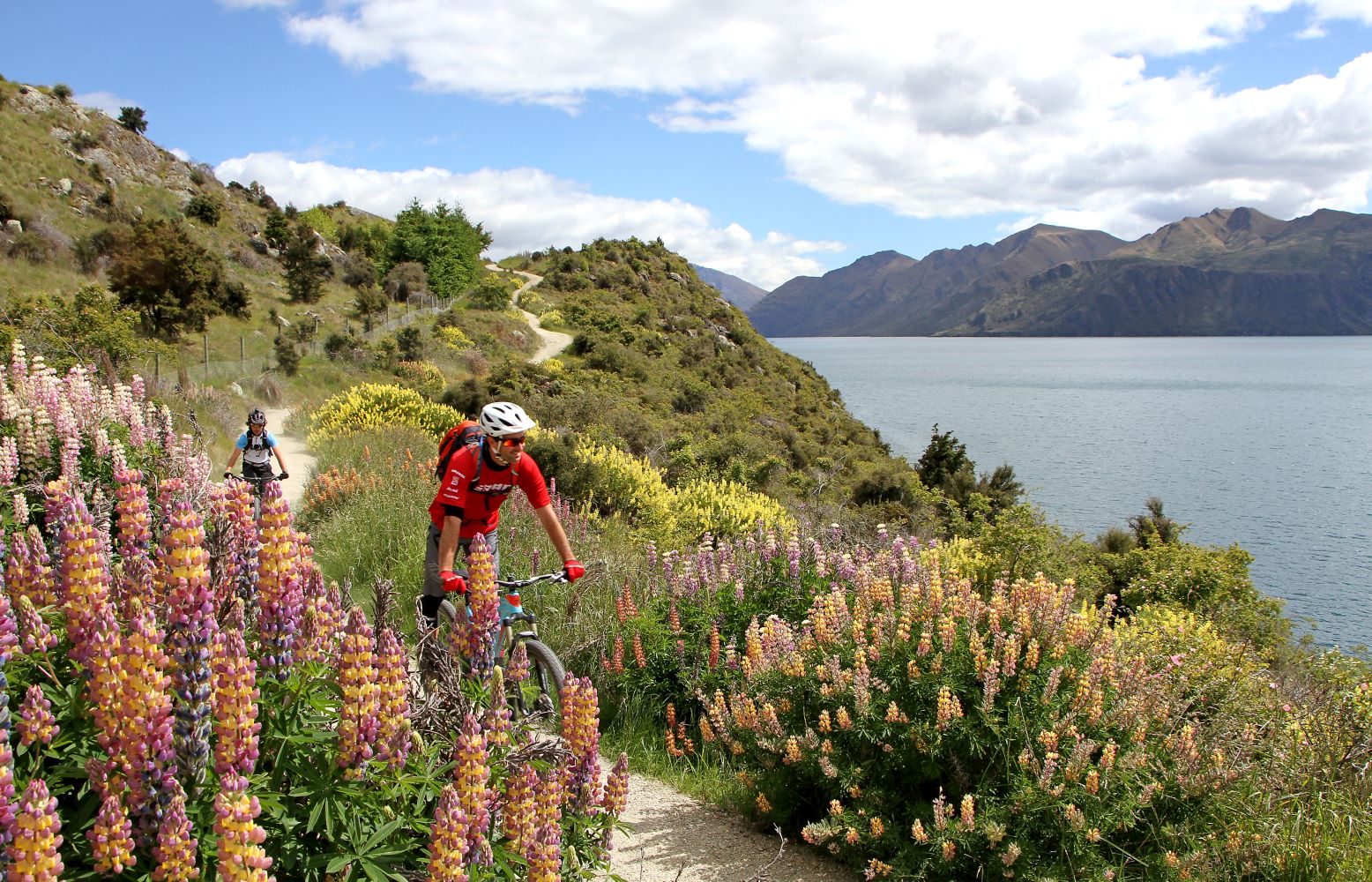 Mountain biking the Glendhu Bay Track
Lord of the rungs
Wildwire Wanaka's pitch to the brave is that it operates the world's highest waterfall cable climb, an ascent of the towering Twin Falls near Glendhu Bay. Don't panic: your route to the top is by way of a via ferrata, or 'iron road', a series of cables, suspension bridges and rungs securely fixed to the rock and to which you are safely clipped. You don't need any climbing experience, and you have the option of completing one, two or all three of the progressively more adventurous sections. For the final stage, you'll be climbing, supported by a guide, behind a 60m waterfall and have to navigate a three-wire bridge and overhangs to reach the top. Your reward is the astounding view, and a helicopter ride down.
Triple threat
For canyoning adventures in diverse settings and pitched at all levels, check out Wanaka-based Deep Canyon's menu of tours. The 'Wai-Rata' heli-canyon experience is a heady cocktail that combines a chopper ride to a remote Haast Pass canyon, canyoning hi-jinks such as chute-plunges, abseiling and cliff jumps, and a jetboat trip out.


Gold in them thar hills
Central Otago's small towns were built on gold – or, at least, on the explosion of obsession, entrepreneurialism and straight-out greed uncorked by the 1860s gold rush. In the past couple of decades, some of the best surviving heritage buildings have been restored and repurposed as hotels, restaurants, bars and cafes, or as holiday cribs/baches. While in Central, you'd be remiss not to explore some of that heritage.
Ground zero of the Dunstan Rush, Clyde's main street gives a hint of what it would have looked like in 1863, with the original courthouse, post office, hotel and public library all still standing. For a good day trip, start there, then cross the Manuherikia River to Ophir by way of the elegant 1880 Daniel O'Connell Bridge, stopping to post a letter from Ophir's diminutive 1886 stone post office.
Take the back road through the glorious Ida Valley to the 1890s Hayes engineering works and on to ghost-pestered St Bathans, where the allegedly haunted Vulcan Hotel and otherworldly Blue Lake aren't to be missed. Head on to tiny Naseby. When it comes to its gold rush-era buildings, New Zealand's "Capital of Ice" is a little frozen in time, and that's a very good thing. Give curling a whirl at the year-round rink.
If you have more time up your sleeve, head into the hills behind Tarras to explore the atmospheric Bendigo Quartz Reefs Historic Area, or take a walk through the strange, scarred landscape of the Bannockburn Sluicings.
Wine with a view
Te Kano Estate's cellar door is worth a visit in its own right. Designed by Dunedin's Mason & Wales, the building has taken out a top honour at this year's Southern Architecture Awards. The corten-clad structure cantilevers from a terrace near the top of the winery's 'Eliza' vineyard, with views of the rugged Bannockburn landscape and the Kawarau River. Te Kano is known for pinot and chardonnay, but for something different, try its delicate pinot noir-derived blanc de noir.
Cloudy Bay's new tasting 'Shed' at Lake Dunstan is another cellar door where the setting is as appealing as the wine. Sited in a sheltered fold of the winery's Northburn vineyard, it's an all-weather treat, with a big open fireplace inside for winter visits and extensive outdoor quaffing and dining spaces for warmer months. Light lunches are available.
It's hard to imagine a cellar door more spectacularly sited than Rippon's wonderful rammed earth and timber hall, set high above Lake Wanaka's Roys Bay. But even if this pioneering biodynamic producer was still housed in its original converted goat shed, you'd still have to visit for the world-beating wines.
Eat your way through Central
James Stapley's Wanaka-based restaurant, Kika, is one of Central's best. Set beside a gin-clear stream, this Italian-leaning tapas eatery serves innovative small and large sharing plates. In Clyde, Olivers delivers fresh seasonal food in a restored gold-rush-era store, with an in-house craft brewery to wet your whistle. Pitches Store at Ophir is another Central gem that nails accomplished contemporary dining in a rustic heritage setting – in this case, an 1883 general store. Chef Matt Schmutsch's decadent, French-inspired Pembroke Patisserie in Wanaka's Albert Town is where you go to reward yourself for all that cycling under the hot Central sun.
Home away from home
In Central Otago, you want to find accommodation that comes with an epic location or an enveloping sense of history. Minaret Station Alpine Lodge ticks both boxes – a historical high-country merino property sited at the head of a glacial valley on the western shore of Lake Wanaka, with access only by helicopter. Billed as New Zealand's most exclusive luxury alpine lodge, it includes just four chalets, linked to a central 'mountain kitchen', where guests can dine on lamb and beef from Minaret, seafood from Fiordland, and other regional treats. Experiences include heli-biking, hiking, guided hunting and backcountry fishing. Take your best Swanni.
For an indulgent stay in the heart of historical Clyde see the above-mentioned Olivers, a complex centred on an 1869 stone country store. Two of the finest rooms are converted from the original smokehouse and stables; visualise rustic schist walls set off by sumptuous furnishings, rugs and claw baths. A terrific freshly baked breakfast is included. In Ophir, Pitches Store makes a similar, er, pitch, offering boutique luxury accommodation in a restored 1880s stone store.
centralotagonz.com lakewanaka.co.nz