When you're packing for the West Coast, you'd be remiss not to include an umbrella. Despite what some Coasters will tell you, it does rain a bit – the region's glorious rainforest is Exhibit A in that argument. But also pack a sense of adventure. This is the wild West Coast, after all, where the views are epic, the wildlife prolific, and the landscape in places has the whiff of the primordial about it. The best way to see it? Slowly, with plenty of time in reserve for surprise detours and pub conversation sidetrails.
Cape Foulwind
Open your account of the Coast as you mean to continue – with a panoramic view and head-blasting weather. Cape Foulwind, near Westport, was so named by James Cook after the Endeavour was blown out to sea there. It's certainly no place for a picnic. But it makes up for that with dramatic scenery, a fur-seal rookery and tītī/sooty shearwater colony, wheeling gulls and a lonely lighthouse. Dolphins and orcas are said to favour the waters below the cliffs.
Nile River Valley
The Nile River Valley is stunning above ground and enthralling below. Based in nearby Charleston, Underworld Adventures can get you into the best parts of the Nile's celebrated limestone cave system. You'll experience the whole subterranean gamut, from delicate calcite formations to a cathedral-sized chamber pierced by motey light. For an extra buzz, descend to the lower level's glow-worm grotto, then lie back on an inner tube and drift out into the rainforest. Magic.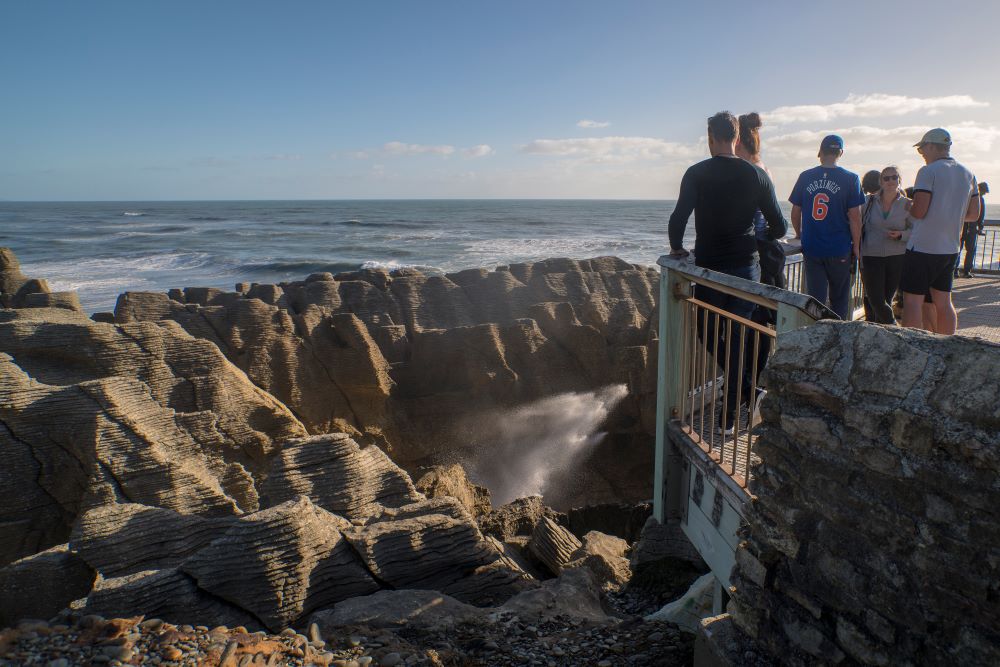 Punakaiki's Pancake Rocks. Photo: West Coast NZ.
Punakaiki
The route to Punakaiki from the north is thrilling, with the towering flanks of the Paparoa Range to your left and the Tasman surging ashore on your right. Lonely Planet rates the Great Coast Road as one of the world's top 10 coastal drives, so take your time and prep your camera.
At Punakaiki, your first stop should be for pancakes – of the limestone variety. Layered over millennia into those signature flapjack formations, the Pancake Rocks are best visited at high tide for the full drama of the blowholes and surge pools.
Punakaiki Horse Treks style themselves as dream-makers for good reason. For a start, the horse you're riding will have been retrieved earlier in the morning from up the beautiful Punakaiki Valley, where the herd roams freely. The route you'll take up that same valley involves fording a river in the shadow of 90-metre-high limestone cliffs, and finishes on a beach. Stuff of dreams, alright.
Punakaiki is a hub for several terrific short walks. Truman Beach, for instance, is easily reached within 15 minutes via a track that meanders among great podocarps and southern rātā. Further north at Fox River, the Ballroom Overhang Track has views of some of Paparoa's finest limestone formations, including the spectacular eponymous outcrop.
If you have time for only one walk, however, the Pororari River Track has to be the pick. The trail heads up one of those magnificently primeval West Coast river gorges, all slow-moving green water, dense forest and high canyon walls. You can do a 45-minute return hike, or take the three-hour loop that connects to the southern section of the Inland Pack Track. If you'd rather paddle up the Pororari – a highly recommended adventure – Punakaiki Canoes offers one- and two-person kayaks for hire.
Barrytown
Where else but the West Coast could a visitor spend a day making themselves a knife? Located south of Punakaiki, Barrytown Knifemaking provides an opportunity to forge, assemble, grind, polish and sharpen your own blade, then set it in a handle of native wood. Lunch is included, along with axe throwing and archery breaks.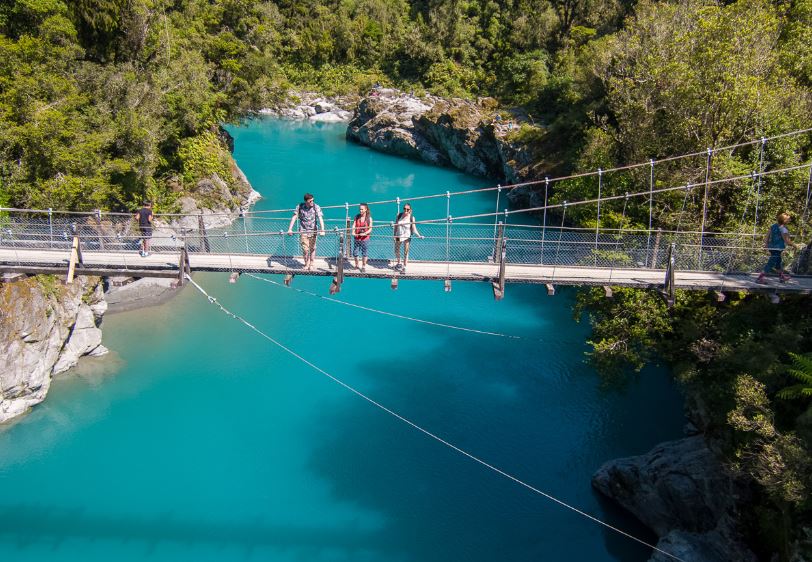 Hokitika Gorge. Photo: West Coast NZ.
Hokitika
The Hokitika Gorge is a rare sightseeing trifecta: a vivid turquoise river gorge set in rainforest against an alpine backdrop. No surprise that nature lovers have been drawn to the place since at least the early 1900s. Now visitors can enjoy an extended version of the gorge experience, with a new one-hour loop track and 90-metre suspension bridge offering new views upstream and more time in the bush.
Glacial Lake Kaniere is another gorgeous spot. On a clear, windless day, you get almost Matheson-like mountain reflections, and when it's bucketing down, the Dorothy Falls transition from divertingly picturesque to thunderous. The 10-minute Kahikatea Forest Walk, which loops through a tract of virgin bush and flax swamp, is great for a quick leg stretch.
The West Coast's rainforest is impressive from any vantage point, but it's particularly amazing from up in the canopy. South of Hokitika, the West Coast Tree Top Walk spools out for nearly half a kilometre 20 metres above the forest floor, among ancient rimu and kāmahi. For an added thrill, you can climb the walkway's 47-metre-high Hokitika Tower for a sighting of the Southern Alps and walk a cantilevered springboard aimed straight at Lake Mahinapua.
Glacier Country
It's heartbreaking that Franz Josef and Fox, which were formerly two of the world's most accessible glaciers, have become so difficult to approach – a consequence of both glacial retreat and, in Fox's case, washouts on the access road. These days, you really want to get airborne to view them in all their glory. Locally owned HeliServices.NZ offers several tour options, ranging from a scenic flight over one of the glaciers along with a snow landing, through to the "Grand Tour", a 40-minute excursion that takes in the Franz, Fox and Tasman glaciers as well as Aoraki/Mt Cook and Mt Tasman.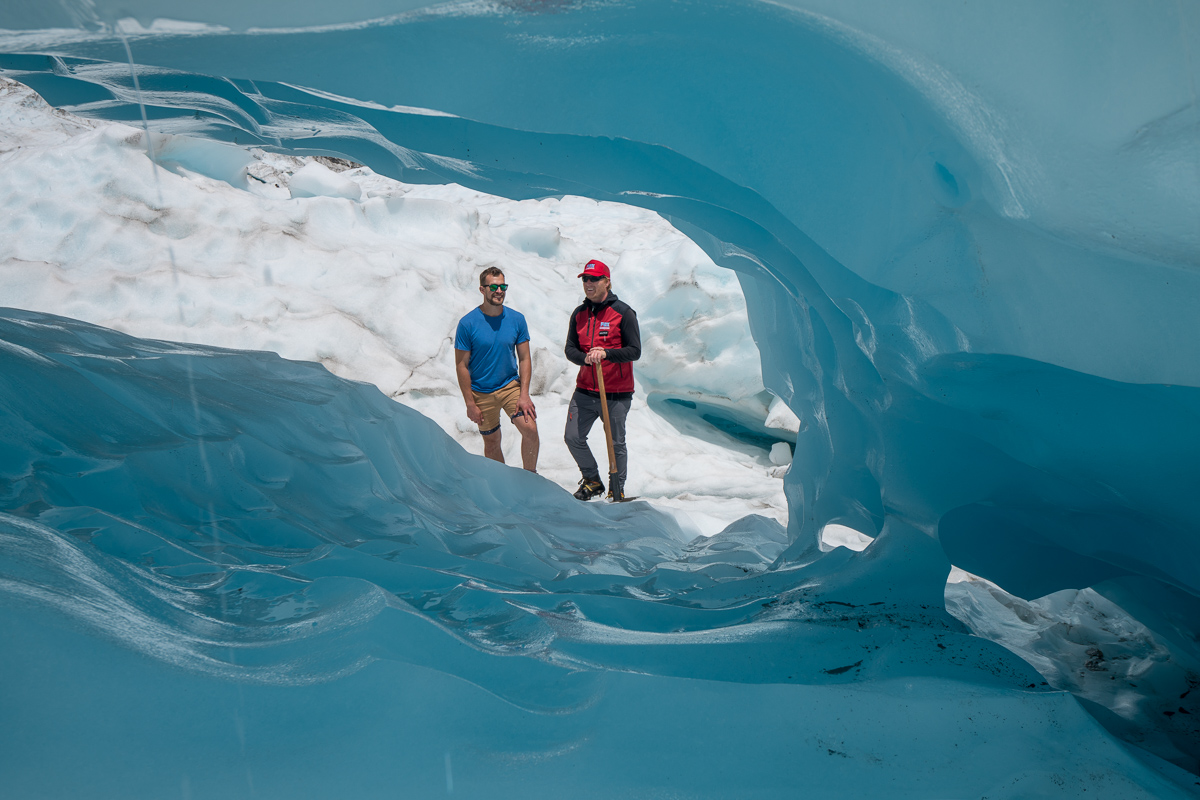 Fox Glacier. Photo: West Coast NZ.
Dining and drinking
When you're finished marvelling at Punakaiki's nature-made pancakes, order a stack of the other kind at the Pancake Rocks Cafe across the road. In Hokitika, Fat Pipi Pizzas is your go-to for a casual meal or takeaways. Signature dish? Whitebait pizza. In Franz Josef, the SnakeBite Brewery & Restaurant offers an unorthodox but crowd-pleasing double act of a menu, with delicious Southeast Asian street food complementing gourmet burgers, mussel fritters and fish and chips. The drinks menu includes a small but well-chosen range of Kiwi craft beers and SnakeBite's own signature beer/cider blends.
The Lounge at Rimu Lodge. Photo: Supplied.

Where to stay
At Punakaiki, stay at Wave Watchers Retreat. As the name suggests, this lovely two-bedroom cottage is just a weak-armed stone's throw from the beach. From the deck you look straight out to, well, the waves. It's well equipped for inclement weather, too, with a gas fireplace, flat-screen TV with Sky, free wifi, CD player and full kitchen and laundry. Fall asleep to the ocean's roar.
The Rainforest Retreat Deluxe takes full advantage of its bush setting on the edge of Franz Josef village. This recent addition to the established Rainforest Retreat includes a range of deluxe "Tree Houses", "Tree Lodges" and "Tree Huts". All are privately nestled among trees, stylishly furnished and well equipped, with Nespresso machines, kitchens or kitchenettes, and spacious en suites with heated floors and rain showers.
In Hokitika, check yourself into Rimu Lodge, a purpose-built five-star B&B. Set on a rise looking over bush towards the Hokitika River and the alps, it includes four elegant rooms with en suites, a gas-heated outdoor bath for a soak under the stars, delicious continental and cooked breakfasts (the eggs Benedict is recommended), and a big open fire in the Great Room.