You don't drive the Rolls-Royce Phantom. You direct it. You are a captain on the bridge of a supertanker — you point its lengthy prow in the right direction and relax.
Driving the Phantom, if only for a weekend, changes your expectations of what a car is and can be. The star-lit interior, massaging chairs and champagne cooler are all nice, but the effortlessness of helming a 2.5-tonne car is the real wonder.
It is almost enough to make you forget the car costs $970,000 as standard.
Parking outside Briscoes at Auckland's Westgate mall is an art in itself. After rejecting various carparks as too tricky to get out from, or too small, eventually I just stop across two parks. No one seems to mind.
The Phantom attracts a lot of comments, and almost all are positive. I came up with a backstory for why I was driving it (I have my own private mercenary army I rent out to governments looking to make changes) but it wasn't needed.
In Point Chevalier, a group of schoolboys cheer as they wait for a bus, at Taupaki, near Kumeu, a whole KiwiRail crew wave and hoot; wherever I go people are winding down windows to ask about it.
At nearly every intersection over three days, other drivers slow or stop to let us in. (They may have just been scared of my private army, of course.)
So, what to make of a car worth more than the average house?
The ride
It's perfect. I know that is a really big call and I am fairly new to car reviews, but how can the ride get better?
The journey in a Phantom is almost always better than the destination. A perfectly balanced electric power steering wheel makes driving such a monstrous vehicle a breeze. The massage function in every chair keeps you relaxed, while guests in the rear seats can open the champagne cooler and pop some Bollie, darlink.
I desperately wanted to avoid writing "it's like riding on a cloud", which is Rolls-Royce marketing talk, but, dammit, they're right.
The Phantom is now in its eighth generation and this one has been rebuilt from scratch. It has an aluminium 'space frame' that is stiffer and lighter than its predecessors, and then a heap of insulation to reduce sound. The windows are double-glazed. Even the tyres are specially engineered and include 2kg of foam to reduce noise,
This basically means the loudest thing you will hear, even when including the engine, is the aircon fan. It is absolutely silent inside. The dashboard can be personalised to your own art, which is then combined with a screen in its own vacuum-packed enclosure.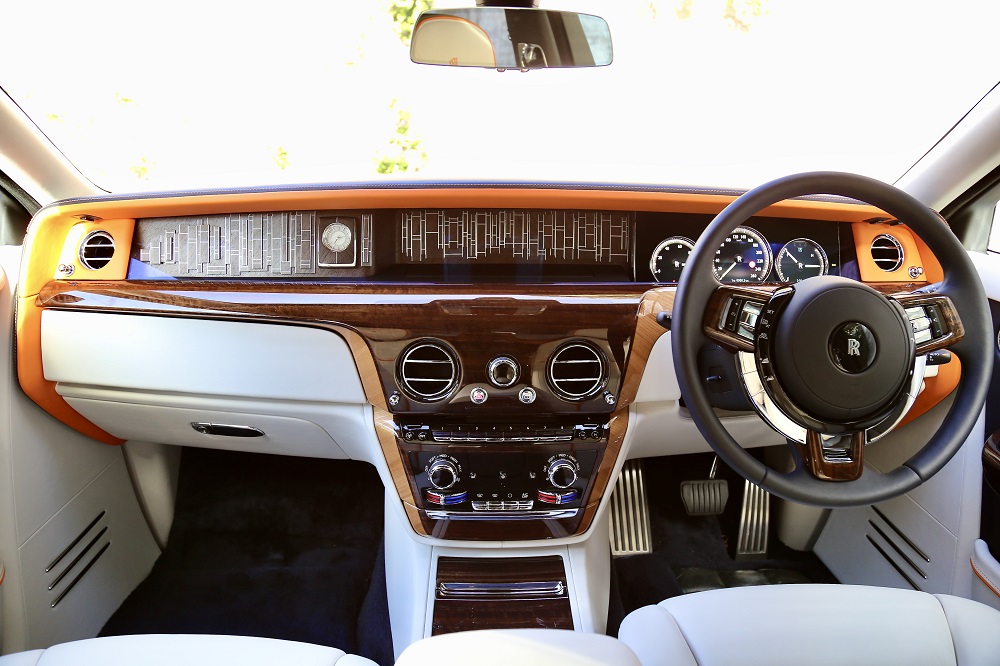 The BusinessDesk Phantom has a cream interior with orange highlights. When you couple this with a star-lit ceiling (yes, really), there was a risk of sneaking towards tacky, but it all blends wonderfully. The ceiling contains more than 1,300 fibre-optic lights, which can be customised to suit your whims.
Rear passengers have access to a picnic table, TV screens and self-closing doors. All chairs have massage functions.
The Phantom does not so much merge onto the motorway as merge and acquire a new lane. The sheer scale of the thing means people keep out of your way. Not once did anyone park next to me.
The Phantom can go fast, really fast, but it is a most gracious host that is comfortable at whatever speed you prefer.
The technical stuff
As the epitome of luxury, the Phantom has a few tricks up its sleeve. Its cameras scan the road ahead and adjust the self-levelling suspension for any bumps or possums that you may travel over. Suspension is double-wishbone upfront and five-link at rear, below standard air springs and adaptive dampers. It is so smooth.
The car is powered by a twin-turbo 6.75-litre V12 engine, which pumps out 563 British horsepower (420kW) and 9000Nm of torque.
The stereo is incredible and when Rolls-Royce created it, they benchmarked against professional recording studios rather than other cars.
This is the ultimate in luxury and the technical features fade into insignificance because it is all so good.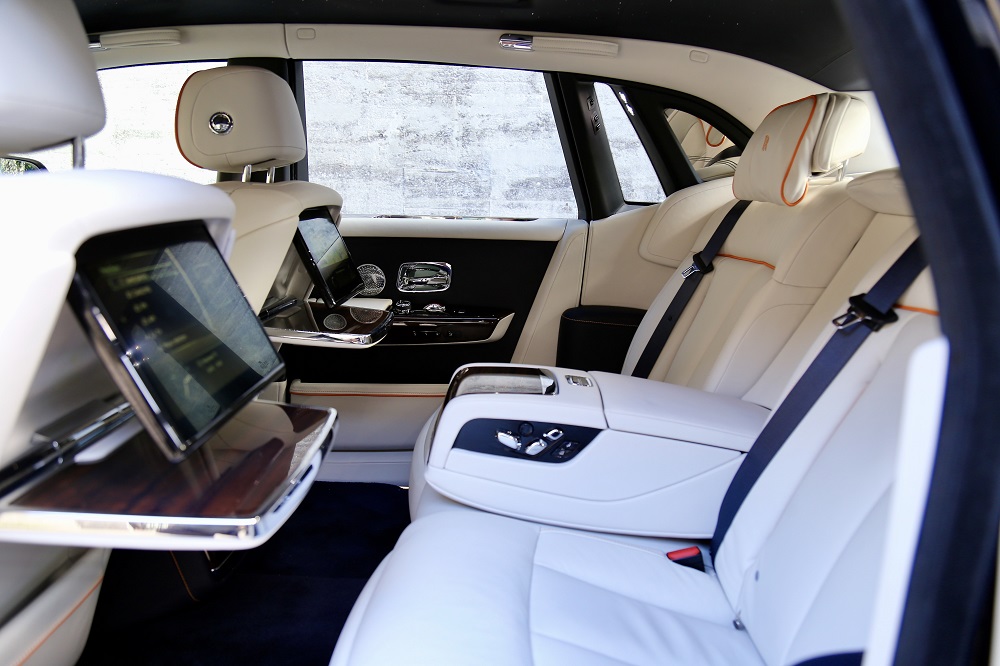 The conclusion
This is the best car I am likely ever to drive, certainly the costliest, and I'd love to keep it. As I wait at a red light, with my back being massaged, I consider how to steal it.
But you would not want a Phantom as your only car. It is simply too big to be practical when parking at Pak'nSave. But that is my only criticism.
Instead of being terrified about driving a million-dollar car, I really loved it. The Phantom won me over. If you could have a more discreet version – one that attracts less attention – then it would suit me perfectly.
The ride, the power and the absolute luxury of the thing are all incredible. I would borrow the Phantom again any time anyone would let me.
Compare it with
Another Rolls-Royce
Bentley Mulsanne
Dust
https://www.rolls-roycemotorcars-auckland.com