Upstart craft brewer b.effect pushed up its production capacity by 60% in February on the back of a similar jump in sales over the past year.
That translates to about 30,000 litres of fermentation space, which these days will all be sold within about three weeks. To cater to its expanding food-service and retail market, it has also doubled its staff to eight.
The business was initially kicked off by Christchurch's James Hay in 2015 in his parents' garage in Wānaka.
B.effect, an abbreviated form of "butterfly effect", was coined by the father of chaos theory, American mathematician Edward Lorenz, to mean "small changes can cause great effects".
Hay said that applies as much to the brewing process, for instance with small changes in temperatures, as it does to business.
Super-yachts
Hay, now 37, attended Christ's College in Christchurch and did a management degree at the University of Canterbury.
After a stint on super-yachts in the Caribbean and the Mediterranean, he returned to Christchurch in 2011.
There, he and two friends co-founded the Hop Baron Brewing Co, running it for two years.
He decided on the move to Central Otago in 2014.
'Hit the ground running'
At that stage, he said, the plan was to develop recipes and contract out the actual brewing to bigger South Island breweries, allowing him to both build a brand and create initial sales channels.
That, he said, allowed them to "hit the ground running" once the actual brewery started production.
The brewery and tasting room were built in 2019, in an old auto workshop in the industrial node of Anderson Heights, Wānaka.
It started small, but has since tripled in size, incorporating a popular local taproom and eatery, b.social.
The taproom also forms part of a wider hospitality group, Dropping Inn, which includes local cafes Hello Ranger and Urban Grind, as well as the Hāwea Hotel.
Plans are also in train for another tapas bar next door, Hay said.
Milk and beer
His partner in the venture is local property developer and businessman Matt Laming, whom he met in a bike race in 2016.
Laming's background in fast-moving consumer goods at Fonterra has been a huge asset for the business, Hay said.
"There's no real difference between getting milk to a customer or getting beer to a customer. You're pretty much buying the same equipment and it comes with the same challenges across both shelf life and brand."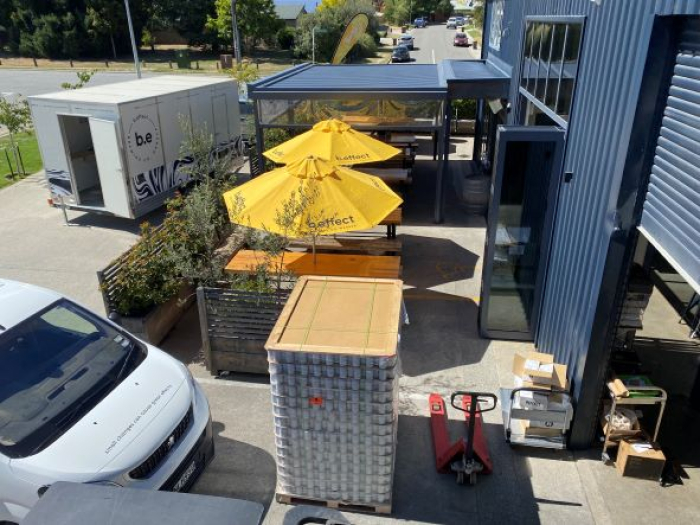 Hay said the biggest challenge to date, however, had been the impact of the covid lockdown in 2020, which coincided with the planned opening of the expanded brewery and bar in March that year.
Restaurant closures led to its sales dropping by an immediate 70%, representing its volume of keg sales.
Silver lining
That saw the brewery pivot away from its food-service model and order a canning machine from the US.
The silver lining is the machine, which arrived in November 2020 and is capable of running at 1,000 cans an hour, allowing the brewery to expand its retail footprint.
The involvement of Tom Gerlach as head of brand and experience from last March has seen it elevate its shelf presence across most of the lower South Island Foodstuff supermarkets, including New World and Pak'nSave.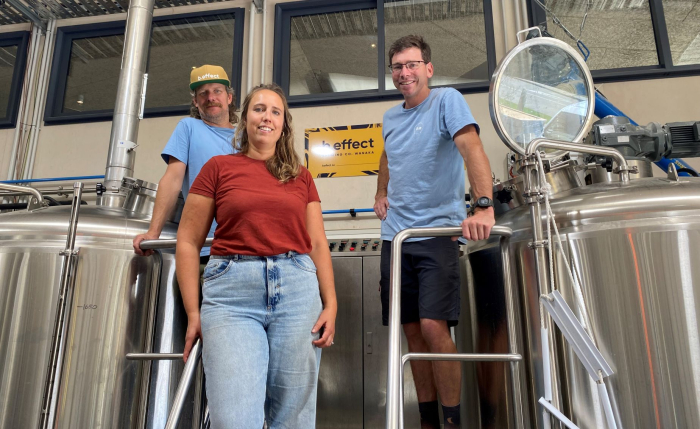 So, the brewery has weathered the storm, but it has also stuck to its strengths for lower-alcohol offerings.
It has 10 beers on offer, of which the most popular are consistently its Wānaka lager, 'Pop'n Pils' pilsner and 'Flow State' pale ale.
The brewery has dabbled in sours, and its mango and salted lime sour is popular, as is its 'Special Effects' mango smoothy hazy IPA.
I doesn't brew any dark or porter-style beers, however, and its heaviest beer is its 6.5% "rebel for kicks" hazy IPA, which Hay classes as more of a "gateway" beer.
"Hazy's in general are soft and tropical so they basically taste like fruit juice, which is a great way to get into craft beer."
'Hops-pitality'
Given the evolving hospitality part of the business, the brewing team and head brewer Véronique Grenier have also diversified into cider and some non-alcoholic options, notably ginger beer, sparkling hop water and kombucha.
Its "b.alive" jasmine offering is far and away its most popular, outselling all others by a ratio of two to one.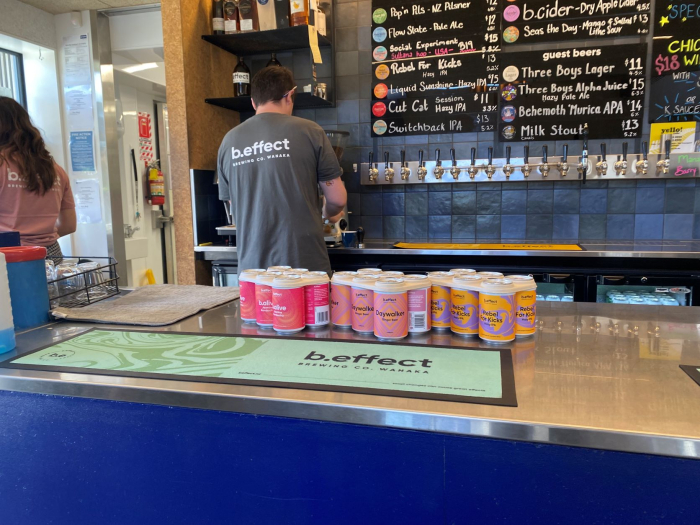 With his sights now set on expanding the NZ hop market into Central Otago, Hay is working with Hop Revolutions in trialling a small, 1,000-square-metre plot of about 600 plants on the Ruddenklau farm in the Maungawera Valley.
The vast majority of NZ hops, about 1,200 tonnes, are grown in and around Motueka, at the northern end of the South Island.
'Wet hop' beer
Hay expects the yield for this year's harvest, later this month, to be about 200 kilograms of wet hops.
That's across six different varieties, though b.effect will have the rights to use only three of those – Riwaka, Nelson Sauvin and Motueka.
Those, he said, will all go into one "wet hop" beer.
I, for one, am thirsty already.