It's around this point of the year where we all reckon we deserve a little bit of sun and sand and, hey, why not make it a luxurious trip where you can feel your worries and cares melt away (along with your layers of sweat and sunblock, of course). But while the word 'luxury' is synonymous with a good time, Fiji offers vastly different experiences in the luxe travel space. Here's three of the best.
The Overwater Bungalow Holiday: Likuliku Lagoon Resort
Nothing says luxury quite like an overwater bure where you can be drinking a morning coffee in your sumptuous king-size bed one minute and then ambling down the private deck and straight into the pristine lagoon and protected marine sanctuary.
Adults-only Likuliku gives you Bora Bora vibes on a Fiji budget and honestly, as a lucky son-of-a-gun who has been to both, I can attest you get more bang for your buck in Fiji.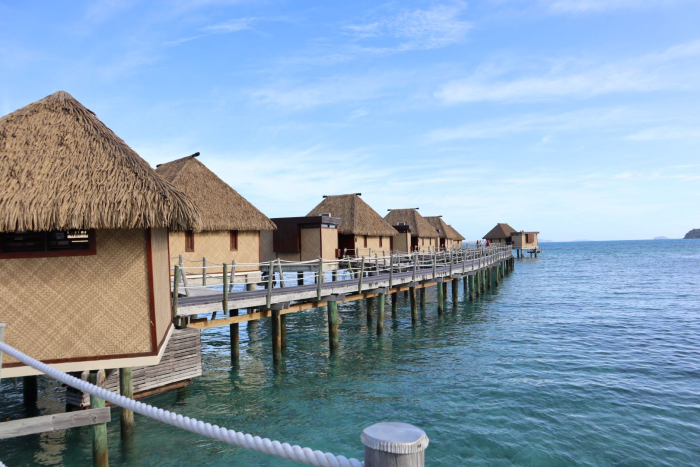 Likuliku, a 45-minute boat ride from Denarau, offers beachfront bures as well as the overwater variety, but it's these 10 little houses on sticks that are the true drawcard here – so much so you'll probably never leave your private oasis of calm.
Come here to hang out on your deck with your favourite person – sip champagne as you watch impressive amounts of tropical fish dart about coral (or even have a squizz through the living room's glass bottom) and then take endless dips in the warm Pacific waters.
Snorkels and fins are provided for each room and when you want to wind down from relaxing at the end of the day, the sumptuous bathtub that looks out to the ocean will do the trick.
The Elevated Luxury Experience: Six Senses
If you're someone who appreciates the little things on a holiday and you enjoy a five-star, international standard of accommodation, then Six Senses is the place for you.
Located on the same island as both Likuliku and Lomani, Six Senses is a step above when it comes to the luxe experience with an impressive infinity pool, stunning bures with private pools and exclusive beach access, food that'll make you want to being the chef home with you (try the snapper) and a spa experience that'll make you think you've died and gone to a very tactile heaven.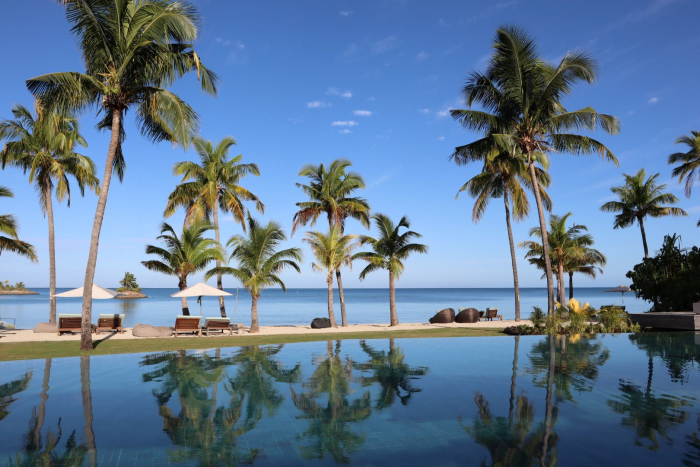 Six Senses places an emphasis on wellbeing but don't let that put you off if you believe holidays are for hedonism, not health. Rather, their offerings give you the gift of effortless balance – carrot juice in the morning, cocktails in the … later morning.
The gourmet deli and ice creamery means snacks are always available while you wander around and take in the resort (which can take a while – ask the sustainability manager to take you on a golf cart tour of the property which will include an incredible photo opp). It was on this tour that we visited the chook coop, delightfully-named Cluckingham Palace. I honestly couldn't stop laughing for hours.
Kids can come here, but this is not the place for kid's clubs and child-friendly activities. My advice? Leave them at home. (Can you tell I don't have children?)
The Affordable Luxe Holiday: Lomani Island Resort
Lomani Island Resort is technically classed as a four-star resort but if it was up to me I'd be trekking down to Paper Plus and buying a sheet of gold stars and sticking them next to Lomani's credentials myself.
This adults-only mecca is a more relaxed, down-to-earth luxe that, on our trip, really resonated with all the New Zealanders who were staying. You still have all the good stuff – beachfront bures, some with private pools – as well as a huge infinity pool, a bar that churns out wonderfully-strong piña coladas and lovely staff who instinctually know when it's time for another Fiji Gold. You truly feel you can relax and wind down and have a proper holiday.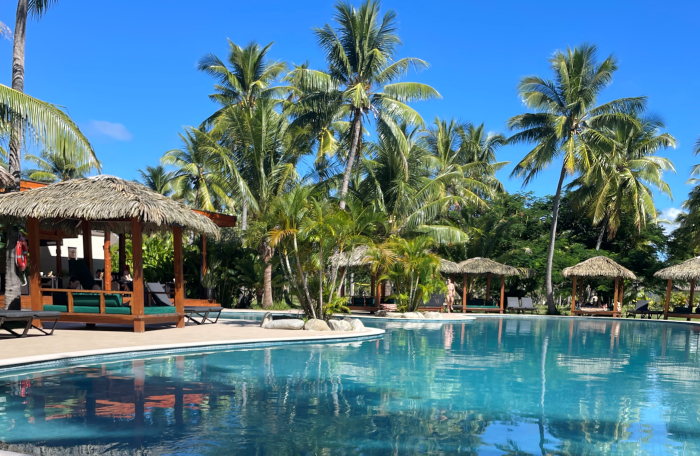 The spa is great and the beach is divine. Plus, at Lomani, a real factor that sets them apart is that a lot of the activities are included, such as the dolphin watching and snorkel safari.
And the activities you do have to shell out extra for are worth it – don't miss the sand bar trip, where staff will take you over to Malolo Island's famous sand bar, plonk down some lounge chairs and umbrellas and a chilly bin packed with ice-cold wine and beer and leave you to enjoy the remarkable experience.