Auckland Transport is blaming post covid commuter travel patterns for woefully underestimating the number of Aucklanders headed back to work this week.
The city's metro transport operator come up well short of having enough buses on its network, continuing with its covid reduced schedules despite having some rail services down due to track maintenance.
Buses were jam-packed and thousands of passengers were stuck without transport, and inevitably, late for work, grumpy and venting on social media.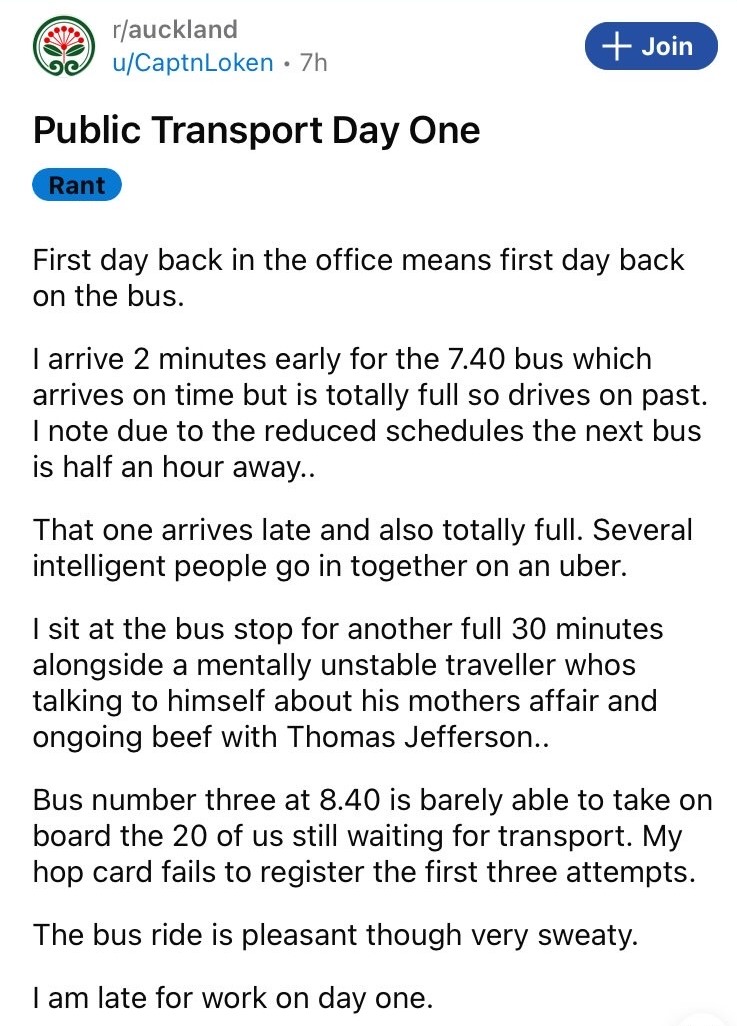 Auckland Transport (AT) group manager of metro services Stacey van der Putten admits the operator was taken by surprise this week, particularly during peak hours.
She said planning the right capacity for public transport services over January can be tricky in any year. She added that AT had expected to see a more gradual return to working from the office as more people continued the trend of regularly working from home.
That clearly wasn't the case as 117,967 passengers clambered onto buses, ferries and some train services. The vast majority – 97,496 – travelled into the city by bus.
However, AT stressed those are provisional numbers but it's still almost 13,000 more than the prior Monday when 84,803 commuters used the bus.
New normal
Van der Putten said what used to be 'normal' summer workdays "just isn't normal anymore".
She said overall bus patronage was still sitting at about half of pre-covid levels for this time of year despite the peak increases in passenger numbers.
After scrambling to put on services for the evening peak, she said the network ended up with enough capacity for about 75% of pre-pandemic passenger numbers. Another 50 services were provided on Tuesday and another 40 on Wednesday.
Van der Putten said additional rail replacement buses have also been added to shuttle passengers between the Britomart/Newmarket/Strand stations.
On Monday, AT issued this apology on its mobile app – stating: "We weren't expecting quite so many of you".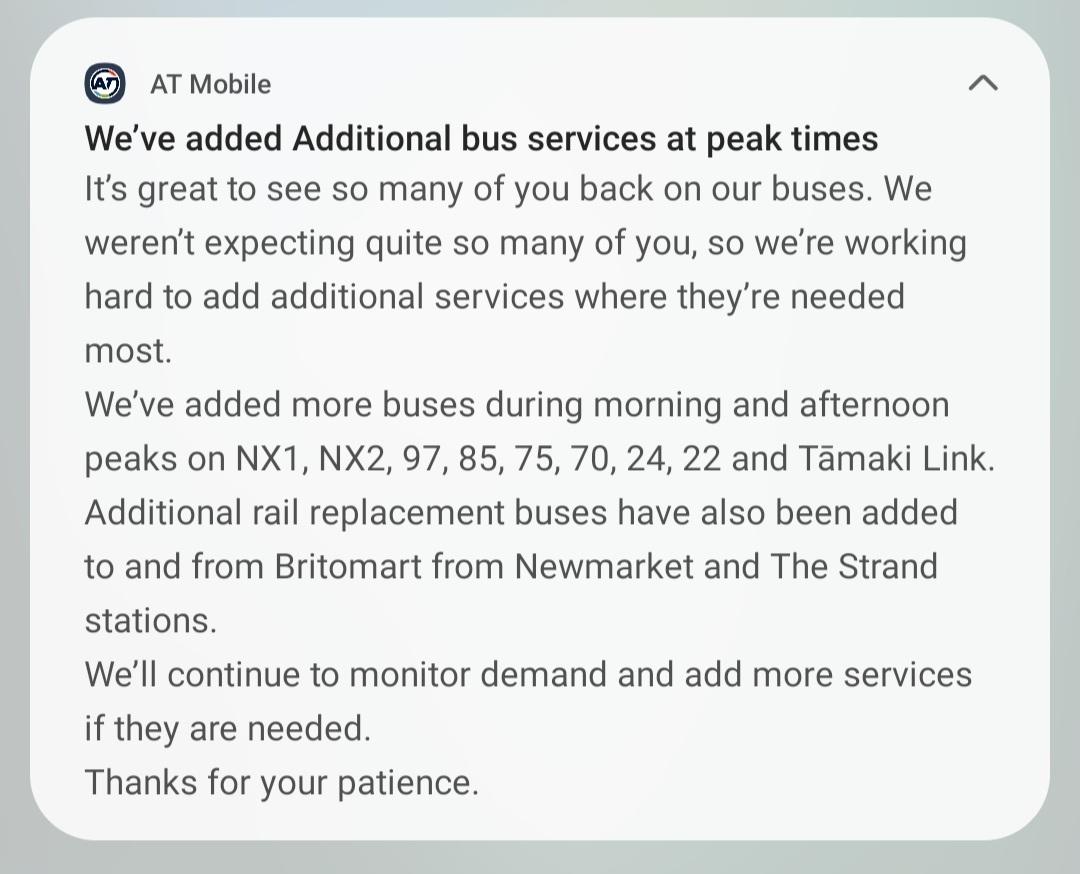 Covid impacts
Of all the urban metro services, AT has been impacted the hardest by the ongoing covid response lockdowns.
In the wake of services virtually grinding to a halt to all but essential workers, the central government has funded 100% of public transport revenue shortfalls to June last year.
In the absence of that funding line this year, the Auckland Council had agreed to throw AT a $50 million lifeline, with Waka Kotahi NZ Transport funding 51% of any shortfall in revenues.
Waka Kotahi is also leading a national ticketing project for the implementation of a national ticketing system for NZ, expected to be launched later this year.
That will replace the AT HOP card fare system, designed by French tech company Thales in 2009. Thales is also the supplier.