I live in two worlds – a tiny house in the central Auckland suburb of Parnell, and three hectares at Paparoa on the Kaipara Harbour in Northland.
They're pretty different communities, but in both, to a certain type of person the vehicle you drive is still a status symbol and a reflection of how well you are doing financially.
In Paparoa, your ute – its newness and size – is often used as a sign of prosperity, indicating, for example, that dairy prices are pretty good this season.
Down in Parnell, your car – its purchase price and impracticality – is a status symbol, reflecting how the markets are treating your investments.
So, it is unusual when the same vehicle is admired in both Parnell and Paparoa. That was the case, though, with the twin-cab Jeep Gladiator Sport, which is an American giant of a thing. It's like a full-size SUV, with a ute tray stuck on the back.
In Parnell, a vehicle this BIG means you must have one helluva garage to park it in, but in Paparoa, the Gladiator is a sign of individuality (it is not a Ford Ranger) and suggests you are milking it on the farm. Or maybe that you're growing dope up in the back hills.
The Gladiator simply will not fit in a normal car park. It is too long. At 5.6 metres, it is nearly a metre longer than a Jeep Grand Cherokee. In the week I drove it, the only real issue was finding somewhere to get out of it.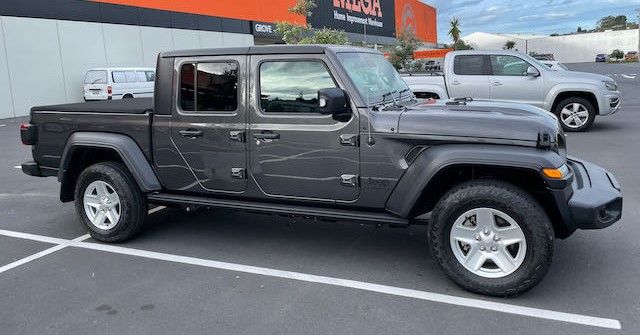 In a parking pickle. Photo: Matt Martel.
A big motor is needed to power its bulky 2.1-tonne frame. All Gladiator variants have a 3.6-litre V6, which grunts and roars with the best of them. The engine also has a near obsessive desire to drink petrol from its 83-litre tank. This car is not light on the wallet, or the planet.
The truly surprising thing about the Gladiator, though, is how well it drives. While the previous Jeeps I've driven have been great on straight roads but not so good on New Zealand's winding roads, this guy eats up the corners. And it has no concept that hills even exist.
I was initially cautious on corners (call it a light PTSD) but by the end of the week, it had proven itself unflappable (or unslideable). There wasn't a single corner it didn't tackle with ease.
The steering is a marvel of physics and electro-hydraulic power that makes it very easy to forget the following length and 1.9-metre width. Coupled with great suspension, this truck feels more like a sedan than I'd have thought possible.
The kids were a bit confused by its Americanness, with window buttons and other things in just the "wrong" position. For my part, I'm a little confused by why the makers have put the wheels slightly outside the body of the vehicle, rather than making the slightly claustrophobic cabin a bit bigger.
The ride is super smooth, maybe too much so. Centre-lane rumble strips may as well not exist for all the noise and vibration that reach the cabin. The height of the thing (you lift yourself into it) makes it a little bouncy on the open road, but that's tolerable.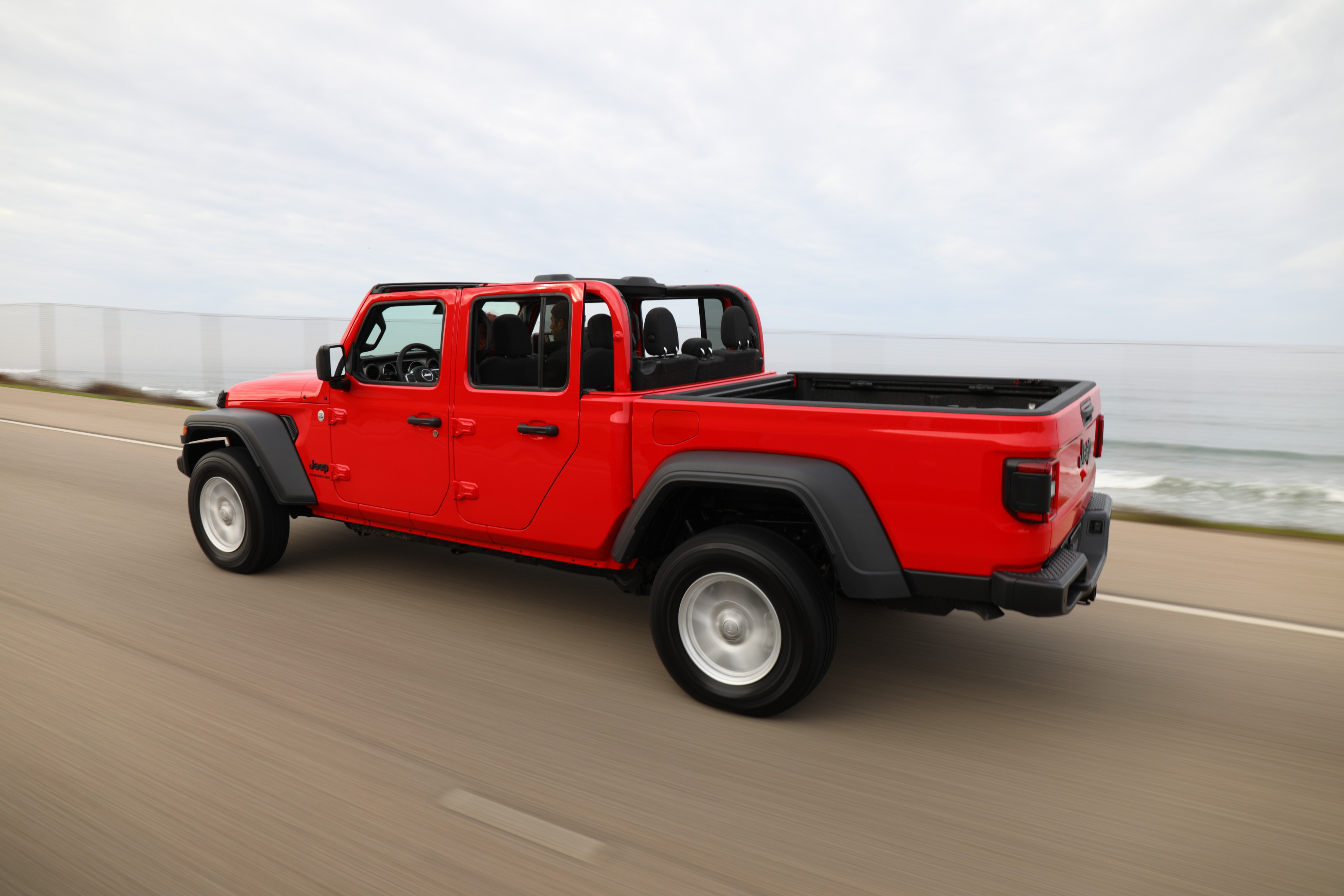 The Jeep Gladiator Sport sans roof. Photo: Jeep NZ.
The roof lifts off, but it is a manual process and you'd probably almost never do it. I went to the effort and my sunburnt noggin was a brutal reminder of the perils of middle-age male pattern baldness.
The stereo benefits from massive speakers on the roof just behind the front seats, and a small rear window (plus the removable roof) means you can happily blast Garth Brooks to everyone attending your pre-Super Bowl tailgate barbecue.
Please don't tell the other car companies I write about, but our Paparoa place is down the end of a long, pitted, gravel driveway at the end of a long, rutted, gravel road. Because of this, I was able to have some real fun putting the Gladiator to the test. Out of an abundance of caution I slipped it into 4WD and was comfortably cornering and reaching speeds that would be terrifying in a normal vehicle.
I hit 40km/h on our driveway and the ducks fled in terror.
The Gladiator, which was launched in New Zealand in January, is $79,990 for the entry-level Sport (which BusinessDesk tested) and $92,900 for the top-spec Rubicon, with its better interior and its upgrades, including to the 4WD system, shocks and more.
All up, a pretty interesting vehicle — just don't try to find a car park that can accommodate it on Parnell Rd.