In New Zealand corporate circles, Todd is a byword for formidable commercial acumen, political untouchability, astounding if low-key wealth, and a fierce commitment to secrecy.
Yet in the case of Todd Corp's interest in ASX-listed Flinders Mines, those very factors appear to have been key to the costly, toxic five-year battle with Flinders' minority shareholders, which finally came to an end earlier this month.
In a near-empty theatrette in downtown Perth's swank QV1 complex, after a perfunctory explanation of the proposed transaction that would green-light a A$7.2 billion iron ore development in Western Australia's Pilbara region, Todd finally got its way.
As Flinders Mines chairman Neil Warburton revealed the proxy voting figures unexpectedly running Todd's way, you could almost see the fight go out of the handful of shareholders present, who had opposed Todd tooth and nail for so long.
After five years of rejected takeovers, a censured and unsuccessful delisting attempt, thousands of flamingly angry emails in a wild range of fonts and colours, heated face-to-face exchanges, heavy-handed security measures, defamation threats by directors against shareholders, and more than a few conspiracy theories, it was all over.
The project is important to Todd, which represents New Zealand's wealthiest family. It needed this win to lock down one of several multi-billion dollar global plays it's pursuing to ensure the flow of wealth to the 135 year-old Todd dynasty.
Now into its sixth generation of the original descendants of Scottish pioneer Charles Todd, the family has a net worth of $4 billion, according to the NBR Rich List's best guess.
But lengthy delays on the Flinders project and a global-scale methanol plant in Louisiana had raised doubts about the competence of the current senior team at Todd. Getting Flinders over the line was important, too, for the two Todd directors on the Flinders board: Michael Wolley and Evan Davies.
Why so difficult?
But why was the Flinders win so difficult?
After all, Todd owns a controlling 55.6 percent stake in Flinders and would, under normal circumstances, have been able to dictate its future without having to convince any minority shareholder about anything.
But because Todd also owns 94 percent of BBIG, the company that will build the railway and port required to get the otherwise 'stranded' Flinders iron ore to market, it had a conflict of interest.
As a result, Todd couldn't vote on the most important thing for the whole Pilbara Iron Ore Project: a right to mine the Flinders tenements.
So, by the time it came to a fourth decisive vote on that question in Perth, it seems Todd had finally left nothing to chance.
Not only had Todd failed consistently to get a green light from minorities since first appearing on the Flinders register in 2014. They had also, in the process, made implacable enemies of the minorities.
In both 2018 and 2019, the appointment of Wolley and Davies had been voted down twice by enough of the minorities to force a board 'spill'.
They stopped just short of forcing such a vote after the second spill vote at December's annual meeting, in part because they'd already put Flinders' Todd directors and chair Neil Warburton through a similar experience in May 2018.
While expecting to lose, they had requisitioned an extraordinary general meeting under the Australian Corporations Act, seeking the removal of all three.
The minorities knew they'd lose but they used the occasion to try and shame Todd publicly, waving placards bearing slogans such as: 'Todd. Family Company. Bad Parent.'
Todd could vote its shares at that 2018 EGM, so of course, the board was unchanged. But the meeting was so aggressively prosecuted that elderly minorities were subjected to airport-style security checks. The professional chair, a lawyer, left some shareholders feeling belittled while shutting down others whose accusations went way too far.
This outburst of shareholder activism provoked the ultimate ignominy for any corporate behaving badly: a mocking main cartoon in the local newspaper, The West Australian.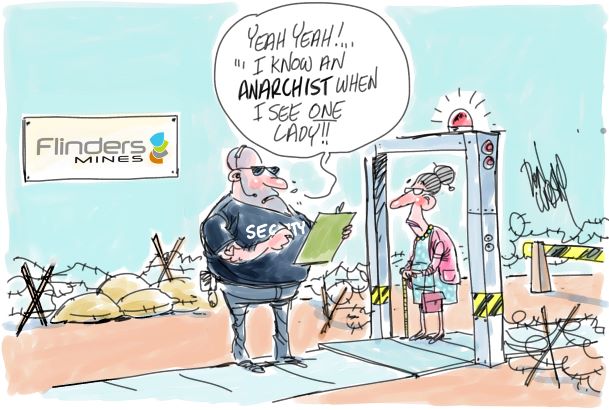 New approach
Shortly afterwards, a more conciliatory approach emerged. New appointments of independent directors to the Flinders board were made as it appeared Todd was finally realising the scale of the opposition its hardball approach had created.
Cheryl Edwardes, a highly decorated WA politician, mining company director and chairperson, and a part-time member of Australia's Foreign Investment Review Board, was the key appointment designed to placate shareholders by making a person of unimpeachable integrity an independent director.
New PR advice from resources company expert advisors Citadel Magnus were appointed. Perhaps for the first time, communications rather than legal advice began to hold sway.
For most of the angry minorities, it was far too little, far too late.
"FMS IS THE CORE TO THE WHOLE BBIG PROJECT.... FULL STOP!!!" wrote firebrand shareholder Alex Ilievski, whose virulent postings on Australian share tip site Hot Copper provoked a court order to reveal his and 22 others' identities in 2018 and got him banned from the site.
"NO FMS PIOP, THEY HAVE NOTHING!!!!" Ilievski thundered in one of dozens of emails leading up to the March 3 vote. "NO STRIPPING OUT ASSETS!!!! NO PRIVATE BULLSHIT!!!"
Meanwhile, Flinders invested heavily on teleconferences and face-to-face briefings in five Australian cities during February to push what became its final deal to the minorities.
But the minorities had largely stopped listening. The briefings were so thinly attended that Edwardes, fellow independent director James Gurry and chief executive David McAdam were left virtually talking to themselves at times.
The offer was also an "unusual and highly complex set of arrangements", in the words of Grant Samuel, the independent expert firm that assessed the deal. It ultimately recommended it as fair and reasonable to minorities.
The deal structure saw Todd and the PIOP partners take on substantially more risk than the Flinders minorities under the new structure, but by now, most of the minorities chose to see the latest deal as just another smokescreen to fleece them.
Warnings from the Flinders board that the project would be mothballed into 'care and maintenance' if the deal was rejected were seen as an empty threat, just another bluff for the minorities to call while they waited for the better offer that most believed would eventually come.
Australian Dream

To understand this David and Goliath battle, the Perth skyline is a useful metaphor.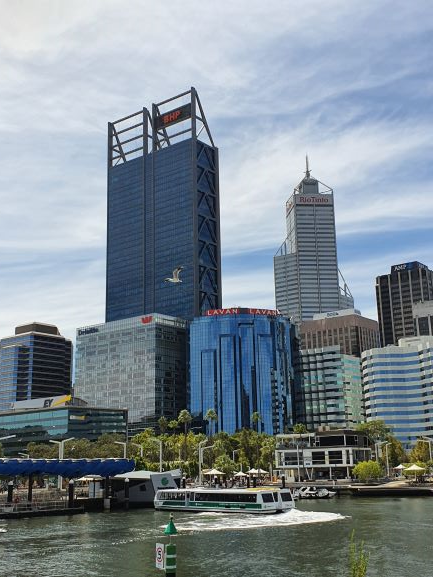 Its two tallest buildings bear the names of two of Australia's corporate titans – Rio Tinto and BHP. The two mining giants have deep roots in the mineral-rich and remote reaches of the Western Australian hinterland.
Closer to much of South East Asia than any Australian city, Perth prides itself on being the heart of the country's mining wealth.
Some 53 percent of the world's iron ore exports come from Australia, the majority of that from the Pilbara – more than 1,500 kilometres to the north.
Armies of miners ply their trade there as a 'fly-in-fly-out' workforce, living on site for days or weeks at a time before flying home, sometimes as far as New Zealand, for down time.
The wages are incredible and the suited and booted wealthy who enjoy the sophistication of Perth have the Porsches and mansions to prove it.
So huge is the wealth in the Pilbara region that its vast expanse is already criss-crossed with railways and ports that are so busy shipping iron ore, mainly to mills in the world's largest steelmaker, China, that wharf space is hotly contested.
That's why Todd and its mainly Chinese construction and banking partners have to sink billions into a spanking new port on the coast at Balla Balla and a 160-kilometre railway from the Flinders Mine site.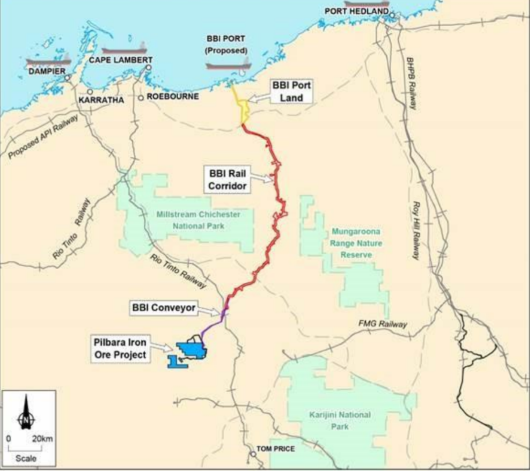 Yet for every Rio Tinto, there are literally hundreds of ASX-listed mining companies that never amount to anything.
Many of these lurk in West Perth, a low-rise area just outside the city's CBD, in rented offices with often little more than a desk, a phone, a big idea, and a fancy-sounding name.
They're as real as the last person to inject funds into them believes them to be. Their shareholders hang on in the hope that someone will swoop in and make them rich with a speculative takeover.
In this crowd, Flinders was quite a big wheel, with market capitalisation in recent times floating between A$150 million and A$190 million, albeit with more than 3 billion shares on issue after various corporate adventures since first listing in 2002 as a diamond mine prospect. Many Flinders minorities were there for a bid by Russian buyers in 2011 at A30 cents a share, which is rumoured to have been aborted only after intervention by Vladimir Putin.
In other words, Flinders sat at the respectable end of a culture of hot, but doubtful mining prospects that is a normal feature of Aussies' share portfolios but almost unknown to today's New Zealand sharemarket.
Minorities divided
Inevitably, that culture informed the dreams of many of the disparate group of minority holders of Flinders Mines shares.
They may have been united in their distrust of Todd Corp, but they were far from united among themselves. Some saw El Dorado with a big up-front payment and a fancy royalty on the ore. Others simply saw greater value than Todd was offering. Theories and big personalities swirled to make a soup of competing desired outcomes.
A vociferous few were even determined to see Todd as crooked, a delicious reversal for a Kiwi observer of New Zealanders' reflexive fear of the big, ugly Aussie corporate.
But there was a weak link in the chain.
In the back two rows at the Perth EGM sat two of the key players in the contest described above.
Nearest the exit was Amy Jiang, who may or may not be a lawyer representing the interests of OCJ Investments, a company that may or may not be linked to mainland Chinese investor interests. Nobody knows for sure, and OCJ talks publicly to no one.
Registered to a suburban address in Melbourne, OCJ's owners are understood to be once high-ranking Chinese citizens who stayed in Australia rather than return to China at the time of the Tiananmen Square massacre in 1989.
Immediately and intentionally sitting right in front of Jiang was Margo Gould, the face of the Perth anti-Todd protests.
But while Gould carried the fractious and increasingly divided hopes of most minority shareholders, Jiang held something far more important: a decisive 22.4 percent shareholding in Flinders, much of it purchased at less than A1 cent a share in the mid-2010s.
Throughout previous battles, OCJ had stayed onside with the other Flinders minorities, leaving Todd in stalemate.
But everyone knew that if OCJ ever flipped, all the little guys' bluster would count for nothing.
And earlier this month, OCJ flipped.
Shock
Other minority shareholders, Gould included, clustered around Jiang, shell-shocked and in many cases too raw emotionally to give on-the-record comments.
There was hopeful talk of OCJ holding Todd to account as the PIOP project moves forward.
But the reality is that Todd now has the support to delist Flinders and retreat to where it's happiest – out of the public gaze, using its huge family resources and avoiding the messy business of transacting in public.
Yet for all that, the Flinders battle was a textbook case of what happens when a corporate fails to build trust.
Very much the same thing happened in 2006, when Origin Energy sought a merger with Contact Energy. Unknown and untrusted by Contact's minority New Zealand shareholder base, Origin was the 'ugly Aussie' that never got a chance to make its case.
In that example, ASX-listed Origin eventually withdrew, having bigger fish to fry on its side of the Tasman.
In this case, Todd eventually won over a key minority shareholder and can breathe a sigh of relief that one of its previously troubled international investment plays is on safer ground. There are still perhaps four years to go, and another A$60 million to spend, before a final investment decision.
Whether the powerfully private company learnt anything about how to behave when a deal is in public, it is very difficult to know.