This article has been republished. It was first published in February 2020.
Fed up with Fonterra clamming up when pressed on its Chilean investments, BusinessDesk's Rebecca Howard went to the source to find out how New Zealand's dairy giant was faring in Chile. She was told that Fonterra could turn around the Chilean investment if it hammered out a long-term strategy with farmers. The question she walked away with, however, was does it even want to?
Chilterra's Ricardo Rios heads up a dairy company in southern Chile made up of a series of farms and around 7,000 cows. Until now, Fonterra's approach has been too focused on the short term, he told BusinessDesk.
"Prioritising the short term had an impact on the long term," he said from his farm in southern Chile.
Rios said Fonterra failed to take into account Chile's unique characteristics and instead focused on its similarities to New Zealand.
"The environment is different here. The social culture is different. Everything is different. We are focused on the domestic market. Fonterra is focused on the export market," he said.
Rios said Chile's industry was smaller and there were fewer services and fewer resources. As a result, the industry was less developed.
He pointed to Fonterra's lack of investment in Chile as a major stumbling block.
"In order to develop an industry, you have to invest. You have to invest over many years. To have to generate the industry. The problem was they over-estimated how fast this could happen," he said.
"We are different. It's as if New Zealand decided to produce copper, without a mine. It would take a lot of years for it to be able to compete with Chile's mining sector," he said.
Prolesur & Soprole
Fonterra owns the Prolesur milk processing business and Soprole, a local consumer business. However, Kiwi investment pre-dated that, going back to 1986 when the New Zealand Dairy Board bought a 51 percent in Soprole. Prolesur was created in 1990 as part of a restructuring.
The two companies were the Latin American nation's market leaders, but have since fallen behind Chilean dairy cooperative Colun and Nestle.
In its 2018 annual report, Soprole reported a net profit of US$25.4 million, down 16.2 percent from a year earlier.
Prolesur, meanwhile, reported a 40 percent drop in net profit in 2018 and "the increased cost of milk and reduced collections resulted in Prolesur not making a profit in FY19," Kelvin Wickham, Fonterra's chief executive officer for Africa, Middle East, Europe, North Asia and the Americas, said in an emailed statement after months of to-ing and fro-ing for an interview.
While Chilean supermarket shelves used to be stocked with Soprole products, today they jostle for space with rival products from the likes of Colun.
In a Santiago supermarket, one shopper bypassed Soprole butter and reached for Colun. Why? "It's Chilean," she said with a smile.
The latest data from Chile's agriculture ministry showed Soprole and Prolesur collected a combined 406.2 million litres of fresh milk in calendar 2019, down 6.8 percent on the year and some 18 percent lower than the 2015 collection.
Colun collected 606.5 million litres.
Not only has Fonterra's collection slipped but its share of a bigger milk pool has also shrunk.
Failed strategy
Rios acknowledged that Fonterra had changed its strategy and was no longer pushing for seasonal milk production. Fonterra's original goal was to create a carbon copy of the Kiwi system in Chile. It didn't work.
"Chile has a milk deficit and the plants need milk all year round to supply the domestic market. So, even Fonterra changed its policy and is now incentivising producers who produce milk all year round," said Rios.
That has included initiatives such as winter bonus payments and growth incentives to attract a more stable milk supply for Prolesur.
Rios said getting the farmers on board was critical.
"The first thing is they need to approach the producers and work on a joint long-term plan. They need to create a better, more transparent environment," he said. Rios also lobbied for a Chilean milk price manual similar to New Zealand's. The premium paid to Kiwi farmers has been a bone of contention among its Chilean suppliers.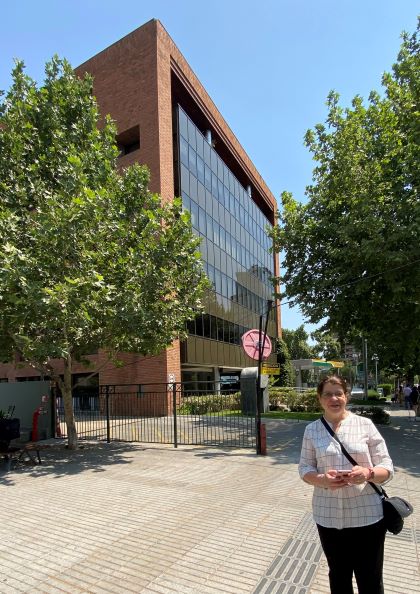 Fonterra's Soprole offices in Santiago are on the wide-tree lined Vitacura Avenue - an upmarket part of the Chilean capital.
Last November, when the capital city was brought to a virtual standstill by hundreds of thousands of protestors demanding an end to social inequality, Soprole hunkered down even though there was virtually no sign of any unrest in the upper-class neighbourhood.
A planned interview was cancelled and the company declined even an informal, off the record meeting. A security guard bristled and said no photos of the building, that was largely bereft of any Sorpole branding, were permitted.
Why?
"It's because of the protestors. They want to keep a low profile," he said.
Soprole chief executive Sebastian Tagle said this week the company was focused on maintaining operational continuity and safeguarding the safety of all company staff.
"To this end, we facilitated their arrival at the plant and return home with chartered buses and implemented flexible workdays and shifts, as well as additional security measures," he said in the same statement supplied with Wickham's comments.
In a first-quarter business update in December, Fonterra said the civil unrest was impacting its sales in Chile.
"I think the real problem is they are worried about being targeted as a foreign entity" said one member of the Chilean dairy sector who declined to be named.
History repeats
It's not the first time the doors have remained closed.
BusinessDesk's Pattrick Smellie experienced that culture as a junior public relations adviser to the then new-born Fonterra. Travelling to Mexico privately, he suggested adding visits to Latin American assets that the PR team should probably understand.
"While visiting Fonterra's Mexico City operations was easy, the message from Soprole's HQ in Santiago was that it would be inappropriate and potentially destabilising for anyone from Fonterra in New Zealand to turn up and start nosing around," Smellie said.
Fonterra, however, may have lost an opportunity to emphasise that Soprole is Chilean, something sorely needed after a viral multi-media campaign was launched in August 2018 under the slogan "prefer local" that went viral and hurt local sales.
"Our experience in 2018 was very hard on our brand, but now we are looking to the future," said Tagle.
"We care about our reputation and we are working to consolidate ourselves as the preferred dairy brand among Chilean families and the one that backs its true concern for the environment and its communities with evidence," he said.
Future
Could it be for sale?
Last year – in response to speculation in Chilean media – Fonterra said it had no plans to sell its Chilean investment. A Fonterra spokesperson this week said that situation hadn't changed.
Rios said he hadn't heard rumours it was for sale "but everything has a buyer, it depends on the price."
Fonterra recently removed one possible barrier to sale by snapping up shares from a disgruntled minority shareholder for $29.3 million.
The minority shareholder – Fundacion Isabel Aninat – had threatened legal action because of a commercial disagreement between Prolesur and Soprole.
According to Wickham, the move would give Fonterra greater flexibility as "we focus on realising the best value for the co-op from our businesses in Chile in line with our new strategy."
The question is, does its Soprole investment fit with its new strategy that puts greater emphasis on extracting value rather than pursuing volume and focuses squarely on New Zealand?
Probably not.