Procurement sometimes gets political. In the second of a two-part series, BusinessDesk has the inside story of how Mike King and his Key to Life Trust leveraged media, political and public service connections to help get government cash for a youth mental health pilot.
During the 2017 general election, suicide awareness was everywhere. One of the biggest sparks came when Mike King resigned from the Ministry of Health's suicide prevention group in May 2017, publicly lashing a draft strategy as a "masterclass in butt-covering" in his resignation letter.

Nearly two months later, his charity, Key to Life, was on the road to government funding. At least, that's what King told Newshub.
Key to Life had been lobbying the ministry to fund Tū Kotahi, a student mental health support service King had been championing.
In the Newshub piece, King thanked the government for giving Tū Kotahi the green light. According to the reporter, it was "sitting in minister of health Jonathan Coleman's office, signed off to be piloted in four schools across the country".
In fact, the ministry had yet to tender for the service. But Stephen Barclay, who worked for the ministry as chief people and transformation officer before going on to briefly helm the ill-fated KiwiBuild project, was pushing the project along.
According to draft ministerial briefing notes written by Barclay and released under the Official Information Act (OIA), Barclay worked to defuse the "emotional media statements" surrounding King's resignation from the suicide prevention strategy. This resulted in a meeting, just over a month after the fiery resignation, between King, Coleman and former All Black John Kirwan at Eden Park. The discussion ranged from Kirwan's new "holistic wellness initiative" to Tū Kotahi.
A week after that rendezvous, on June 30, Barclay sent then director general of health Chai Chuah further briefing notes for Coleman, stating that in "late July", the ministry would confirm further details about Tū Kotahi, touting a possible "national rollout" in schools in 2019.
Benefits from a successful pilot would include "a reduction in youth suicide rates". Within a week, on July 6, King announced the pilot on Newshub.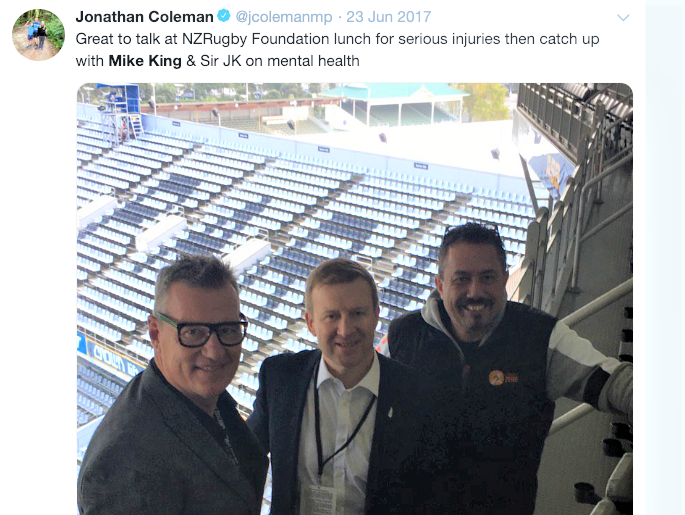 Kirwan, Coleman and King meet at Eden Park (Image: Twitter)
In a late 2019 interview, Barclay told this reporter a mutual friend put him in touch with King after the former comedian indicated he was going to escalate his barrage of anti-ministry commentary.
"I got involved because he had such a beef – because of his beef with the ministry," Barclay said. "And as a result of that, I got involved with the Tū Kotahi programme as a sponsor of it."
After the Eden Park meeting, the plan was for the health and education ministers to announce government support for Tū Kotahi. King beat them to it with his July 6 interview. No official announcement appears on the Beehive website, but an August media report quotes Coleman speaking supportively about the programme (Coleman declined to contribute to this article).
Barclay, who initially insisted the dates must be wrong, said he had "no knowledge of why" King announced in July that Tū Kotahi had been approved.
The ministry said they had no written record of anyone telling King "in or before July 2017" that Tū Kotahi would be funded, and "we cannot confirm or deny anybody told Mr King the Tū Kotahi programme would be funded" at that time.
Key to Life's then chair, David Steele, told BusinessDesk this week Barclay had been a big help. "I don't think we'd have got it across the line without his involvement and his support," he said.
Origins
Ezekiel Raui and Rose Moengaroa Derbyshire were students at a Northland school in 2013 when Miriam Larsen-Barr, then a clinical psychology university student with a background in mental health promotion, arranged for King to speak to a couple of schools in the area following a cluster of suicides.
Raui and Derbyshire dreamed of a world where teenagers, not "stuffed up organisations", helped other teenagers. Their idea was the genesis of Tū Kotahi.
The initial prototype of the programme, which Larsen-Barr was paid by Key to Life to author based on its brief, envisaged up to 30 students at each school being the "contact points" for those who needed help.
These students would be provided with a "Key to Life referral card" which they could pass on to their distressed peers. "When a young person presents a Key to Life Card to a service in their community, that service will recognise the card and ensure that the person is contacted within 48 hours."
King first emailed ministry staff about the proposal in 2013, according to OIA documents. In 2015, he and Raui presented the idea to Coleman, although no decision was made.
In 2016, following a number of youth suicides in Kaitāia, King forwarded the "final" Tū Kotahi proposal, which he sent to Ministry of Health and education representatives, and to a journalist.
A ministry official assured the journalist "the ministry is supportive of the programme", had talked with King, and "that discussion will continue". The ministry formally approached Key to Life to submit a proposal for funding in October 2017, three months after King's Newshub appearance claiming the ministry had approved the programme.
Procuring innovation
Government procurement rules normally require tenders over $100,000 to be openly advertised.
According to a ministerial briefing in February 2018, Tū Kotahi was exempt on the basis of it being an "unsolicited unique proposal" and "prototype". A November 2017 memo from a procurement advisor to Barclay sought approval for this exemption, saying it "provides an innovation solution which aligns with government priorities".
But a few days earlier, an evaluation panel deemed there wasn't "sufficient detail" at the time to support a funding recommendation, despite Key to Life partnering with an experienced non-governmental organisation, Te Rau Ora (known at the time as Te Rau Matatini), at the suggestion of the ministry, to add more expertise to the project.
When the coalition government took office in 2017, Tū Kotahi was considered "related to" the former National-led government's $100m mental health contingency fund, OIA emails show.
Unlike many of the other 17 pilots under this fund, such as a police and mental health team response unit, Tū Kotahi survived the change in government.
Barclay remained a champion of Tū Kotahi after the election. In an email to another ministry staffer in January 2018, he referenced a discussion between David Clark, the new health minister, and King. Clark had apparently said he was supportive of Tū Kotahi but didn't have the budget to progress due to other election promises.
But in the same January 2018 email, Barclay noted that a day earlier the ministry's executive leadership team had confirmed approximately $2m in funding over two years to start at the beginning of the 2019 academic year.
"I have had a couple of discussions with Mike about this and am in the process of writing to him to confirm it. He is comfortable with this outcome," Barclay wrote.
Key to Life is in – then out
In April 2018, the ministry informed King of its intent to start negotiations "with a view to progressing the pilot".
Te Rau Ora would handle training and staffing as a "substantiated partner organisation", with Key to Life subcontracted.
But when it was time to complete the contract in November 2018, only Te Rau Ora signed. Key to Life declined to be sub-contracted, said Maria Baker, the chief executive officer of Te Rau Ora in a 2019 email (efforts to reach Baker more recently have been unsuccessful).
"To be honest, I don't think they understand the business component … the responsibility of what it means to be contracted … or to provide [a] programme that is bound by rules," she said.
At the end of April 2019, just after the pilot programme was kicking off, Key to Life sent a letter to the four pilot schools and the ministry. The trust was "fully withdrawing any further involvement or support forthwith".
Among the "grave concerns" were the pilot "reducing the contact time and scope of the youth champions, along with it no longer being a universal programme, but instead now appearing to focus on Māori".
In the letter, then trust chair Mike Dawes said the trust feared Tū Kotahi "in its current form will not succeed".
"We feel this is no longer the programme that Key to Life developed and Mike King sponsored into existence," Dawes wrote.
The main way the Tū Kotahi pilot had changed from the original concept was how it would be delivered.
Raui said the initial vision expected teenagers to play a role that was "close to a counsellor", which might be risky, so the model changed to giving them the ability to help their friends find appropriate services.
Despite the split with Key to Life, Raui still respects the role King played in his own early life.
"A mentor lasts for as long as it does. And then it doesn't," he said.
In an emailed statement, King, who did not want to be interviewed for this article, said: "We are a small organisation whose core business is positive, societal, attitudinal change in schools and communities. We did not have the manpower or experience to run a programme like Tū Kotahi and given the faith Ezekiel had in Te Rau Ora, it was only natural we should step aside and let them take over. All parties agreed and we parted on excellent terms."
Pilot, then nothing
After all the twists and turns, what became of Tū Kotahi, the service King had lobbied for over four years with two governments?
After it was trialled in four schools in 2019, a ministry spokesman said the pilot ended in November that year.
"No further funding was sought for the programme."
This was disappointing to King, who said Key to Life's plan was to turn Tū Kotahi into an evidence-based programme and then "create a compelling case for it to be funded and introduced into schools".
Raui feels the pilot was a success. "As far as funding goes, we didn't push for more. We had our opportunity, and there were plenty more kaupapa out there that deserved the same chance."
King said he has learned from the Tū Kotahi experience and later procurements.
"Politicians come and go but the officials remain the same," King told BusinessDesk. "The thing I am learning is my challenging, bull-at-a-gate approach to bureaucracy may need tweaking to meet the ministry's careful and considered standard."
This article has been updated with new information on Miriam Larsen-Barr's role.