Two dilemmas – one legal, the other political – could have scuttled the regeneration of public housing now taking place in Porirua. In the second of a two-part series, Nikitin Sallee explores how the public service helped two governments overcome the barriers, with outcomes potentially better than anyone imagined.
In 2017, the National-led government was three years into a social housing programme that included controversial proposals to sell thousands of state houses to the private sector.
The entire Tauranga portfolio of Housing New Zealand (now Kāinga Ora) – more than 1,100 houses and the land they occupy – had been sold to the community housing subsidiary of the IHC charity.
IHC would earn market rent for at least 25 years, all the tenants could stay put and remain eligible for the government's housing subsidies, and the new provider would improve the housing and build more.
Similar deals were in the works for hundreds more state houses in Christchurch and Invercargill.
Then Porirua worked its way to the top of the pile, recalled Daniel Soughtton, deputy chief executive in charge of Kāinga Ora's central region. In 2017, Soughtton was a commercial adviser in the Treasury's social housing unit.
Eastern Porirua – Cannons Creek and adjacent neighbourhoods – had large concentrations of public housing that were in need of renewal, and where we could intensify and build more homes for people in Porirua, Soughtton said. It "stood out as one of the largest portfolios [of state houses] in the country, and with ageing homes."
But the task in Porirua would be vastly different from parcelling up hundreds of houses and calling for an auction, as in Tauranga.
In Porirua, the Crown would remain in control while private developers recreated neighbourhoods block-by-block and house-by-house. The worst housing would be torn down and intensified, creating hundreds of extra homes over a couple of decades.
As a "mixed tenure" development, most of the new houses would be sold to individuals. There would also be a small increase in state (now "public") housing, but in the meantime hundreds of families would have to be found other places to live.
Not so fast
So far, so difficult. But all of that actually understates the challenge.
In its 2014 Treaty of Waitangi settlement with the Crown, the local iwi, Ngāti Toa Rangatira, had gained a right of first refusal (RFR) for 1,300 of the affected properties in eastern Porirua. Land could not be sold to developers without first offering a deal to Ngāti Toa.
Kirsten Hagen, now a lawyer in private practice who was at that time working in the Treasury's social housing team, said there were mixed opinions among officials as to the effect of the RFR. An early suggestion that it didn't even apply in this situation was discarded, but some thought the RFR might rule out Porirua for large-scale development.
There were concerns as well that negotiating solely with Ngāti Toa might violate the government's procurement rules.
But would these dilemmas really make it impossible to fix some of the country's worst housing and improve the neighbourhoods in Porirua?
There might also be value in more iwi getting involved in social housing, given NZ's dearth of large-scale providers who weren't Housing NZ.
Ngāti Toa was a strong candidate to lead the way on social housing among iwi. It was already providing social services in its rohe, and was developing housing on land reacquired in its treaty settlement. There were no competing claims from other iwi, making that part of the legal situation straightforward. If not Ngāti Toa, then who?
"The Crown could have taken a litigation approach or used a steamroller," Hagen said. "But we went to the table with clean hands and an open mind: what do we both want to achieve and where do our interests overlap?"
Added Soughtton: "We knew Ngāti Toa had a really well-established health practice, and that housing and health often go very closely together. Good housing usually leads to better health outcomes.
"We wanted to test their appetite about whether they wanted to partner with us. We very quickly got to the essence of what a deal could look like."
In broad terms, Ngāti Toa would become the owner and landlord of 900 state homes in western Porirua. As with the IHC in Tauranga, the iwi would establish a community housing provider and agree to serve government-subsidised tenants for at least 25 years.
A key outcome was Ngāti Toa regaining some of the ancestral land that had been excluded from its treaty settlement.
In exchange, Ngāti Toa would let go of its RFR on 1,300 properties in eastern Porirua, and that redevelopment could get under way.
Oops. Politics
But near the end of 2017, a Labour-led government was elected. Labour had campaigned on a promise to stop the transfer of state houses. True to its word, the new government quickly halted the proposed sales of the housing portfolios in Christchurch and Invercargill.
There had been no public announcement about any prospective deal with Ngāti Toa, and behind the scenes nothing was yet firm. "We worked with one another for a number of months to reconceptualise what a what a project could look like," Soughtton said.
The goal became to find a deal that gave Ngāti Toa "a lot of the opportunities and obligations of ownership, including the ability to redevelop the stock" yet stay within government policy by not selling the houses or land, Soughtton said.
"Credit to Ngati Toa: they were very interested in owning the whenua. This is land that they lost in New Zealand's history, that they have a cultural interest in and also economic interests. But they took [the change of government policy] in their stride."
The deal was announced by Labour ministers in November 2019. Ngāti Toa's new community housing provider would manage properties and tenancies for over 900 state homes in western Porirua for 25 years, starting on 1 July 2020. Over time, the partnership will mean these homes are upgraded to make them warmer and drier, the government said.
But it wasn't a sale. Soughtton explains the houses and land technically weren't transferred as they would be under a sale. But much of the obligations and opportunities, including all of the revenue stream, were transferred over to Ngāti Toa to control.
"I'd call it a 'lease transfer' as opposed to an ownership transfer, but we're trying to achieve similar objectives and give Ngāti Toa as much control of what happens to their portfolio as possible." (The iwi also gained development rights over 400 properties in eastern Porirua to deal with the "perceived inequity" of giving up rights over 1,300 properties while leasing 900.)
A note in Kāinga Ora's 2021 annual report adds Ngāti Toa has the right to buy the properties at the end of its 25-year lease – so in effect the iwi has retained its RFR over those 900 houses and the land under them. Their current value on Kāinga Ora's books is $382 million.
Unforeseen partnership
From Soughtton's point of view, the requirement to deal with Ngāti Toa has had unforeseen benefits.
"No one imagined back in 2017 that we would be where we are today with Ngāti Toa," he said.
"The seed that we planted then blossomed into a fully fledged partnership that sees Ngāti Toa having key governance and management roles in our redevelopment program in the east.
"There's a real integration across east and west. And while they're managing 900 of our homes in the west under a long-term lease arrangement, the contractual framework lets them both upgrade and redevelop those homes as they see fit in consultation with us."
The government's new housing acceleration fund is contributing $136 million to the council's infrastructure for the eastern Porirua developments. In December, another $6.1m from the fund enabled Ngāti Toa to double to more than 800 houses a development on land it reacquired in its Treaty settlement.
"All of those are things no one could have conceptualised at the start, but they've been born out of an ongoing dialogue and a really strong partnership around housing with Ngāti Toa," Soughtton said.
"They're really in the driving seat. That was a key part of the aspirations and outcomes that they were seeking."
The iwi has provided another benefit, according to Soughtton. "Having Ngāti Toa and the Porirua City Council as strategic partners has given us, I think, a level of credibility with the community that we wouldn't have otherwise have had.
"And actually, we haven't had a lot of pushback from the community or concerns raised with us around things like gentrification.
"I think that's in part because of the way we've gone about engaging, but also who our partners are."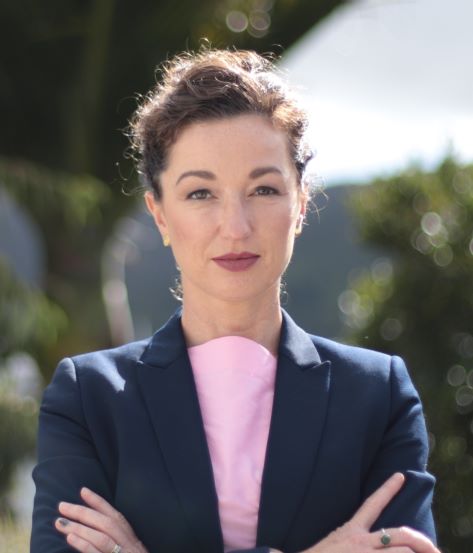 Kirsten Hagen: rights of first refusal can help the Crown with its vision (Image: supplied)
Hagen and Soughtton both credit Māori staff in the Treasury, a senior Māori intermediary, the Porirua council and government agencies like Land Information NZ and Te Arawhiti (the new Office for Crown Māori Relations) as vital in putting the deal together.
RFR: what for?
Kāinga Ora's annual report lists 14 treaty settlements that contain RFRs over its land, with another ten in the works.
Hagen, who has worked on several treaty-related issues within government, said that an RFR in a treaty settlement can enable iwi eventually to acquire more of their original whenua, even though they have to buy it.
"They're a very important part of treaty settlements, but I don't think anyone understood how important they could be for both treaty partners when they try to do something at scale together," she said.
Hagen discourages thinking of an RFR merely as something of commercial value to an iwi. It embodies an iwi's connection with the whenua, and introducing a te ao Māori perspective "fills a hole for the Crown in terms of its own vision", she said.
"So, actually, it's priceless."
Disclosure: The author worked in the Treasury's social housing team during the early planning for the housing redevelopment now taking place in Porirua.
Do you know something we should know? Email BusinessDesk's public sector investigation team: publicsector@businessdesk.co.nz.