Qobuz, a French music streaming service aimed at audiophiles, has launched in New Zealand.
The service for web, iOS, and Android costs $29.99 per month (or $279.99 annually) and specialises in high-resolution (hi-res) audio playback that is better quality than audio from cheaper products like Spotify ($14.99 per month) and Apple Music ($14.99).
Rival hi-res music streaming company Tidal, recently acquired by Jack Dorsey's Square, also charges $29.99 per month.
"We are absolutely thrilled to finally bring Qobuz to NZ, where the expectation for a high-quality listening offering such as ours exists – not just amongst consumers, but within the vibrant, diverse and incredibly talented Kiwi music industry," said deputy chief executive George Fornay.
Founded in 2007, Qobuz fell into receivership in 2015 but was bailed out by compatriot entertainment company Xandrie SA. The investment has allowed Qobuz to expand into new markets.
BusinessDesk was at the NZ launch of Qobuz at Neil Finn's Roundhead Studios in Auckland last week. I've been trialling the Studio Premier package, which allows streaming and on-device downloads for offline listening, to see if it's worth forking out for. So far, I'm impressed – but it's not for everyone.
A pricier Qobuz Studio Sublime subscription is $349.99 annually and adds a 60% discount on hi-res music purchases. Both tiers have money-saving family packages.
Soundcheck
Qobuz's library is expansive and there aren't huge artist gaps as you traditionally find on niche hi-res MP3 download sites. I came across a few gaps in the catalogue, but no gaping holes (your music tastes might surface some missing classics).
With my rock and hip-hop taste applied, it has hundreds of releases and rejects the notion that hi-res services only have obscure jazz records and the Dire Straits discography.
Tracks are available in progressively better quality: MP3 320kbps, CD-quality 16 bit/44.1KHz, Hi-Res 24-bit/up to 96KHz, and Hi-Res 24-bit/up to 192KHz.
Of its four sound quality tiers, the lowest, MP3 playback at 320kbps, is the highest quality you can currently stream on Spotify (Spotify is launching its 'HiFi' product later this year).
The main issue is not all albums on Qobuz are available in the highest resolution format, with many only at CD quality. It becomes a tough sell when your selling point is hi-res audio but not all your music library is hi-res.
Thanks to other popular services that stream music at sub-CD quality and the rise of Bluetooth audio, you might not have been aware that there was any other way.
If you're already lost, Qobuz might not be for you. But with the right audio equipment, you might well open yourself up to an improved music listening experience.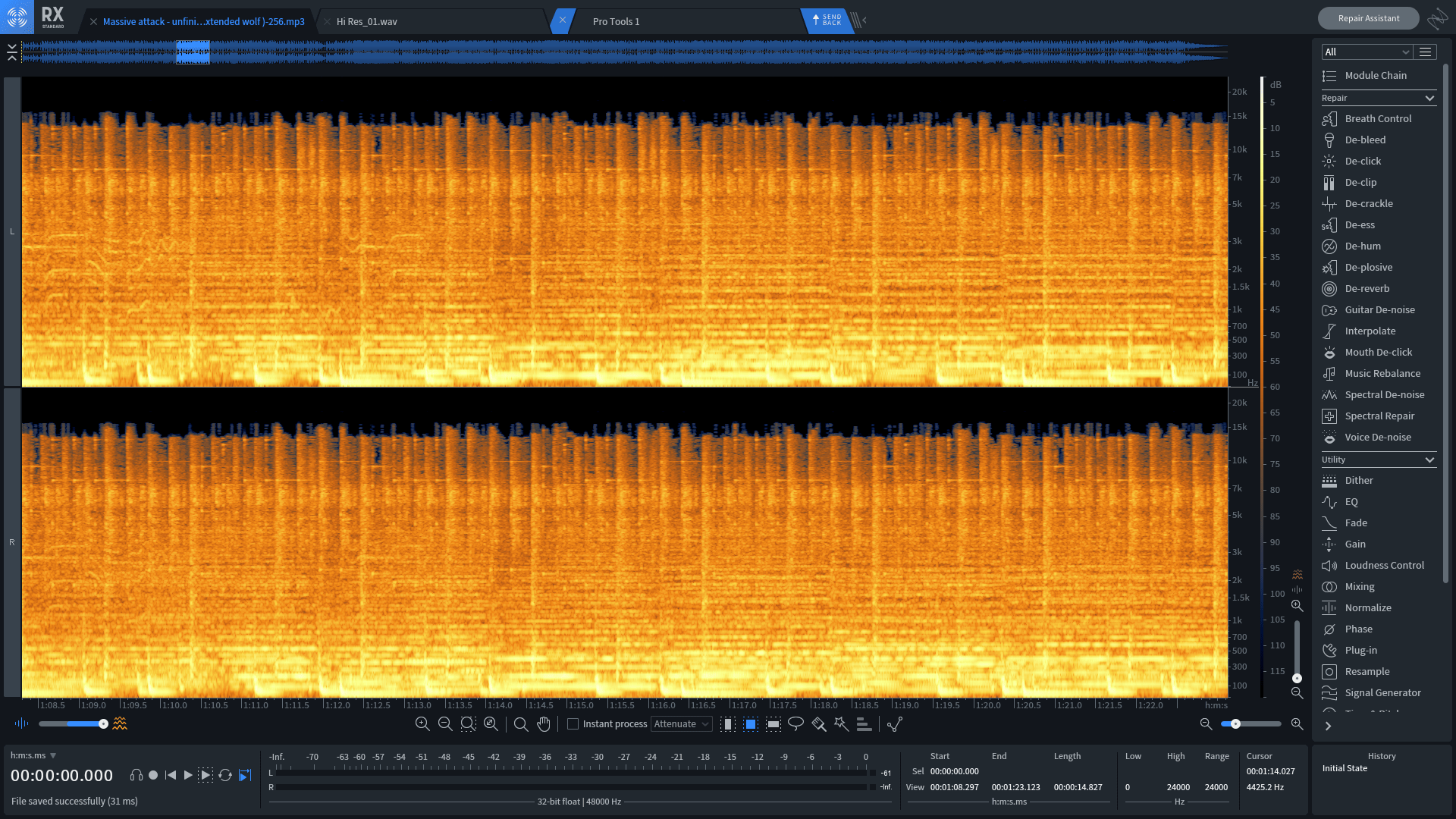 Visualisation of a compressed MP3 (top) and a hi-res audio file (bottom) of the same song.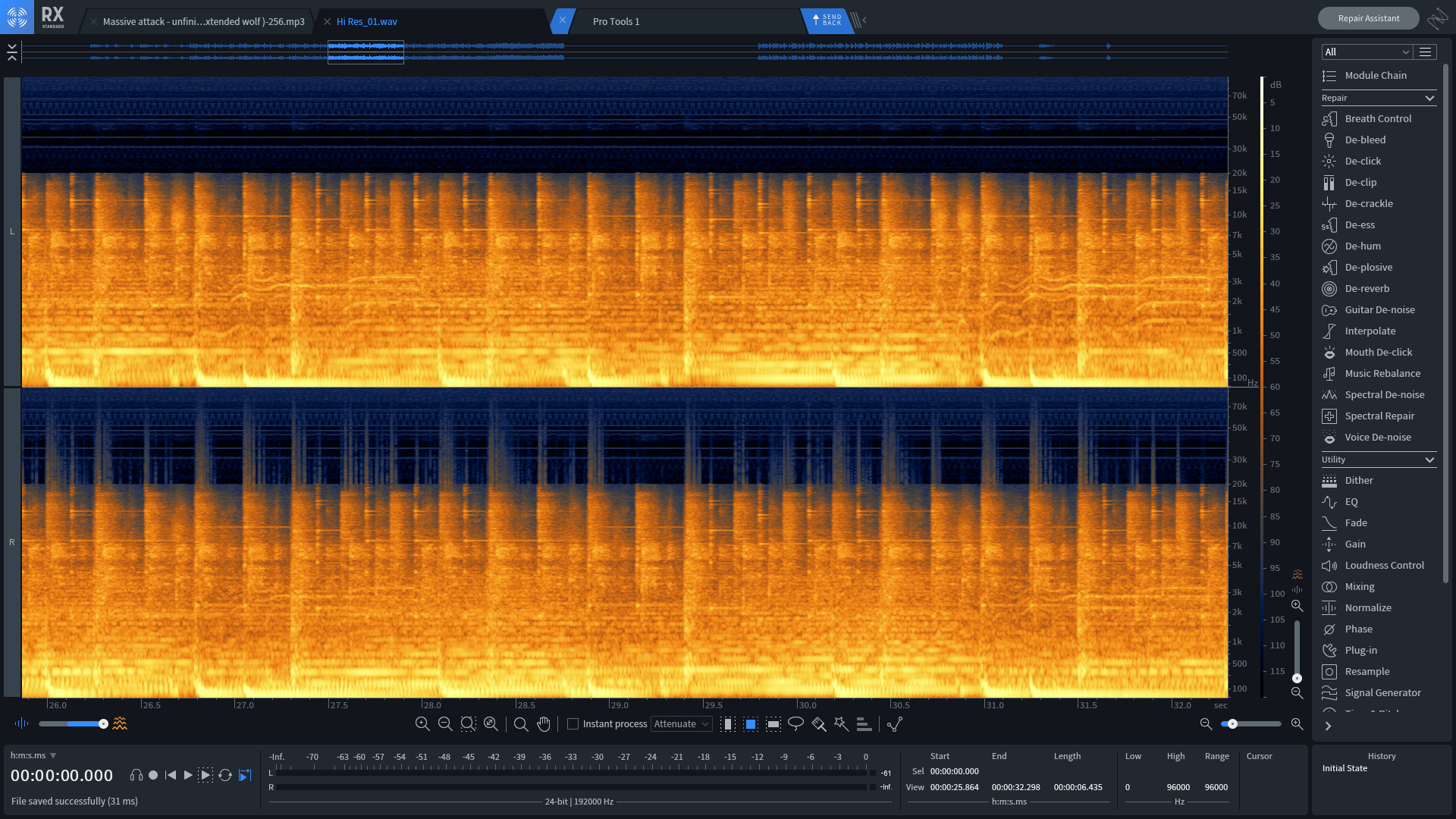 Setlist
For a start, Qobuz recommends listening to its hi-res tracks through decent wired headphones. You can pick up a decent enough pair for about $200 and some internet research, but they must be wired. Wireless headphones lose audio detail and quality by their over-the-air nature.
You should also look into what headphone jack your device has. If you have a modern smartphone, there's a high chance it doesn't even have a headphone jack.
Every device that outputs digital sound has a digital to analogue converter or DAC. Some devices like modern dedicated music players (yes, they still exist) often have high-quality DACs in them that actively improve the sound quality. You can also buy standalone DACs in dongle form to enhance your stereo or phone's audio output.
That's a fair few hoops to jump through but if you're fed up with sub-par tunes then this setup will unlock a higher plane of musical appreciation.
Bob Dylan's 'Tangled up in Blue' sounds ridiculously detailed through my wired Sony WH-1000XM4 headphones and driven through my LG V60 (a lesser-known smartphone that has a headphone jack with a superb DAC).
Leonard Cohen's masterpiece album 'You Want It Darker' is somehow even more brooding and haunting heard through this setup and in 24-bit glory.
Remaster darlings Led Zeppelin have practically all their music represented in hi-res. There are boatloads of the best-quality classical albums too.
But I was frustrated by the seemingly random availability of hi-res audio of some artists. For instance, only Kanye West's recent 'Jesus is King' and 'ye' albums are available in 24-bit, the rest are restricted to CD quality.
Yet listening to Daft Punk's 'Around The World' still sounds jubilant in CD quality. It goes some way to show just how compressed and muddy standard streams are on Spotify and Apple Music, which don't hit CD quality level.
Encore
A neat feature is Qobuz's original editorial content, which is decent enough to teach you about an album or artist – if it has been written. There's a lot of music out there and for every Paul McCartney album with a neatly written appraisal, there are a hundred lesser-known albums without one.
You also might miss sharing songs and playlists with friends and family. It's hard to get people to switch platforms these days, particularly when they cost twice as much per month.
I'm lucky enough to have access to the tech hardware to appreciate Qobuz's high-end chops without splashing out, so I understand why some people won't even consider paying for such a service.
Yet many of us do not question upgrading our televisions from standard definition to high definition, or from high definition to 4K in search of a crisper picture. Seeing is believing, they say.
It is frustrating for musicians that the music-streaming public doesn't want to upgrade their personal audio services and equipment at the same rate. A decade ago, spending $14.99 on a new CD was normal, now that's the average monthly price for average quality, but unlimited, music streaming.
Even though Qobuz excels with the hi-res music it does have, it'll be difficult to convince people to pay more now that cut-price streaming is the norm.