Until recently, spending $2000 on a smartphone would get you a great one, and $600 would get you a lacklustre one.
That's no longer the case. So called "mid-range" phones hovering around $600 to $800 are excellent value with 5G, high-definition displays, big batteries, and even the headphone jacks that more expensive "flagship" models lack.
The Oppo Find X5 Pro is a superb premium smartphone that any fan of Android will be delighted with. The build quality and craftsmanship of the handset make it feel more akin to a piece of art than a phone.
On top of that, it charges faster than any phone I have ever used thanks to the 80-watt charger included in the box. The clever splitting of two connected cells yields 5000mAh (milli-ampere/hour) of battery power that can charge from 0% to 50% in less than 20 minutes and completely changed how I charged my phone – never overnight, only a quick top-up when needed.
One day, I needed to leave the office by 4.30pm but noticed at 4.09pm that the phone had only 24% charge, so I plugged it in.
Seventeen minutes later, when I unplugged it, it had 80% charge. You won't get that amazing perk from any other phone, but you do have to use the specific charger and cable.
I would happily use the Find X5 Pro as my personal phone despite a few annoyances – particularly with the software – that irked me compared to phones from Oppo's closest Android rival in New Zealand, Samsung.
I'm having a time working out if the reason these quirks annoy me is that I test a lot of phones and am attuned to such things, or are they things that would bug everyone?
You can only view notifications on the lock screen once before you unlock the phone, so if you lock it again before tapping the notification, they are no longer there. You must unlock the phone and pull down the notifications shade to see them after that. Most phones keep everything on your lock screen for you.
The vibration motor for some apps is also incredibly weak. Text messages, WhatsApp messages and calls vibrate heartily, but receive a Facebook Messenger notification and the vibration is a small pip and there's no on-screen notification unless you dive deep into a settings menu.
Perhaps the most jarring annoyance was that the auto-brightness feature consistently made the screen too dim. Modern Android is meant to learn if you keep manually adjusting the brightness and change the algorithm accordingly, but this did not seem to happen in my three weeks using the Find X5 Pro.
The device is a very good product, but these are not issues I found on the comparatively pricy Samsung Galaxy S22 Ultra or the iPhone 13 units – nor many cheaper handsets such as the newly released $799 iPhone SE.
Lens itself well
This is a shame, because aside from these small issues – which may not bother everyone – the Find X5 Pro is an absolute stunner.
It's a large phone with a shiny black or white finish that's ceramic rather than glass. I prefer the stark white version but tested the gloss black, which looks like Terminator T-1000 liquid metal but picks up fingerprints like there's no tomorrow. The thing belongs in a design museum, with a lovely, curved finish to the camera housing.
It looks a lot like last year's Find X3 Pro, which I also reviewed. Just like that phone, the Find X5 Pro has only a 2x optical zoom on the telephoto camera lens, whereas Samsung plumped for 10x on its recent S21 Ultra and S22 Ultra. (Apple's iPhone 13 Pro has only 3x.)
You can zoom in further than 2x on the Find X5 Pro, but this becomes digital zoom rather than hardware-based optical, and image quality dips the more you zoom in.
I took some shots at a press event to use in an article and was disappointed that at only 3.5x zoom, poor old John Kirwan, the mental health advocate and former All Black, looked washed out and blurry.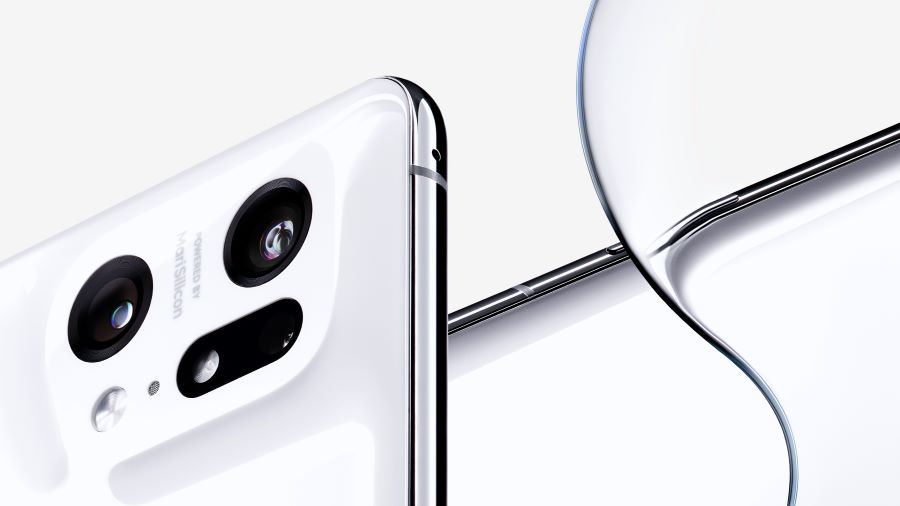 The Find X5 Pro only has a 2x optical zoom lens.
It's a good thing the other two lenses, the main and ultra-wide, are better. They both have the same 50-megapixel Sony sensor, meaning shots from them look very similar in colour reproduction. Cheaper phones use cheaper lenses for the ultra-wide, and shots of the same scene can look a lot different.
It's a shame there's no 30x microscope lens as there was on the X3 Pro, because it was fun, if gimmicky. Instead, Oppo has teamed up with long-time camera brand Hasselblad in what appears – as with Huawei's Leica partnership before it – a branding exercise. The cameras on the phone are excellent but aside from a Hasselblad-branded pro mode that allows manual controls and boasts "Hasselblad natural colour calibration" in press materials, all Oppo appears to have done is slap the company's logo on the back of the phone.
That back is also spoiled by lots of regulatory markings that other phones either have a lot smaller or hide in a software menu instead. They spoil the space-age look, but at least the phone comes with a case in the box if you want to cover them up.
One good camera improvement is the 4K ultra night video. It produces amazing results with a night mode that artificially but excellently brightens the scene. You can thank the smart new Marisilicon X image processor for that.
Star of the screen
Those cameras wouldn't display their best results if it weren't for the screen on the X5 Pro, one of the best in the business. It's spoiled only by the infuriating auto brightness that insists on dragging the backlight down indoors at every opportunity.
Crank it up and you're rewarded with a pin-sharp 6.7-inch 1440p resolution. Photos, videos, and streaming apps look incredible on a screen only matched by the usual Samsung and Apple peers.
The software is Android 12 with Oppo's Color OS over the top (all Android manufacturers iterate their versions to make them look visually different and add features). You can completely change how your phone looks by changing app icon shape and size, as well as picking four colours from your wallpaper to use as icon and text colours throughout the phone's menus.
I love this about the phone, though I must admit it took me a few days to get it feeling how I wanted it to. But this is the joy of Android – your phone will look unique if you want it to. You can't do that easily on an iPhone.
I prefer the subtle curves of the Find X5 Pro's build to the hard edges that other premium phones have. They make it more comfortable to hold while watching video, gaming, or even texting or talking on the phone.
Yes, it makes phone calls! They sound crisp and clear, with no complaints from people I spoke to on the other end.
The in-screen fingerprint sensor is one of the best I've used in a phone, and the front-facing camera acts as a great facial-recognition lens for unlocking and biometric authentication, as well as for video calls.
In addition, the haptics – the subtle vibrations when taping around the interface – are great, with little pips for every keystroke very satisfyingly adding to the experience of using the phone. Many Android phones do this, but many don't do it this well.
There are only three companies realistically vying for smartphone sales in NZ, which is far too few, in my view. Oppo is making a very good go of filling the gap left by Huawei's departure from the market, and I would gladly use the Find X5 Pro over a Samsung or Apple phone – even if I'd continue to be annoyed by some of its software quirks.