The past two months have been challenging, to say the least, so hats off to Fabio Buonomo and Lena Solomon, who have opened their eatery, Cornelia, on Parnell Road while Auckland is still in Alert Level 3. Buonomo hails from Rome and has form – he's cheffed in New York, Ecuador and the Seychelles and, since arriving on our shores in 2015, has worked at Non Solo Pizza, Waiheke's Poderi Crisci, Mudbrick and Cable Bay, and then at Man O' War as head chef. Solomon has a background in communications and is a former events manager at Cable Bay. The pair source produce from local growers to create the Cornelia menu, which specialises in authentic Italian frittata, panini, antipasto, salads, tiramisu and other sweet treats, plus good, strong Italian Moak coffee, all made to take away.
Taste of home
Despite putting his esteemed Auckland cooking school temporarily on hold, Homeland's Peter Gordon isn't one to rest on his laurels. As well as offering heat-and-eat meals, he's turned his hand to making "larder essentials". Gordon has repurposed the teaching kitchen into a production space, and with his team is turning out batches of banana coconut miso caramel sauce, vanilla lemon rosemary shortbread (which BusinessDesk can attest is a delight), kawakawa pesto (ditto), spiced cheese straws, Peter's sweet chilli sambal, and more. You can find the full list at Homeland.
Digging in
Ahi's Ben Bayly has been getting his hands dirty out at Tamsin Wilson's Secret Garden at Patumahoe in rural South Auckland for the Ahi Garden Box, a delivered or pick-up meal kit for three to four people that showcases organic veges, herbs and salad greens. Bayly is also including ingredients from his preferred food suppliers, including Clevedon Buffalo Co (cheeses), Curious Cropper (tomatoes) and Bellefield (cultured butter). The food is designed to be cooked and assembled in your own kitchen, with much of the heavy lifting already done by the Ahi team. Dishes include slow-cooked Black Origin wagyu short rib ready for the barbecue, Te Mana lamb shoulder and lamb-rack lollipops with nasturtium and wild garlic salsa verde, and eggplant parmigiana with goat's gouda and mozzarella.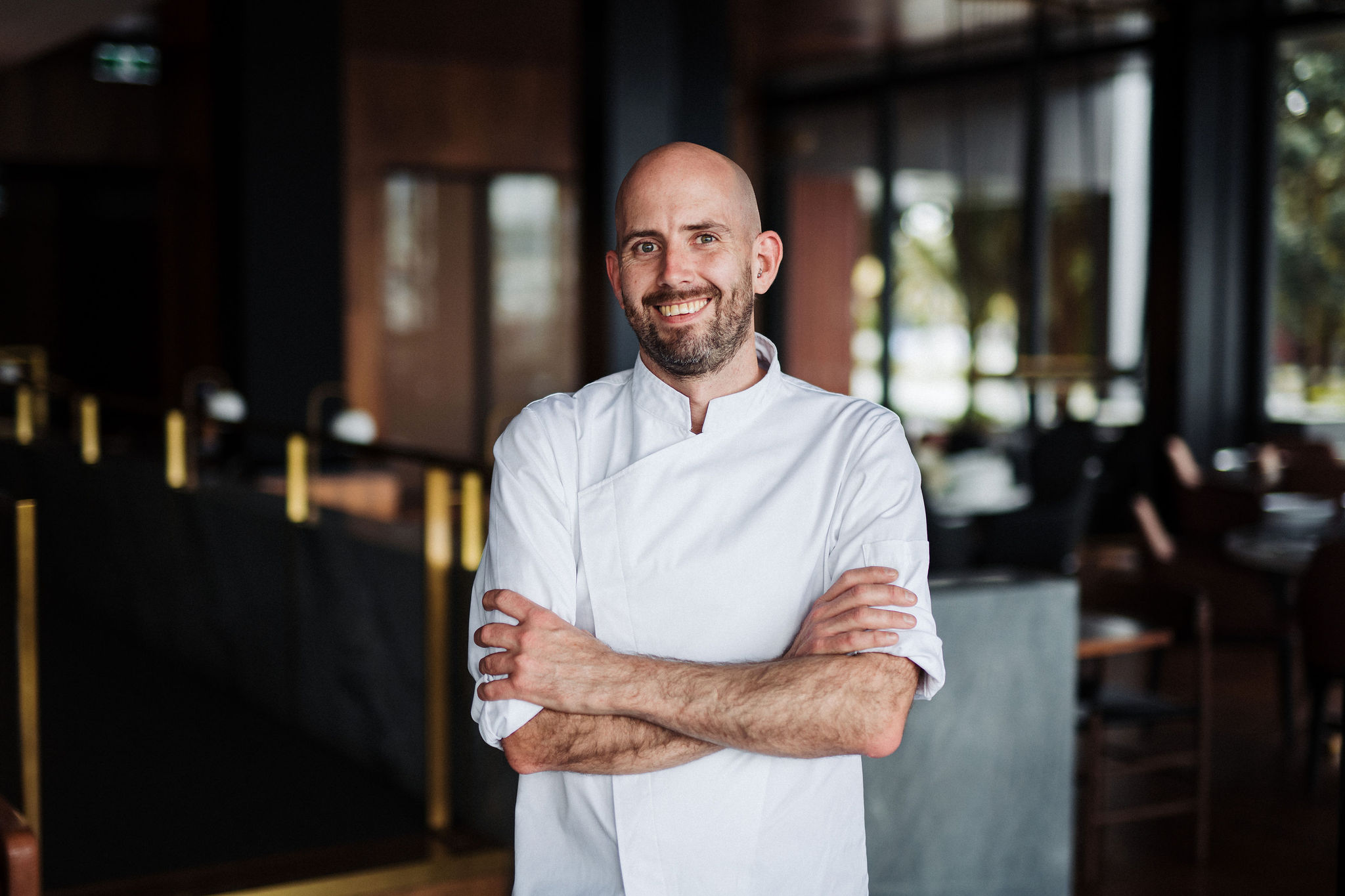 Onemata's new head chef Rob Hope-Ede. Photo: Supplied.
All change
Auckland's Onemata has a new head chef and a new takeaway dinner menu. Rob Hope-Ede (Euro, Jervois Steak House, Gault's Deli and Giraffe) has taken the reins at the Park Hyatt's flagship restaurant and will be serving a take-home feast for two from the kitchen – one main to share, three sides and a shared dessert. On the menu until mid-November (it changes every two weeks) is braised coastal lamb shoulder or slow-baked whole cauliflower, duck-fat potatoes (a vegetarian option is available), glazed carrots, rocket greens, and sticky-date pud to finish. Meals can be collected from the Park Hyatt via The Pantry, and there's a free delivery service available if you live in Parnell, Herne Bay, Ponsonby, Eden Terrace or Takapuna.
Wine and dine
Cape Kidnappers luxury lodge in Hawke's Bay is holding a series of winemakers' lunches over the next month, showcasing some top drops and fine food. Nov 28 sees Elephant Hill's new winemaker, Hugh Crichton, in the host's chair, and diners can look forward to a small six-course shared-plate menu by Cape Kidnappers' head chef, James Honore, each dish complemented by a different Elephant Hill wine. On Dec 5, Dry River's chief winemaker, Wilco Lam, will be doing the honours.
The happiest hour
If you're in the lower South Island and in the mood for a chic sundowner this month, head to Eichardt's Pacific Jemm luxury yacht, moored at Queenstown Bay's O'Regan's Wharf. There are three tables available (upper deck, back deck and bow lounger pad) from which to sip champagne and nibble on antipasto while you take in the splendid view of Lake Wakatipu. Bookings are essential and tables are limited, so don't dally.
Smoking hot
Amisfield's Tony Stewart and Vaughan Mabee have come up with a cracking idea that could reignite the long lunch in Queenstown. A fire pit has been installed in the restaurant's courtyard and a new à la carte lunch menu has been designed to celebrate. A move away from Amisfield's traditional set lunch menu, the new bill of fare features whole crayfish, new-season asparagus and mushroom entrées, with whole fish, whole lamb or venison Wellington for the main course, which you can watch being prepared over the coals. Mabee is a fan of open-flame cooking: "This new fire and coal station enables me to offer more depth into the menu at lunch and helps to add new flavours and techniques into the tasting menu at dinner," he says. "I'm excited by this addition to our offering."
Follow Jacqui @jacqui.loates.haver