Zorro loved wearing a mask, but some of us don't appear to share his enthusiasm. However, the spread of the covid-19 variants means it's now recommended that everyone, vaccinated or not, wears a mask when they step outside their front door.
In New Zealand, the public are advised to wear non-medical masks. These can be single use or reusable.
Single-use masks are made of polypropylene thermoplastic. They're designed to be worn once, then thrown away. Obviously, that's not great for the environment. In fact, one thermoplastic mask takes up to 450 years to degrade, and many end up as landfill or ocean litter.
In contrast, reusable fabric masks can be washed and reused, so they're more eco-friendly.
But do look for layers: As the Ministry of Health website explains, "Reusable fabric masks ideally have three layers of fabric."
Other types of masks and respirators (such as P2 or N95) are available, but they're kept for use in healthcare settings or specific industries. Dust masks are not recommended, because they have a one-way valve, which allows bacteria and viruses to spread if a person coughs or sneezes.
Masks that don't fit properly can make your spectacles or sunglasses fog up; this is caused by warm, moist breath hitting the lenses. So, look for a face mask with a tailored fit, a flexible nose bridge and adjustable ear elastics. Or get a mask in a stretchy fabric that moulds itself to your face.
The good news is that you can find great fabric masks designed and made in New Zealand, ranging from innovative sports tech options to fashion flexes. Here are some to explore:
Sports tech masks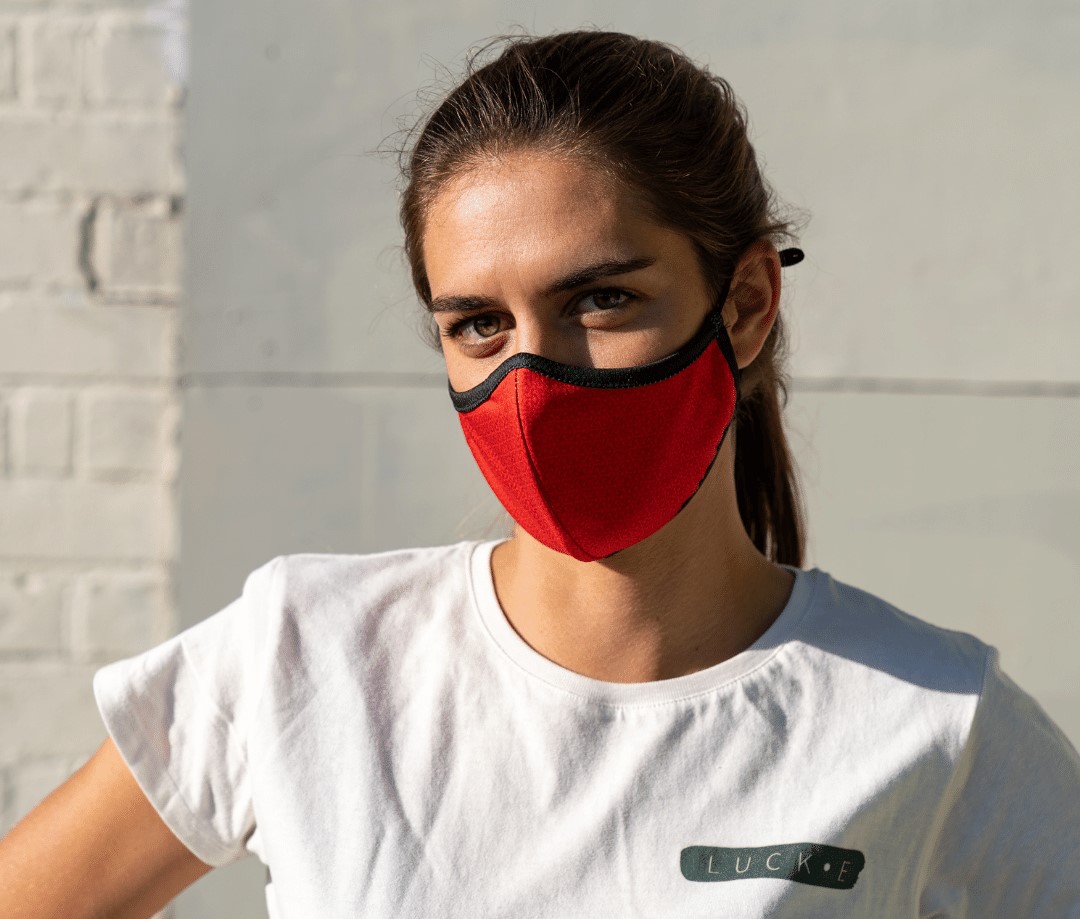 Lucke use ocean plastic in their masks.
Lucke "Ocean Balance" masks are made from 100% recycled plastic waste that's been fished out of the ocean. The fabric includes high-tech silver-nano fibres that help repel and kill bacteria and is woven in a way so it releases body heat and doesn't get uncomfortably hot. The range starts with the Luckestaple mask, at $25. But if you like running or mountain biking (or just hate things hooked on your ears), you might prefer the Luckego, a tubular face covering that is both a three-layer washable mask and a neckcloth. $42.99.
These washable fabric masks from the New Zealand Mask Company are made of three layers of cotton infused with antimicrobial silver ions. Plus, they have adjustable ear straps – and delivery is free in New Zealand. The only downside is the Model T Ford range of colours: you can have any colour you like… as long as it's black. A three-pack is $29.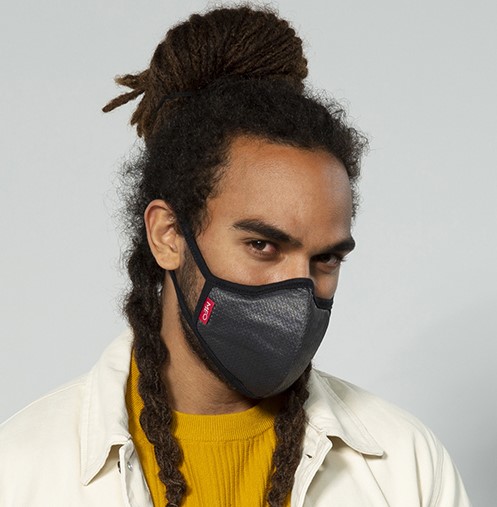 Meo's LiteFace mask.
Designed in Auckland, Meo's replaceable Helix filter is made from New Zealand wool infused with extracts of antibacterial mānuka oil. The filter removes 99.99% of bacteria and harmful particulates, including the pollen that causes hay fever. You also get two interchangeable and washable covers, in solid colours or limited-edition patterns. Meo's LiteFace mask with two filters starts at $22 (adult size or kid size). Extra replaceable filters are $22 for a three-pack.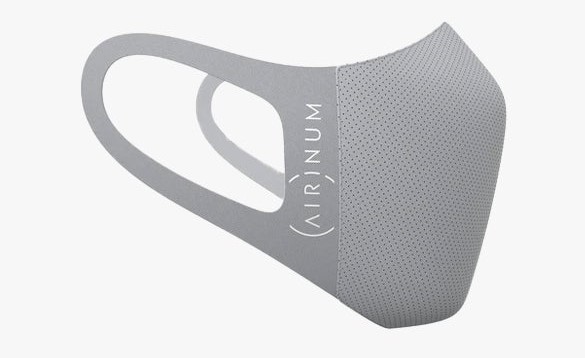 The Airinum Lite Mask.
Movie star Gwyneth Paltrow and rapper Travis Scott have both been spotted wearing air-filtering masks by Airinum. This under-the-radar Swedish brand is a hit with celebrities thanks to sleek designs that combine science and style.
The Airinum Lite Mask looks enviably sci-fi because it's made from Air Mesh, a patented material that is washable, antibacterial and light to wear and has what the makers promote as an "ultrasmooth and skin-friendly finish". The mask also has five-layer filter technology, replaceable filters, and an adjustable fit that prevents your sunglasses fogging up.
Airinum is available in New Zealand at multi-brand boutique Superette – along with fabric masks by local labels Queen of the Foxes and PSP. The Airinum Lite Mask comes with two replaceable Lite Air Filters, effective for 100 hours of use. $75.
Mask up – but make it fashion
Auckland's Lindi Kingi who founded
Queen of the Foxes
has added glamorous (and limited-edition) fabric masks to her range of on-trend scarves, scrunchies, bralettes and bags. The masks are 90% nylon and 10% spandex for a snug fit, with adjustable ear toggles and a shaped centre seam. This centre seam adds more breathing space around your nose. As a bonus, it visually slims your face and reduces the Mr Potato Head look you get with some masks. A three-pack of
coordinating and washable masks
costs $35.
She's famous for her reversible Flipit wrap dresses, but now Annah Stretton has repurposed part of her Waikato HQ to make fabric face masks for men, women and children.
She started her "Take Cover NZ" programme in 2020 by making 6000 cotton masks for charity. Since then, she's expanded her range of 100% cotton masks with new designs like the "No Ears Needed" mask. Instead of ear loops, it has elastic strings that go around the back of your head. It's $19.99.
Simple masks start at $16.99 for a two-pack. But you can also find Masks that Match – made of the same fabrics as Annah Stretton's fashion designs – for $14.99 each. There's also a useful range of mask accessories, including Helix filters and adjusters – little toggles that attach to a mask's ear loops to give a tighter fit.
Even better, for every mask sold, Annah Stretton donates a mask to essential workers and charities.
If wearing a mask makes you feel claustrophobic, check out the 3D cotton masks by Fashion Face Masks NZ. These give you more room to speak and breathe (and wear lipstick) because they have a pop-out section in the middle.
As well as day masks in cotton and linen, you'll find an Evening Collection with sequin and lace masks. The Silk Collection is a boon for those with sensitive skin, acne or eczema because the masks are made from three layers of pure silk, including the lining. Prices start at $11, and go up to $27.95 for the Silk Collection
There's free shipping on orders over $45, or you can pick up your masks from the company's factory in Birkenhead, Auckland.
Personal Space Please, or PSP, was set up by two best friends. Trapped on opposite sides of the world by the pandemic, they used their video chats to design a range of reusable face masks. Made in New Zealand, these are triple layered and include a filter pocket, so you can add even more protection if you want.
The two-pack includes two coordinating masks plus a keep-clean pouch in a matching washable fabric. So now you have somewhere to hygienically store your mask when you take it off in a restaurant or cafe. $39.90.
If you prefer to sew your own mask, Spotlight has patterns and you can order their fabrics online.
You can also buy washable filters to upgrade any double-layer fabric mask. Lanaco offers sustainable Helix filters, made from New Zealand wool using Nasa technology. The filter delivers Level 2 performance under the new ASTM F3502-21 standard for barrier face coverings – that's the top rating for ease of breathing and for protection. $15 for a pack of seven.