Kiwis anxious about covid are using money they might have spent on travel to splurge on bedding to help themselves feel better.
"People tell us they want to spend money on making their home more comfortable. Bedding allows them a little luxury every day," says Prue Watson, co-founder of Auckland bedding firm Foxtrot Home.
"They're also buying more items. Before, they may have bought a duvet. Now they buy a duvet, sheets and pillowcases. And another set for the guest bedroom."
David Hardwick, head of products at King Living, has also noticed the trend. "We've seen a shift towards the top end of the range in mattresses and bed frames. New Zealand customers are less willing to compromise in the bedroom."
When it comes to bedding trends, there will always be a place for crisp white sheets – but three strong new looks are emerging:
Snorecore: The linen-sheet versions of Swedish actor Alexander Skarsgård – Scandi-style, a little wrinkly and looking lived-in – but that just makes them sexier.
Geo-Tag Home: Designs and colours inspired by the country they're from. Vintage embroidered bedding styles are part of it, because what's more soothing than Nana Nostalgia?
Bedroom Playroom: Giant florals and exuberant prints that make a duvet cover all you need to decorate your bedroom.
Most buyers without much, if any, knowledge of the bedding sector would assume higher thread count means better sheets. But that's wrong, says Gregory Davidson, founder of Whakatāne-based George Street Linen.
"High thread count was a marketing tool from the USA in the 1970s. It has nothing to do with quality. The most important component is the yarn. The best measure is a good-quality yarn with a long staple in single ply.
"Technically, a fabric loom cannot accommodate more than 400 to 500 yarns. To get a higher thread count, often poor-quality yarns are twisted together to achieve higher numbers. This is a recipe for uncomfortable pilling."
Many Kiwis are unaware that New Zealand has unique sheet sizes, which explains why bedding products sourced from overseas can be a little "off". You can see the sheets here in a comparison chart from Linen House NZ.
To help you make wise decisions when giving your bedroom a new look or feel, here's a go-to-bed guide to luxury bedding from New Zealand:
George Street Linen
Gregory Davidson is from Northland, but after working in fabric and bedding companies all over the world, he now lives in Shanghai, with offices elsewhere in China as well as in Australia – and Whakatāne, his company's New Zealand base.
George Street Linen sells bedding by pattern or by fabric – there are 10 different blends of fabric to choose from, including eco-friendly bamboo linen. Bamboo doesn't need much water or fertiliser and it grows fast – some species grow an inch every 40 minutes. Best of all, bamboo fabric is soft, hypoallergenic, anti-bacterial, anti-fungal, and cool to sleep on.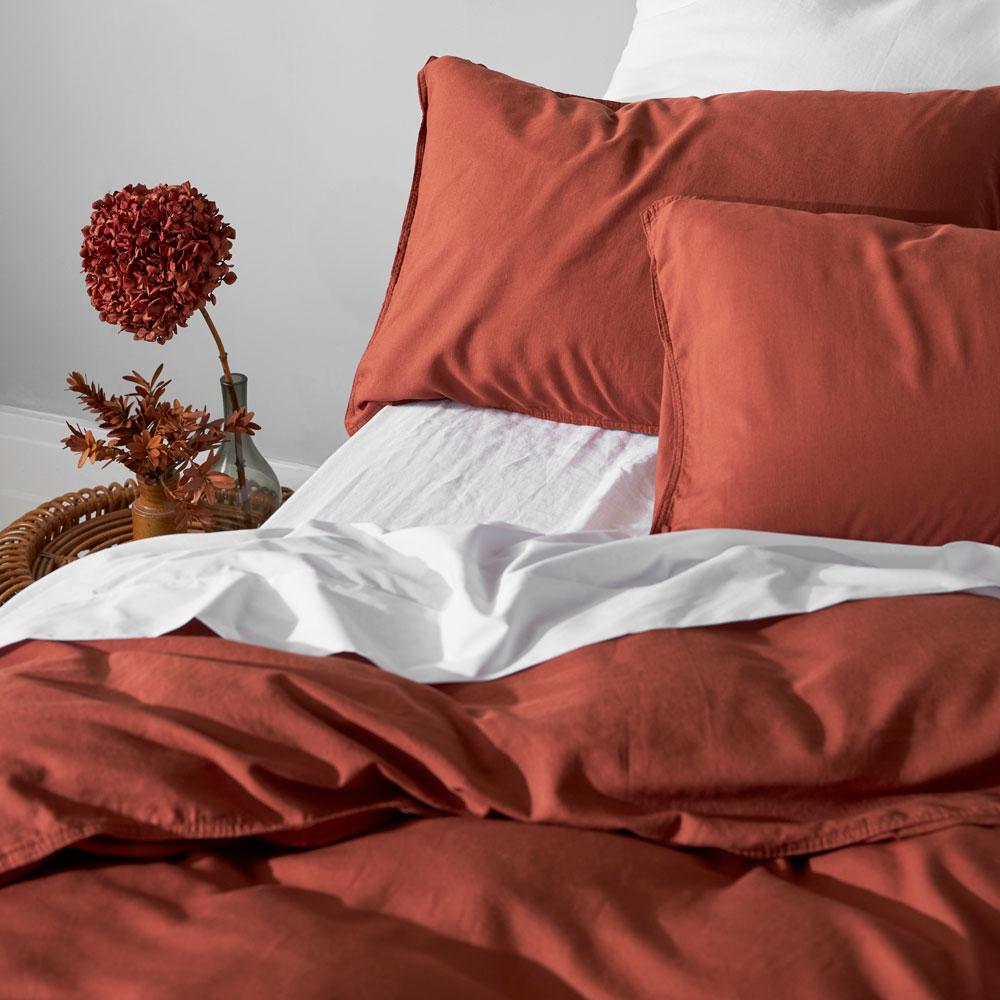 George Street Linen's bamboo linen set in Clay
"New Zealand customers are well educated on different types of natural fabrics," says Davidson. "They're not shy about colour or prints. What's becoming more popular are textural weaves in earthy colours."
Once summer's over, check out George Street Linen's innovative machine-washable New Zealand wool jersey duvet cover. "It has incredible temperature-regulating qualities."
Thread Design
After 20 years in the business, Katie Collis and Sarah Sadgrove still make all their bedding in New Zealand, with patterns and colours inspired by Aotearoa.
Their Painted Trees Collection features a splodgy sophisticated print by Nelson-based fine artist Georgina Hoby Scutt, who usually paints abstract landscapes. And the new Lewis Pass Road Collection is inspired by the moody colours and silhouettes of alpine trees – although they call it "bitumen bark" colour, which is more arty.
If you love their bedding, you can also buy their beds – Thread Design also handcrafts wooden bed frames and woven-leather headboards.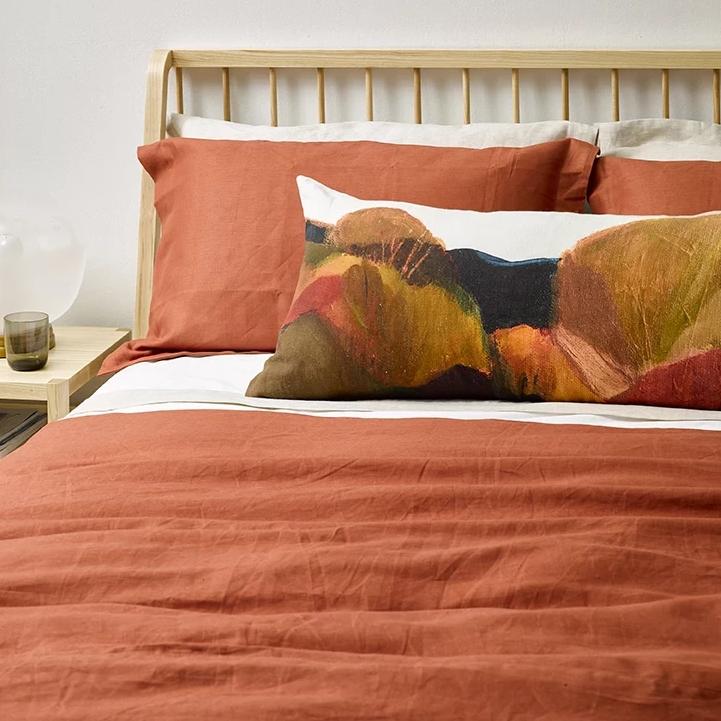 A set from Thread Design's Painted Trees collection

Foxtrot Home
Prue Watson and her similarly décor-mad sister Kate Cullwick fell in love with the relaxed and rumpled look of stone-washed linen sheets, but baulked at paying $500 or more for a set.
So the pair, who were raised on a farm near Gisborne, rolled up their sleeves and set up Foxtrot Home. Their organic linen-sheet sets start at $175, plus they have cot and bassinet sheets from $29.
The linen is grown in France and is certified organic by Oeko-Tex, an international consortium of research and testing institutes in the field of textile and leather ecology. The sisters also follow the Global Organic Textile Standard, which limits the use of bleaches, dyes and chemicals in production. Even their packaging is organic cotton bags or compostable boxes.
"New Zealanders are conscious about environmental impact," says Watson. "Linen is a natural fibre that requires a third of the water of cotton. And our production uses no harsh chemicals."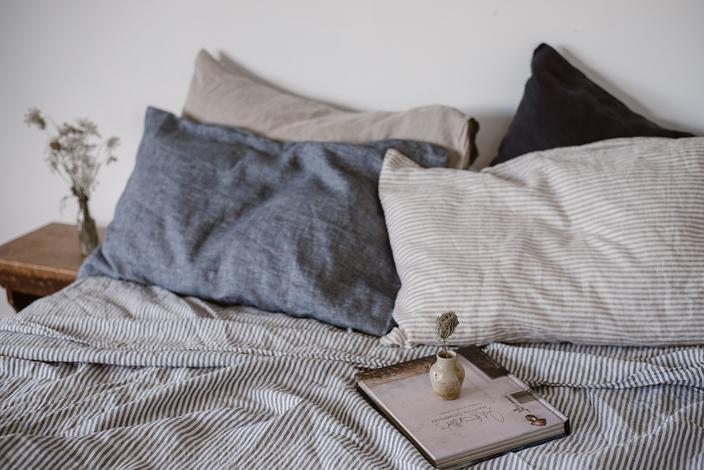 Navy Blue Stripes set from Foxtrot Home


Wallace Cotton
This Auckland-based family firm makes generous "New Zealand-size" sheets, and even adds shrinkage allowance to fitted sheets so they will still fit perfectly if given a boil-wash.
The practical touches continue with the company's seasonal limited-edition prints. They're designed to complement previous collections, so you can build up a colour-coordinated linen cupboard Martha Stewart would envy. Customers often start with Wallace Cotton's vintage-style embroidered Amore sheets and build their way up.
As well as sheets, the family sells duvet inners made from New Zealand wool, waffle-weave cotton blankets, robes, towels, room scents – everything to create hotel-room luxe at home.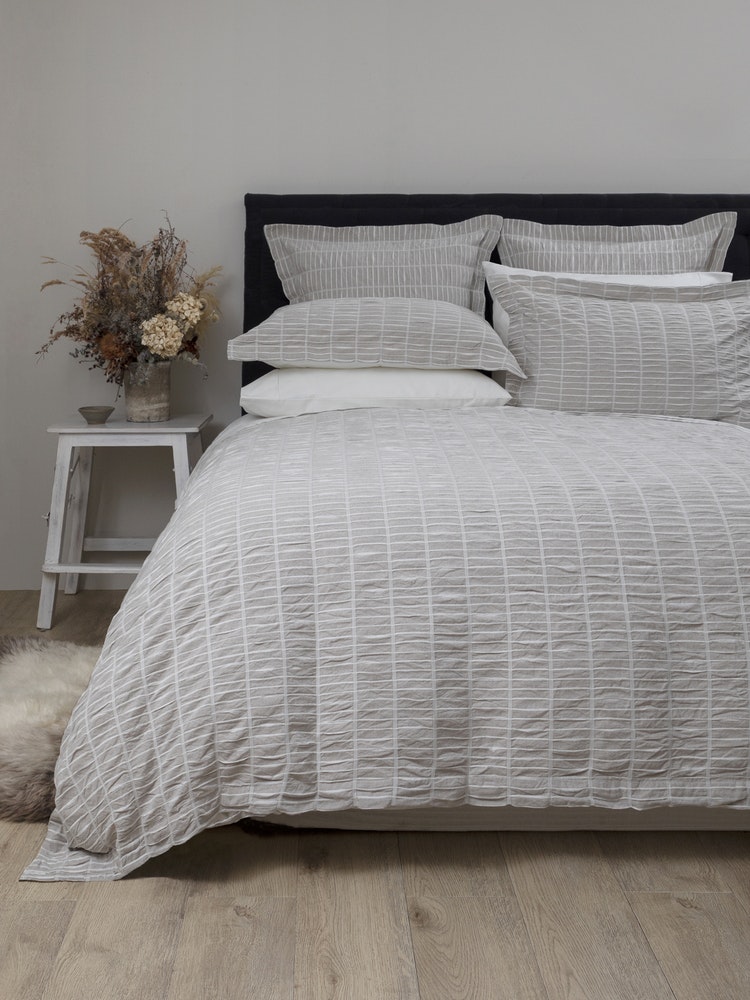 Wallace Cotton's Raffles duvet set in White
The Hotel Sheet NZ
You could pay $600 for a set of crisp Egyptian cotton sheets, but they start at less than $200 here.
How do they do it? Christina Guy, co-founder of The Hotel Sheet, grew up in Portugal and met her husband Ben after her family emigrated to Auckland. Her connections mean customers benefit from Portugal's centuries of linen and embroidery experience.
The couple have such confidence in the quality of their sheets that they have a 60-night trial-and-return policy. This allows buyers to try the sheets for two months and to return them for a refund if they find they don't like them. Used returns are donated to charity.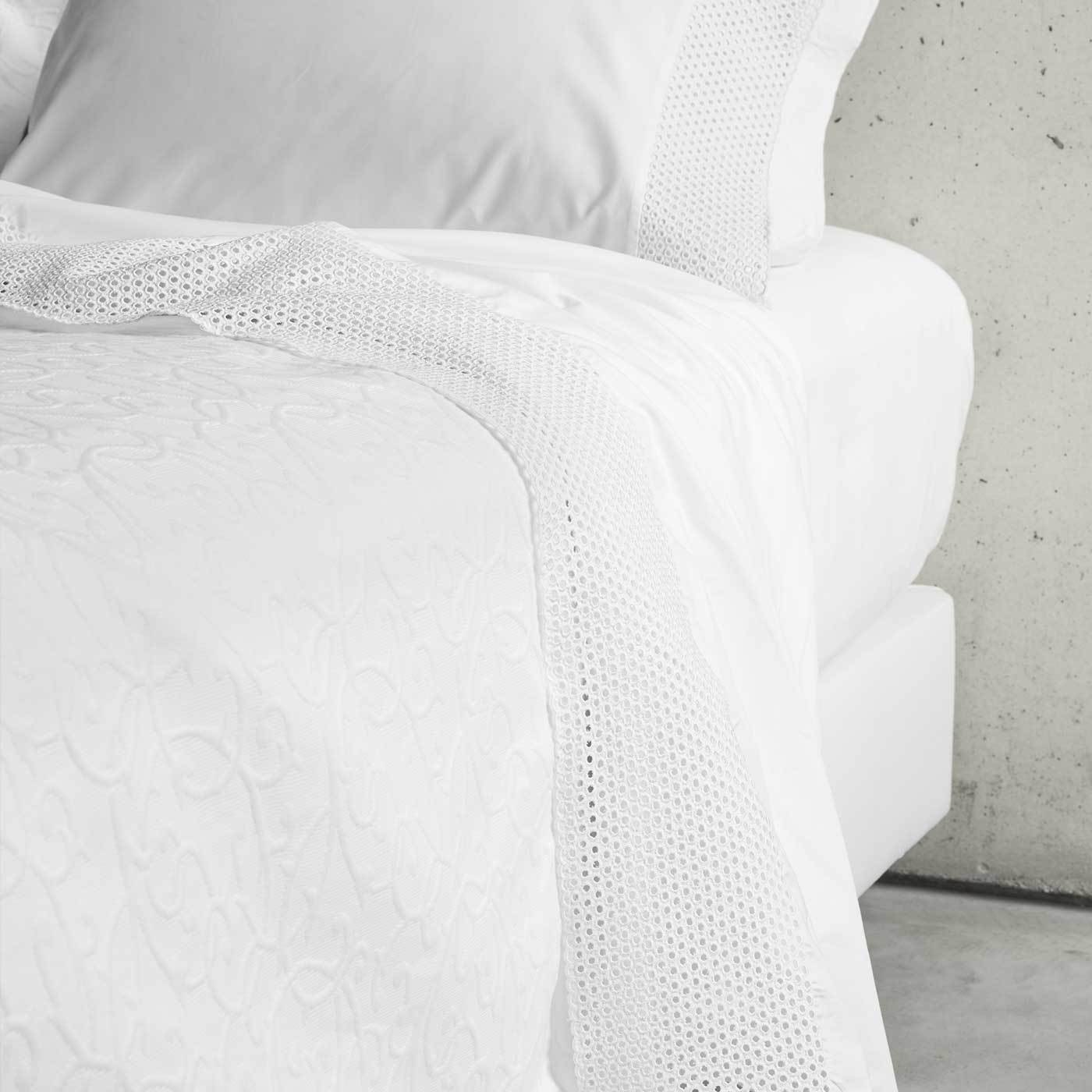 Egyptian cotton Pearl sheet from The Hotel Sheet NZ
Jasper bed by King Living
Less bed, more "life command module", the new Jasper bed has hidden storage, smart lighting you dim with a wave of your hand, and built-in wireless chargers for your smartphone. As well, the hydraulic base glides up at the touch of a button, so you don't have to bend down to make the bed.
The under-bed storage compartment is massive. "De-cluttering is top of mind for a lot of customers now," says David Hardwick. "Integrating storage and side tables frees up space for a larger bed and provides more room to sleep. Reducing partner disturbance is a huge factor in getting better sleep."
You can also top your mattress with AirFit, CoolFit and WarmFit covers, depending on whether the weather is hot or cold.
"The three main reasons for disturbed sleep are being too hot, discomfort due to pressure points, or partner disturbance," says Hardwick. "Our Sleep+ mattresses allow airflow to help regulate body temperature, cell zoning absorbs movement, and there's pressure-point relief in the top layer."