Ever since Steve Jobs pulled the original aluminium wedge-shaped MacBook Air from a manilla envelope on stage in 2008 to rapt reaction, the laptop has come to represent the gold standard of modern portable computing.
It seems obvious nowadays – thin design, great keyboard, slick software, all-day battery life. But those four things are surprisingly hard to nail, as many Windows laptop manufacturers will avoid admitting. Apple itself has struggled in recent years.
The new MacBook Air boasts a huge step up in performance, despite being physically identical to every Air released since the line got a major redesign in 2018.
This is thanks to Apple's decision to stop using processor chips from Intel – chip partner since 2006 – and build them itself for the first time, using Intel rival ARM's architecture. The result is a modern MacBook Air with the new Apple M1 chip, and phenomenal performance.
Apple has long manufactured the processors for its iPhones and iPads, tightly integrating hardware with the products' iOS software, resulting in superbly efficient and fast gadgets.
Conversely, Apple has been constrained by Intel, relying on it as an outside company to iterate and improve the processors for annual new iMacs and MacBooks. On the latter, especially, performance and battery life suffered as Apple struggled to get the most out of another company's technology.
No more. With the M1 chip, Apple has practically full control over how the new Air runs, and it runs like a dream. The fact it is priced from $1749, the same as the inferior old generation, is great to see.
Of course, Macs use macOS rather than iOS, but in the design language of the latest macOS Big Sur, Apple is leaning into software that looks more like it does on its phone and tablet.
The Air wakes up immediately from sleep just as an iPhone does, and runs without the need for a fan. I found it nigh on impossible to stress the computer, though I wasn't trying to do high-performance tasks like video editing or music production. For those things, there are also M1 versions of the MacBook Pro and Mac mini available with more oomph.
I extensively used the last Intel-powered MacBook Air in 2020 and soon tired of its subpar battery life. A pillar of the early Airs was their truly all-day staying power, whereas with the latter-day versions, I was plugging in after only four or five hours away from the mains. While the new version doesn't top the 15 hours of web browsing Apple claims, it easily lasts an eight-hour workday.
Famously, Google Chrome is a big power-drain on MacBooks, so if you use Apple's own Safari browser, you'll see much better stamina.
Perhaps most incredible is how the Air is running apps. Because of the new ARM processor, developers can build apps and software specifically to run on its architecture. This would normally mean that apps built for Intel chips would not run.
Enter Apple's Rosetta 2 tech, which seamlessly – and I mean seamlessly – translates Intel apps to run on the new machine, meaning you barely notice. Microsoft tried a similar move to ARM on its latest Surface Pro X, but tons of popular existing software is not compatible. Apple has quietly achieved a great computing feat here by not being hobbled in the same way.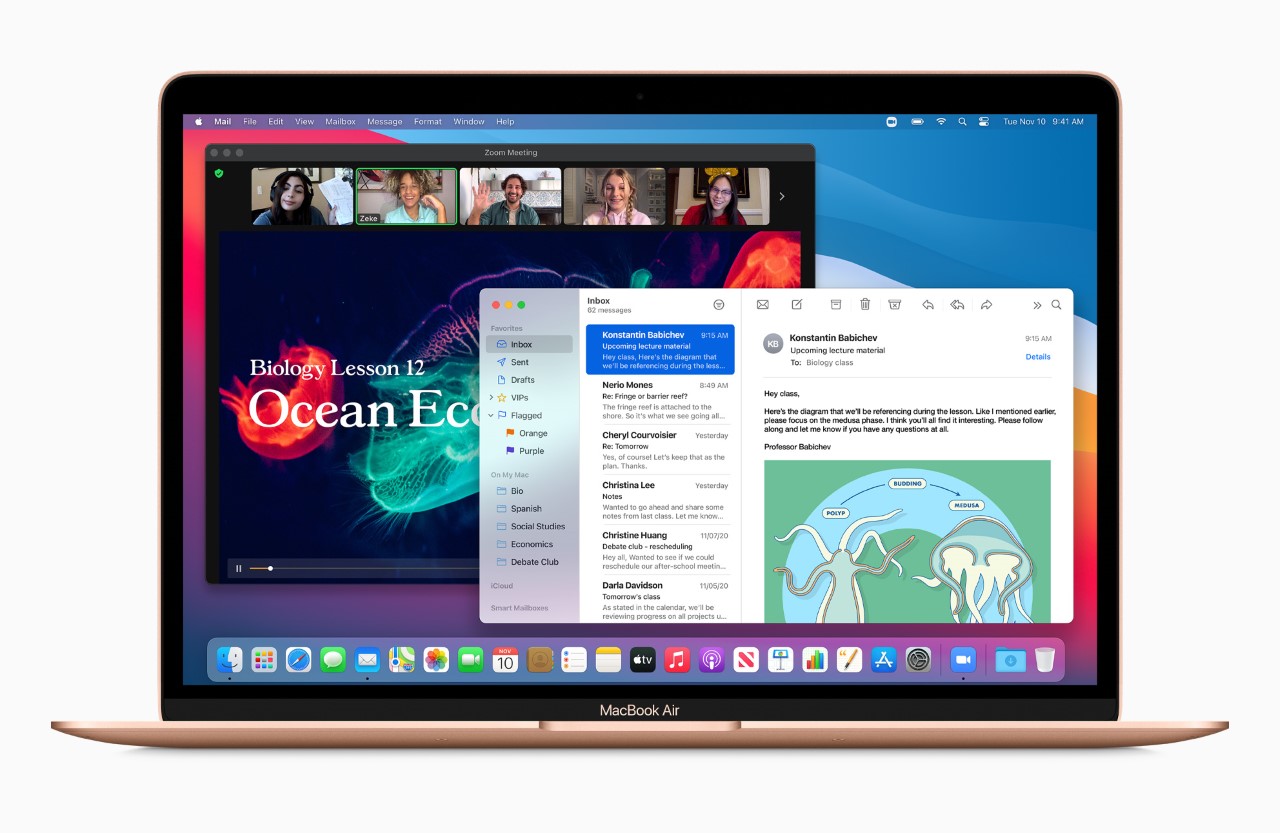 You download from the App Store in the same way and don't have to do anything as a user to make it work. App translation doesn't seem to affect performance or battery, either. It is quietly the best thing about the computer, along with the keyboard. Thankfully, you get a superb scissor-switch design and not the flat butterfly-style keys that the company briefly adopted and has now abandoned after worldwide scorn.
Now a mainstay of MacBooks, a fingerprint sensor is embedded in the power button. It'll make you hate entering passwords on other computers and make you wonder how you did without it. The Air also has a function row of keys unlike the Touch Bar on the MacBook Pro, a thin strip of screen that changes buttons based on the app you're using. This is the worst thing Apple has added to the Mac in years; the Air is better off with normal keys, thanks very much.
Praise cannot be heaped on the webcam, though, which is still only a 720p resolution (1080p is HD). It means that despite the overall prowess of the laptop, you'll still look murky and grainy on Zoom calls. Laptops that cost hundreds less have better cameras, all the more important since covid forced the world to work from home. It's mad that Apple refuses to update this bit of hardware on each passing MacBook.
It's also now possible to run iPhone and iPad apps on the Mac. It isn't a killer feature and does seem a little half-baked, as companies can opt to remove their app from the Mac App Store and many have, but if there are some iPhone apps you check regularly throughout the day like a weather app, you can now run them natively on your Mac instead of having to pick up your phone to check them.
But it's hard to find many mainstream apps, and it feels as though Apple just did it because it could, not because it should. Given the visual overhaul of macOS to look more like iOS and the ability to download iOS apps, it hints that the company is considering releasing a touchscreen Mac. In 2020, the iPad Pro gained cursor, mouse, and trackpad support, showing how Apple's products are converging.
It would be cool, and there are many great Windows laptops with touchscreens, but this MacBook Air is great enough without it. Business as usual never looked so good.