The Victorian building that houses the Fable Hotel in Dunedin's Princes Street must have seen a few things in its time. Originally known as Wains Hotel, after one of its owners, English immigrant entrepreneur Job Wain, it was opened with much fanfare in the 1860s during the Otago gold rush. Built from local Port Chalmers basalt breccia and Kakanui limestone, the building's elegant Italianate-style facade is decorated with carved figures of Bacchus, Neptune, mermaids and an eagle, which caused quite a stir when it was revealed to the public.
These days, the Fable is back to its resplendent best thanks to a $10 million refurbishment by CPG Hotels. With the building carrying a category 1 heritage listing, the result cleverly combines many of the original features with contemporary interior design and artworks. The investment has paid off handsomely – the Fable scooped the Best Luxury Hotel title at the New Zealand Hospitality Awards in November.
Room with a view
Fifty rooms and suites are on offer here. BusinessDesk stayed in the Mason Suite – generously proportioned with views out of the sash windows to Princes Street and across the city skyline. The decor, by Yellow6, is elegantly done in a palette of taupe and slate, accented with white feather lightshades, sky-blue carpet and peacock-blue velvet furniture.
In-room dining can be enjoyed at the four-seater table in the suite's sitting room, which also features a large flat-screen TV (there's another in the bedroom) and a comfortable couch to recline on while you sip your Nespresso. There's also a mini bar and a tempting selection of T2 teas to sample.
It's a given that you'll enjoy restful sleep here – the king-size bed is generously proportioned, and the bedroom is suitably far from the road for street noise not to be a bother.
The suite features a huge black-marble bathroom with congenial his and hers sinks, a standalone bath for soaking in, and a walk-in shower. Toiletries are by Marihi.
If there's a niggle to be had, it's that the air conditioning doesn't warm the whole space – the bedroom was a little on the chilly side, and the bathroom could benefit from underfloor heating.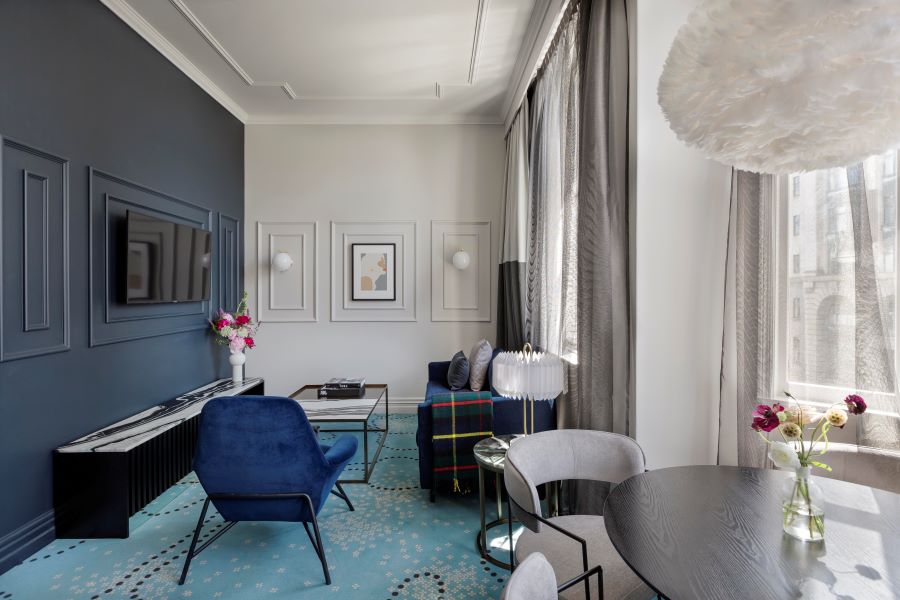 The Mason Suite.
Eating and drinking
The Fable's dining wing is called The Press Club, aptly named for the many years it was used as the local journalists' watering hole. These days, it's open for breakfast, lunch, drinks and dinner. It has a slightly raffish feel – contemporary meets 1920s Chicago jazz club – with its sharp service, dark wood, parquet flooring, black marble, and green-velvet banquette seating.
Get there early for a pre-dinner snifter. The lively drinks list includes local craft beers on tap from New New New and Founders, and a bracing whisky menu – the Wains Wonder (Jack Daniels, port, orange bitters and maple) is certain to put a spring in your step.
Award-winning executive chef Jinu Abraham has created a playful menu that cleverly combines high and low dining options. BusinessDesk recommends you start dinner with a classic Southland cheese roll with mustard, followed by a salt-baked beetroot risotto, or salmon with carrot and turmeric puree, truffle bread pudding and salsa verde.
If you fancy an afternoon treat, high tea is served every day between noon and 4pm.
For breakfast, the small but well-curated menu includes a continental option with Granola-topped chia and mango pudding, cut fruit, pastries, and local honey and preserves, or à la carte offerings that include oatmeal creme brulee porridge, French toast, a savoury crepe roll with mushrooms and cheese, and a sausage grill with eggs of your choice.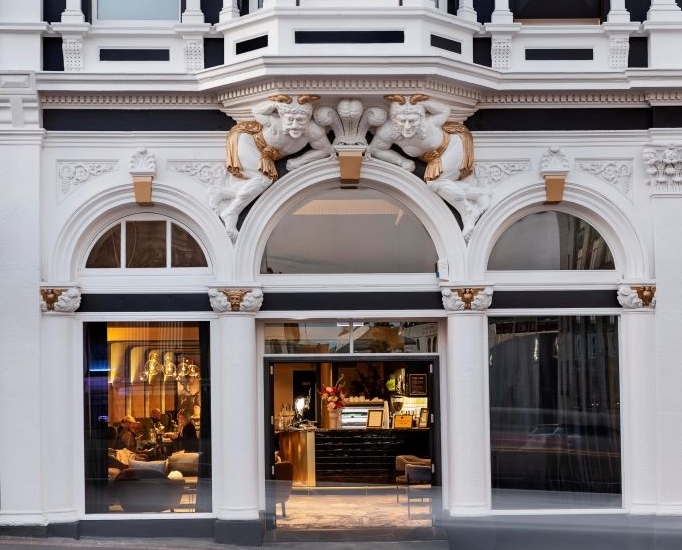 Part of the building's ornate facade.
Places to see
The Fable boasts a pretty darn good address: 310 Princes Street is just a short stroll to the Octagon, the city's main shopping area, restaurants, bars, the Warehouse Precinct and the waterfront. If you want to venture further afield, there a multitude of things to do and see; Larnach Castle is recommended, and the Orokonui Ecosanctuary is just 20km north of the city.
Rooms start at $275 a night.