Folding phones are no longer just for nerds.
The first couple of years of Samsung's Fold and Flip phones with cutting-edge screens that crease in the middle and open in various forms saw prices north of $2000.
This time around, Samsung has aggressively priced the Galaxy Z Flip 3 at $1599. That sounds a lot, but it's only $150 more than the iPhone 12, and a full $600 less than Samsung's own Galaxy S21 Ultra.
The Galaxy Z Flip 3 is a phone that delivers high-end performance in the body of something akin to the famous Motorola Razr from 15 years ago.
It uses the folding display to become smaller when not in use, rather than the also-new Z Fold 3, which opens to become a larger tablet when required.
After two weeks using the Z Flip 3, I am impressed, and unlike the previous model or with the expensive Z Fold 2 from 2020, I say take the plunge if you're interested. It will work out.
But your enjoyment will be marred considerably by the particularly awful battery life, the worst I've encountered in a premium phone for a long while – and I have reviewed many.
There are also unanswerable questions about how many years that screen will agreeably fold for and, indeed, why you need a folding phone in the first place (spoiler: you don't).
Yet the Z Flip 3 is the first folding phone that feels like a regular phone that happens to fold, rather than the folding display being the main event. That in itself is commendable.
Head turner
The two-tone design on the cream model I tested reminds me of 1980s plastic tech, but the Flip is covered in glass and feels very fragile.
Samsung's cases for the phone come with either a ring or a strap, to ensure you don't drop this sometimes-unwieldy device. Even though it is the size of a compact mirror when closed, it is taller than a normal slab smartphone, and very slippery, when opened.
It means it fits well in a breast pocket and doesn't stick out of a jeans pocket, but is thicker closed than most regular phones.
Although Samsung says it uses a glass composite to manufacture the clever 6.7-inch folding screen, your regular phone this is not. The outer main screen has a screen protector applied that feels as close to glass as I imagine you can get, but in bright sunlight it reflects badly and fingerprint grease is on show for all to see.
The crease horizontally across the middle of the display is visible from every angle except head-on and you can feel the ridge when scrolling, but I noticed it less the more I used the phone.
The screen is plenty bright and great in dimensions for scroll-reading Twitter or long documents and articles but is less fun for watching video. It also has a 120Hz refresh rate, which makes animations and compatible apps and games scroll smoother and with less ghosting.
Turn the phone landscape and you're faced with a crease down the centre of your content and black bars either side.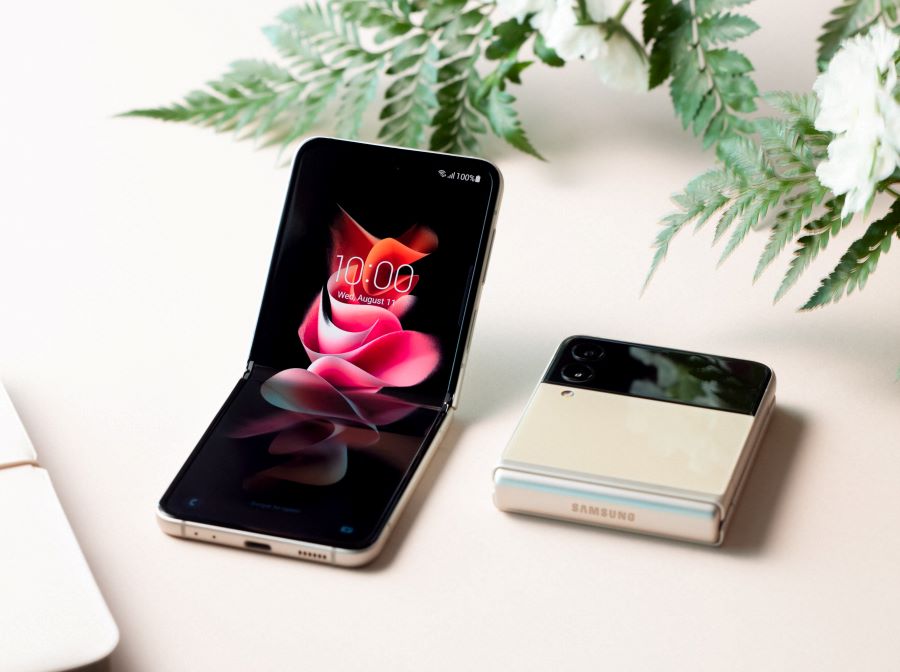 Samsung uses a glass composite screen.
Compared to last year's Flip, the biggest upgrade is the outer display, which is finally bigger than a thumbnail and therefore useful. It reminded me of a smartwatch as you can read and swipe away notifications, control music and see other widgets like weather – but not much else.
You have to open the phone to do everything besides, but it means there is a sense of finality if you fold it closed and set it down. You're done. Until you can't resist opening it again and marvelling at the design.
With 5G crammed in, the phone is futureproofed as New Zealand's mobile networks mature, and it is incredibly satisfying to end calls by snapping it shut.
When to fold 'em
There are only a couple of nifty software features that take advantage of the unique design and set it apart from the phone you already have.
One is taking a selfie using the cover display. This is good as it uses the decent dual 12MP main cameras rather than the less-good internal 10MP selfie camera, but it's bad because the rectangle outer screen is tiny. No one has an arm long enough to be totally sure of what they're photographing.
Handier is having the phone semi open (the hinge allows it to rest at every angle) and set down. Video-calling app Google Duo shifts controls to the bottom half of the screen and the video to the top half so you can make video calls handsfree.
It's neat, and hints at how foldable phones might continue to differentiate themselves, but when it was on a table and with only half a screen, I just wanted to pick it up to better see and chat.
The main curse of the Z Flip 3 is the bad battery life. Samsung has impressively shoved top-tier components and specs in the phone, meaning it runs just as well as the company's flagship S21 range.
I didn't see any performance hiccups at all as I used the phone with my SIM in it as my main device for life, work, and play. I particularly like the side-mounted physical fingerprint sensor rather than a poorer in-screen one, and the fact you can set face unlock to unlock the phone as soon as it sees your face when you unfold.
But it's all at the mercy of the small 3300mAh battery, which simply can't keep up. This is a phone that encourages you to play and tap more than any other on the market, and I was hitting 20% at around 4pm or 5pm most days, having taken it off the charger at 8am.
When the country hits alert level 1 again, this will be a charge-before-you-go-out device.
All the more galling when there there is no charger in the box, only the phone and a USB-C cable. You'll have to use a charger you already have or fork out for Samsung's official $35 brick to get the 15W fast-charging speeds the phone is capable of. Samsung's S21 range and Apple's iPhone 12 phones are the same story.
I reviewed the phone in lockdown, so it was mostly connected to wifi, and not frequently using GPS navigation. If you're thinking of buying a Z Flip 3, you're going to have to get used to carrying a battery pack around with you.
Take a deep breath
I've tried to be level-headed with this review and not get caught in the net of folding-phone hype. First impressions are captivating, but after two weeks using the Z Flip 3, I wasn't seriously considering spending my own money on one.
It is frankly insane that folding phones exist at all, and this one has no right being this much fun and so capable at roughly the same price as the most popular iPhone 12 model.
But I used the phone for only a short time and am not convinced the fragile display or hinge mechanism will hold up over the three to four years most people keep their phones. You literally can't test this.
The phone is IPX8 water resistant, which means it could handle 1.5 metres underwater for 30 minutes, but is not protected against dust or dirt. A New Zealand summer phone for the beach this is not.
But the worst thing about the Z Flip 3 is the battery life. Were it my money, I would save $300 and buy the $1299 Galaxy S21, which has a bigger battery, more and better cameras, full water and dust resistance, and a better-looking display.
Folding phones are technically amazing, and this is the best one yet. But it doesn't mean it should be your next phone.