In recent years, Hobart has shrugged off its reputation for being a little shy about its own merits. Rich in maritime and convict history, unique wildlife and dramatic natural beauty, Tasmania's capital city has become a notable travel destination – and rightly so. These days it's a cosmopolitan centre for the arts, a port of call for gourmands and a place where artisan communities flourish. With direct flights from Auckland now on offer, Hobart should be next on your list for a long weekend.
Art for art's sake
Mona is the Museum of Old and New Art and is arguably the jewel in Hobart's crown. Created by David Walsh, a born-and-bred local businessman, arts patron and wildly successful millionaire gambler (who is reputedly now banned from all major casinos worldwide), Mona has gifted the Tasmanian economy millions of tourist dollars and put Hobart on the tourist map since it opened in 2011.
The museum sits on (and inside) a peninsula on the River Derwent and is accessible by road or by the Mona ferry – which is a good option, as it has a well-stocked bar on board and couches to lounge on. Overindulge at your peril, though: there are 99 steps to climb from the jetty to the museum's entrance.
Walsh has unapologetically filled this vast, high-end subterranean bunker hewn out of the sandstone with his personal taste in art – much of which centres around themes of sex and death. If you're of a delicate disposition, some of the works won't be for you – but for those who want to be confronted, challenged and amused, this will be a life-affirming experience. Ai Weiwei's 2015 work White House, Austrian sculptor Erwin Wurm's Fat Car (Porsche) and Wilfredo Prieto's Untitled (White Library) are all currently on show, along with a cast of revolving exhibitions.
In past interviews Walsh has said he built Mona to absolve himself of feeling guilty for "making money without making a mark" and this museum is an indelible scrawl on the international gallery scene. There's no truck with "art wank" here so there are no artist or artwork information cards on display, but you can download the O app on to your smartphone (bring your own headphones in this time of covid), which will enlighten you as you work your way through this labyrinth of shock and awe.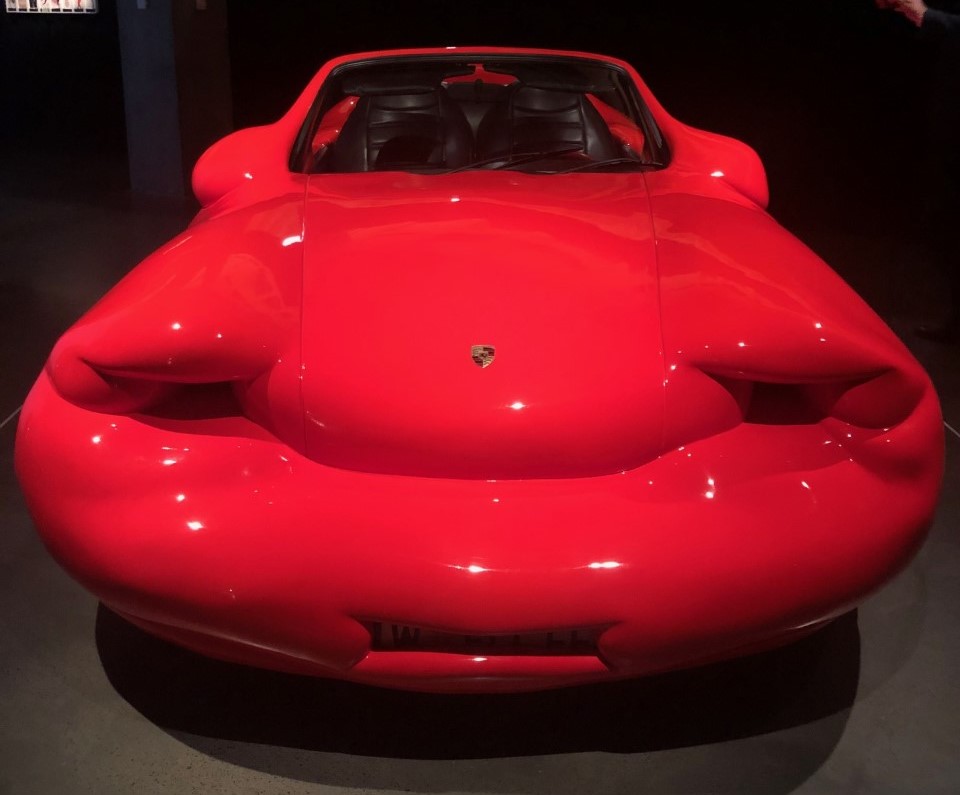 Erwin Wurm's Fat Car (Porsche) at Mona. Photo: Jacqui Loates-Haver.
Food, glorious food
Tasmania isn't called the Apple Isle for nothing. This is a land of plenty which serves up the freshest in sustainable and organic fruit, veg, meat and seafood. One of the highest-profile proponents of the farm-to-fork movement is celebrated chef and television personality Matthew Evans who, with wife Sadie Chrestman, started the Fat Pig Farm in the picturesque Huon Valley in 2011. The idea was to nurture the land and create healthy, fertile soil in which to grow their market garden produce and graze their Wessex Saddleback pigs, a small beef herd and chickens on.
The place has become a sensation among the foodie set for its leisurely Friday four-hour degustation lunches, where you'll be seated at one of their long farmhouse tables for a shared experience. Ninety-five percent of what you eat will be from the farm – and it is sublimely good. Think warm, homemade polenta, fire-roasted pork and vegetables galore, washed down with local wines, ciders, craft beers and kombucha. Leave room for the apple crumble. All this eating is broken up by a pleasant mid-prandial walk around the farm, where you can see exactly where the produce has been grown and harvested.
If seafood is more your style, Pennicott Wilderness Journeys' Tasmanian Seafood Seduction full-day cruise is for you. Casting off from Franklin Wharf in downtown Hobart, you sail out through the River Derwent and follow the coast before entering the D'Entrecasteaux Channel. After setting anchor in a sheltered and picturesque bay you'll be treated to a splendid lunch aboard the boat, starting with a glass of something nice and local to complement a prodigious amount of fresh-shucked oysters done au naturel, steamed with white wine or poached in sparkling wine. While you sample the cheese board and enjoy fresh sashimi, your captain will don a wetsuit and dive for crayfish, abalone and sea urchins, then fire up the gas stove and prepare you a feast. The crew will dive for only what is needed for the lunch, and sustainability is top of mind. If this sounds like the perfect day, it really is.
Cocktails? Yes please. Head to The Glasshouse, which hangs suspended over Sullivans Cove in downtown Hobart. As the name suggests, there is a lot of glass, affording magnificent views over the River Derwent. The décor is elegant and slightly eccentric, which gives good ambience while you ponder your order. The drinks list is inspired by classic cocktails which are done with a Tassie twist using the best local spirits. There is a "raw bar" where you can sit and have a drink with a plate of fresh seafood, or table service includes delicious sharing plates that change daily depending on what's in season.
A good place to meet the locals and sample some Hobart delicacies is the Salamanca Market, which has been running since 1972. Held every Saturday morning on the cobbled street of the historic Salamanca Place warehouse quarter, it is home to more than 230 stallholders selling local wares. You'll find a cross-section of food and crafts here, from artisan gin, whisky and craft beers to street food, pillowy doughnuts, and handmade clothing, woodwork and ceramics. It pays to get to the market early to avoid the queues.
The great outdoors
At an elevation of 1271m, Kunanyi/Mount Wellington sits high and mighty behind Hobart's urban sprawl. The road up the mountain is carpeted with rainforest, which graduates to sub-alpine flora and glacial rock formations as you ascend. Kunanyi often sits with its head in the clouds, and the temperature can plummet when you reach the top, but on a clear day the viewing platform there is far and away the best vantage point to take in a panorama of the city and the River Derwent.
Thirty minutes north of Hobart is Bonorong Wildlife Sanctuary, set among the rolling hills of Brighton. Owned and run by conservationist Greg Irons, this social enterprise rescues and rehabilitates injured Tasmanian wildlife. The sanctuary is funded by admission fees and there are tours available where visitors can see and learn about koalas, wombats, Tasmanian Devils, kangaroos, birds, echidnas and all manner of reptiles under the knowledgeable guidance of one of the park's volunteers. Irons is at pains to point out, though, that "this isn't a zoo; our aim is to get as many animals rehabilitated and back into the wild as possible". If you're lucky you might get to help feed the 'roos or two of the resident echidnas, Randall and Luigi, who are as delightful as they are affable.
Where to stay
A new kid on the block, the Mövenpick Hotel opened in Jan and is located on Elizabeth Street, right in the heart of the CBD, making it an easy walk to shops, restaurants, the waterfront and Salamanca Market. The rooms are generously sized, many with views of the River Derwent, and have all the good kit on hand – wifi, business services and a fitness centre. In-house dining is courtesy of Italian-inspired Tesoro Restaurant under executive chef Trent Whelan, who uses locally sourced, sustainable ingredients. And as you'd expect from a Mövenpick Hotel, there is a daily chocolate hour.
History buffs should head directly to MACq 01 on the site of the old Hunter Island, just a stone's throw from the CBD. This five-star hotel hosts storytelling tours both in the hotel and around the waterfront, where you can learn more about the good, bad and ugly of Hobart's convict past. The in-house restaurant, Old Wharf, works under the expert hand of head chef Simon Pockran, whose menus are a nod to "traditional Tasmanian family dinners". Before you turn in for the night, it's worth stopping for a late-evening snifter at the hotel's Evolve Spirits bar, which won Bartender Magazine's Best Tasmanian Bar award in 2019.

Air New Zealand now flies direct to Hobart from Auckland twice weekly.
discovertasmania.com.au/nz